Please read the beginning in the article IBC 2015: TV and Media Set-top Boxes.
SATELLITE OPERATORS
SES
(or rather SES Platform Services as one of the company's divisions) announced several interesting solutions for broadcasters, operators and content aggregators. These are FLUID HUB, controlled cloud-based platform for delivery and playback of audiovisual content,
LIQUID VOD
(video on demand via the satellite in position of 19.2 E) and LUCID OVP (online video platform), which should assist operators, OTT providers and broadcasters in optimizing their work and increasing significantly their subscriber base. All of these services are controlled by means of the SES Platform Services.

FLUID HUB offers its users an efficient tool for auto-archiving, processing and distributing (delivering) content on various platforms, including loading and editing video, photos and metadata. Launched in April 2015, the SES Platform Services currently serves over twenty VoD portals. But in addition to work with VoD portals, the SES has designed its own solution LIQUID VOD for regions where the broadband access is rather complicated. The solution ensures the provision of premium video services VoD via satellite and can be used by DTH operators and broadcasters to expand their services list.
LUCID OVP is an online solution combining live streaming, delayed viewing (catch-up TV) and VoD in one video platform.
As pointed out by Ferdinand Kayser (SES) at the press conference, the linear TV continues prevailing over other video content consumption, which is proved by the recent IHS study. In particular, the daily TV watching time in 2014 was distributed as follows: the United States (293 min/day), Spain (244), the Great Britain (232), France (226) and Germany (221). At the same time, according to the data presented at the conference Eurodata TV, the average daily TV watching time in 2003-2014 increased, both in the European countries and the North America, and around the world. By 2024 it is expected that the number of channels available through DTH-platforms will grow by 47% or up to 38500. Thus, in the North America the growth will be 2% (15500 channels by 2024), the Western Europe +4.5% (3650), the Central and Latin America +5.1% (3800), Asia +5.9% (7,500), the Central and Eastern Europe +6% (5150), Africa and the Middle East +6.1% (2850).
According to the IHS Television Intelligence Trax, the most explosive increase in subscribers will be observed in emerging markets. Especially, in 2013-2018 the growth in the North America will be +7 million (5%), the Western Europe +5 million (3%), the Central and Eastern Europe +6 million (4%), the Latin America +8 million (8 %), Africa +16 million (11%), but the largest growth is expected in Asia: +94 million (14%). At that, the global rate of TV households will increase by 10% or up to 1.5 billion in 2013-2018.
The SES keeps on focusing on Ultra HD technologies, marking the expected rapid growth of sales of Ultra HD-TV receivers by 2018, and further increase in paying HD subscribers and decrease in SP subscriptions. The reduction in prices of Ultra HD-TV receivers (55-64˝) affects their active manufacture in China and South Korea.
According to the speaker, there are currently available near 1,200 movies and shows in Ultra HD, and by 2025, the SES expects the availability of over 1000 Ultra HD channels. The main delivery method of Ultra HD content will be the satellite, and the effective signal delivery will be ensured due to optimizing the capacity of transponders by means of popularizing technologies like DVB-S2X and HEVC.
Among recent broadcasting startups by the SES we will mention some of them as follows:
• Fashion One 4K was launched on September 1, having the following coverage: Europe (19.2oE), the South America (47.5oW) and the North America (103oW). The company intends to cover 116 million households in Europe, 23 million in the Latin America and 100 million in the North America.
• Pearl.tv is a German shopping channel, launched on September 4 in the position of 19.2oE.
• 4K HIGH TV has broadcasted since mid-September in the cable networks of the North America via the SES-3; its target audience amounts to 100 million households.
• INSIGHT is a FTA channel in HD and Ultra HD in the position of 19.2oE. It was launched in October by the TV Entertainment Reality Network (TERN).
The SES's plans by 2025 are quite ambitious: to increase the number of UHD channels up to 1053. In particular, in the North America the number of channels available to broadcast will be 300, in the South (Latin) America – 177, in Europe – 220, in Africa and the Middle East – 110, in Asia – 246.
The SES's stand demonstrated HDR broadcasting on the OLED monitor by LG. The company continues further design of the SAT> IP technology. As of December 2014 the number of households, being HD+ users, reached 3 million (including 1.4 million users under a trial subscription).
The short-term plans of the SES lie in further expansion in Asia regions (it is expected to increase satellite capacity by 23%), the Central and Latin America (+15%) and the North America. This should be supported by the projected launches of space vehicles like SES-9 (IV quarter of 2015, 108.2oE), SES-12 (IV quarter of 2017, 95oE), SES-10 (IV quarter of 2016, 67oW), SES-14 (IV quarter of 2017, 47.5/48oW), SES-11 (to replace AMC-15/18 in the position of 105oW, IV quarter of 2016) and SES-15 (129oW, II quarter of 2017).
We shall point out that Internet access services are available now aboard of 200 line aircraft (GoGo service) by using satellites SES. At the same time, as mentioned by Ferdinand Kayser, during their flight the passengers mostly prefer shopping (for example, through the Amazon), what proves the demand for GoGo service in the United States.
SOLUTIONS FOR TESTING, MONITORING AND PARAMETER MEASUREMENT
JSC NIIT
(Television Research Institute, Russia) presented several new products. This is a digital TV signal quality analyzer ATS-3.

The solution ensures a 24-hour monitoring of TV programs, accompanied by simultaneous analysis of signals and parameters QoE (quality of experience) relayed over the network for broadcasted TV programs. It can be used for signal analysis in terrestrial, satellite, cable and IPTV networks, be integrated into remote monitoring systems in the networks up to 100 nodes. The device ensures automatic detection of degraded quality of video and/or audio signal and the duration of these artifacts, recording monitoring results and TV programs on internal and external media, as well as signal control in commercial spots. There is a jitter analyzer, and the analysis of MPEG TS streams is possible at a bit rate of up to 205 Mbit/s. The model is offered in a 2U 19˝ case.
Another advanced solution by this Research Institute is a TV signal quality analyzer ATVI to detect artifacts of video compression (MPEG-2, H.264, etc.) and to compare the compressed video and standard signal, including differences in frame rate. It supports Ethernet, 3G/HD/SD-SDI, DVI.
MONITORS FOR BROADCASTERS
The
Korean TVLogic
announced several prototypes of professional studio HDMI monitors for broadcasters with a viewing angle of 178 degrees: 4K-LUM-240G monitor supporting 12G-SDI (2x3G and 2x12G-SDI) and 17,3˝ model LUM-170G. And in December, it is expected a 7˝ model LVM-075A (FullHD) and LVM-070C (3G/HD/SD-SDI).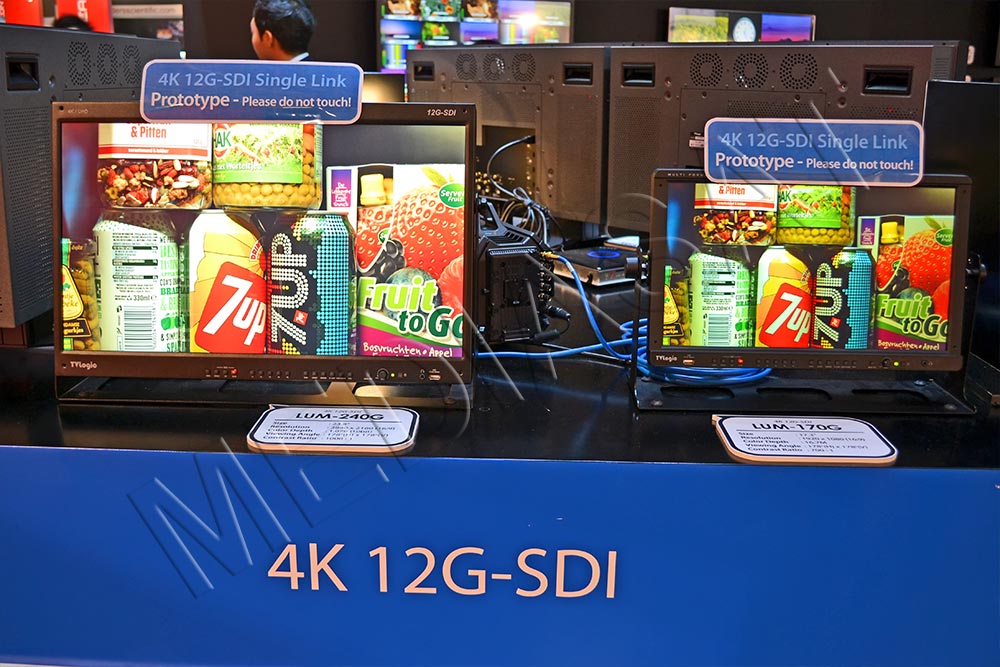 Both models of monitors are equipped with wave analyzer. Among the company's new products we shall also mention a 4K multi-viewer TMV-4000G taking up to 24 input channels and combined with 4K monitor LUM-550M (55˝, USB, Ethernet, RS-422).
Among the new test instruments we shall mention the monitor (9˝) presented at the exhibition by the Leader Electronics Europe with signal monitoring in a waveform LV5480, supporting 4K and having 8 SDI-inputs.

The model has a wide viewing angle and displays simultaneously up to four 3G/HD/SD-SDI-signals. There is a signal generator suitable for saving screenshot to USB. It supports Ethernet, RS-422/485. The model is expected in October this year.
New models were also demonstrated by the Chinese brand Bestview (company Shenzhen Bestview Electronic Technology): BSY702F-HDS (7˝, Full-HD), BSY178-CO (7˝, Full-HD).

A new model TL-P1500HD was also showed by Ruige.

Among the new products of Konvision we shall mark broadcasting monitors like KVM-9051W (9˝), rack-mountable KRM-902A with response time of 10 ms, as well as KVM-1760W (17˝), KVM-2260W (21,5˝), KVM-2360W (23˝), KVM-2460W (24˝) and KVM-208A (2˝, 8 screens).
TECHNOLOGIES AND INTERESTING SOLUTIONS
A lot of visitors were visiting the stand of the NHK (Japan Broadcast Corporation, Japan), which presented for the first time HDR capabilities for 8K Super Hi-Vision. HDR (High Dynamic Range) is a new trend in modern TV industry, which attracts not only developers, but also end-users due to more saturated and contrast picture.

Among the latest developments of the NHK in cooperation with BBC there is a HDR TV with a Hybrid Log-Gamma function, and the HDR 8K LCD in cooperation with Sharp Corporation. We shall recall that as from 2016 it is scheduled the start of test broadcasting in 8K format via satellite, as well as broadcasts of the Olympic Games in Brazil.

We shall recall that HDR support was accepted in 2.0a-specification by the HDMI Forum held in April 2015. In the final version of the specification it was agreed the transmission of HDR video with improved image quality and detailed dark and light image areas. For this purpose it is used additional metadata, which is transmitted or received by devices, and this specification determines what and how it should be transmitted.
The developers have also foreseen the device compatibility. So, if a legacy SDR-receiver or STB is supplied with HDR signal with metadata, the latter will be ignored and the video signal will be displayed in SDR quality (Standart Dynamic Range).
TV studios and broadcasters might be interested in the recent product of the Seewald Solutions deFlicker, designed for eliminating brightness flashes when recording video items (especially in stadiums and during sports events at night). In contrast to the solutions for signal post-processing present on the market, this product removes brightness fluctuations online, and it can be used therefore in high-speed cameras, being easy to integrate into broadcasting process. As a demonstration, the developers used a 19˝ one-unit case. A full version with stand will cost EUR 14 thousand, but there is also a functional version (cube) for EUR 7 thousand.

According to forecasts, the next 10 years will take place an active development of smart home technologies, and the number of devices for this market will exceed 100 billion. It is no wonder that manufacturers pay special attention to this segment. Thus, the Neotion (France) presented an advanced version of the smart home solution Neohome with access to free broadcasting satellite, terrestrial and cable channels, as well as audio and video devices at home. The commercial launch of the solution is sheduled for the II quarter of 2016. This solution combines smart home and entertainment features in a single application available via any device, including tablets and smartphones.
The solution uses own equipment of the Neotion. All data transmitted within network (photos, videos), including information in the cloud, is encrypted. The devices applied in the network are designed by using GS1 chipset, also developed by the Neotion.
The Neohome solution allows broadcasters and pay-TV operators to expand their services list and to get additional income due to home services of automated control of devices (LED-lights, motion detectors, wall switches, sensors, HD-cameras, etc.), as well as due to delivering content (video, audio) by applying multiscreen technologies inside various rooms of one house.
It is also no less interesting the solution MagicHome by the Innopia Technologies (Korea).

A part of such a smart home for $159 was offered at the stand as a set of LED-lights supporting Wi-Fi. Such a device can be connected anywhere at home, and one may control illumination by means of the offered set of devices.
It is also noteworthy the IPTV Smart Dongle by the Value Labs (India), which allows users to enjoy options of Android OS in the living room, to watch videos, IPTV, to share content between smart devices. If necessary, the company adjusts the parameters of devices pursuant to customer preferences. The solution is implemented by using ARM Cortex A9 chipset and it supports Wi-Fi 802.11 b/g/n, Bluetooth, USB.
The Fraunhofer Institute for Integrated Circuits IIS demonstrated at the exhibition the potential of a light-weighted codec Lici. At the moment, the video with high resolution and bit rate (120 Hz) requires a lot of network resources, and the actual network infrastructure and network capacity often become chokepoints hindering the transmission of large volumes of data. The codec Lici transmits data with insignificant losses (compression between 1:2 and 1:6) and can be easily integrated into actual devices; it ensures low latency and no frame losses.
At its stand the Fraunhofer IIS in cooperation with IHSE and Viscon demonstrated the integration of the codec Lici into KVM extenders, supporting 4K video with a high frame rate for commercial use. The data was transmitted and displayed at the rate of 60 frames per second.
The well-known Higgs boson found its way into a video system designed to operate with multiple cameras HIGGS (up to five portable cameras), presented by the same institute, and which is the fastest in the world, as assured by developers. Video can be broadcasted realtime in any CDN network (Content Distribution Network), as well as switched between cameras with a minimal latency. The solution ensures auto white balance, automatic and manual control of brightness, resolution and exposure; and an adaptive transmission rate.
It is also of interest the new codec VC-2 (standard SMPTE ST 2042) by the BarcoSilex (Belgium) with ultra-low latency. The compression ratio is 4:1, and the losses of fine details during visual viewing are almost imperceptible (except for studying images at a very short distance of near 10 cm from the monitor). The encryption algorithm integrates into third-party chips. The solution represents an inexpensive encoder/decoder, and the technology can be applied in IP networks for transmitting video streams: HD channels via the networks of 1 Gbit/s and UHD (4K60fps, up to 8K UHD) via the networks of 10 Gbit/s.
The company Disney Research (incorporated into the chain of research laboratories of The Walt Disney Company) presented a prototype of 3D-broadcasting with signal conversion (hardware- software solution). The source is a 3D Blu-Ray (30 frames per second).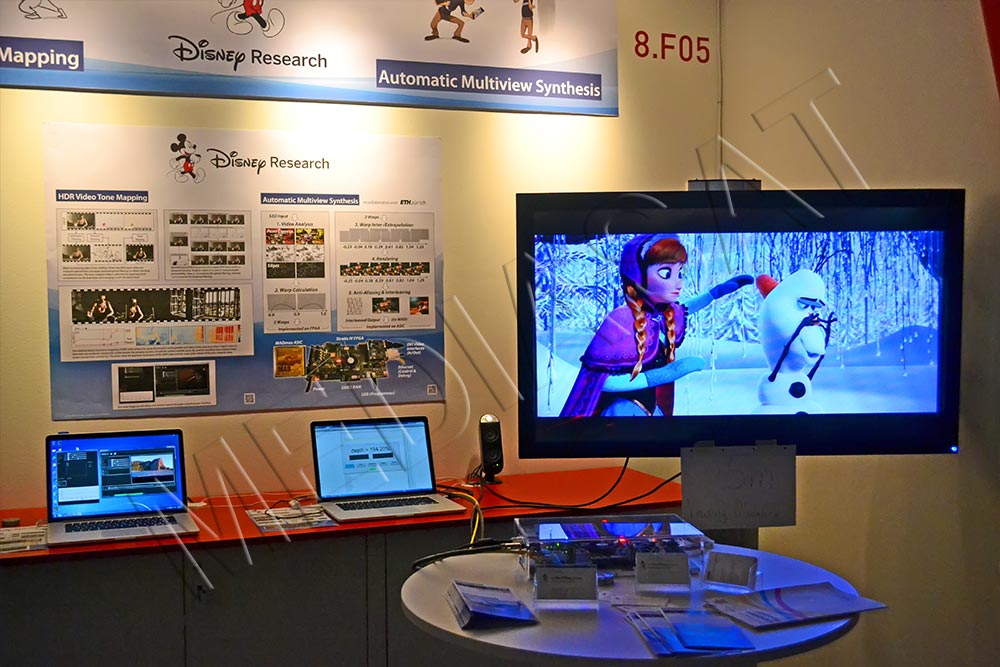 The processed signal is displayed on the stereoscopic 3DTV (the viewers do not require eye-glasses), as if it was filmed using eight cameras. Among other developments of the Disney Research there is a prototype of ASIC/FPGA chipset (watt consumption is less than 2 watts), capable to convert stereoscopic 3D video realtime for displaying on a stereoscopic monitors, and which can be integrated into mobile domestic electronic devices.
It is also of interest the software for converting common video into HDR format. The main problem today is a large stock of devices operating with SDR video, despite the fact that their piece of cake is intended to win by the developers of HDR devices (monitors, TV-sets, STB, etc.). HDR content has to be displayed therefore in the near future mainly on SDR devices. And the tone mapping technology designed by the company is just focused on settling this problem. By using software the developers compressed the dynamic range of input video stream, conserving display of fine image details and minimizing image visual artifacts.
The Thomson Video Networks presented the design of H2B2VS (HEVC Hybrid Broadcast Broadband Video Services), a hardware-software solution for the combined signal delivery via broadcasting networks (terrestrial, cable, satellite) and broadband networks (ADSL, mobile operators, optical channels).

The prototype H2B2VS uses a hybrid delivery of TV programs and services via heterogeneous networks, i.e. there simultaneously applied multiple video content transmission options: via satellite, cable networks/Internet. The base quality of transmitted signal is HD. If the signal is delivered via satellite, it is ensured HD-quality, and when combined with cable providers, so the parameters allow broadcasting 4K video. Among the project partners there are Alcatel Lucent, Hispasat, Nagravision, Vestel and others (21 participants in total). The project completion is scheduled for November 2015.
The widely recognized ETRI (Electronics and Telecommunications Research Institute, Korea) presented a prototype of DASH system for terrestrial transmission of 4K UHD signal under the DVB-T2 standard. The software part is implemented by applying IP technology for broadcasters.
Everyone remembers the epic Star Wars by George Lucas, where filmmakers used 3D holographic images far back in the 80s. Something similar happened at the stand of the NTT Corporation (Japan) while watching a sports match, when the developers used two monitors and a shelter (to create a shaded background) for viewing video, to extract players and balls out of the online broadcast (in fact, to isolate objects from the background) and to show the result as a hologram (the project entitled Kirari). According to the developers, they also designed a larger hologram version for cinemas. It supports H.265/HEVC and MPEG-4.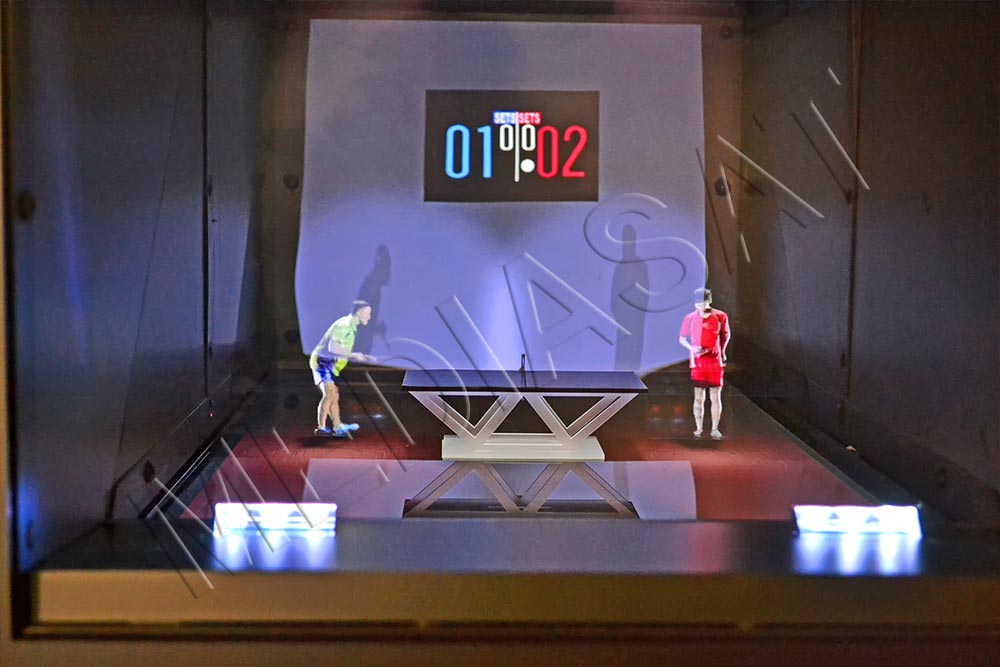 By the way, I have to disappoint the skeptics who consider tape recording technologies remained in the past century. The technologies are still alive and in progress. Thus, the FujiFilm Recording Media announced data storage tapes Ultima 7, expected to be available by the end of the year.


To be continued…