A world leader in advanced audio technologies – the American company Marantz, which is a part of international holding company D + M Group together with the brands Boston Acoustics ® and Denon®, has announced in New-Jersey (USA) about the broadening of the line-up of new Network AV-receivers for home theaters by adding a full-size modell Marantz ® SR5011. The new Network AV-receiver SR5011 is 9.2-channel receiver with nominal capacity of 100 watts for a channel by load resistance of 8 Оhms and 200 watts by resistance of 6 Оhms, it's equipped by technologies of 3D surround sound Dolby Atmos and DTS: X, it's supplied with the leading system Audyssey MultEQ XT, which allows to adopt audio to any room of the home theater.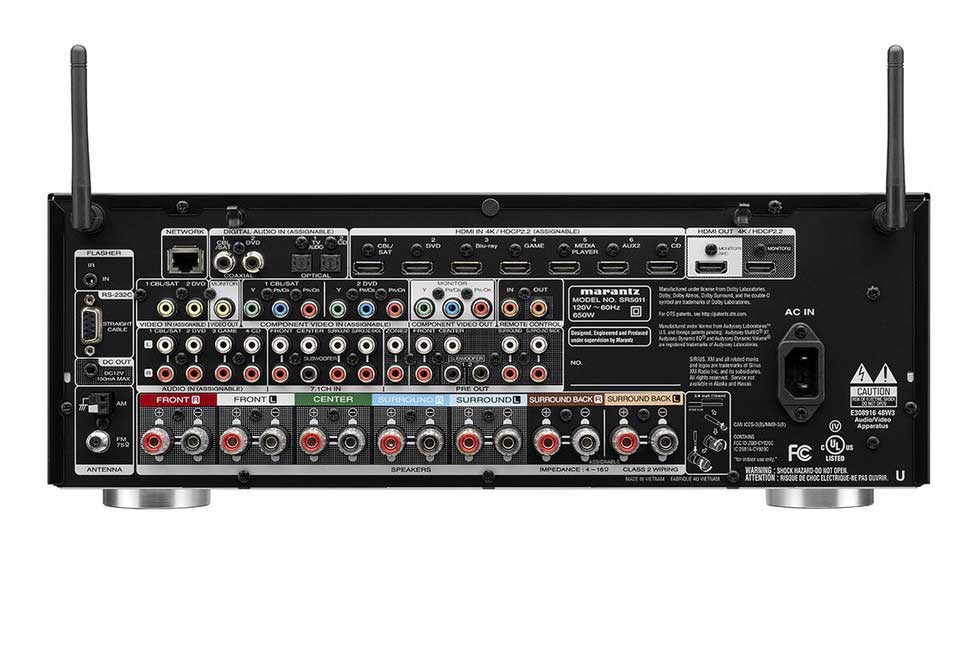 The full-size Network AV-receiver SR5011 has been completely prepared by the developer to the new stage of technological innovations in the field of video– it's compatible with the latest HDMI 2.0a and HDCP 2.2 specifications, 4K Ultra HD 60Hz video, 4:4:4 Pure Color sub-sampling, High Dynamic Range (HDR) and 21:9 video, 3D, BT.2020 at all 8 inputs HDMI, it supports compatibility with HDCP 2.2 for the protection against copying 4K Ultra HD and 2 independent HDMI outputs, which makes it ready for the next generation of discs and 4K Ultra HD-flow video, and also adoptable to any HDMI-compatible facilities ‑ Blu-Ray players, set-top boxes, video panels of high-resolution, projectors, play stations and HD video-cameras, by the way a TV set and a projector can be connected to the receiver at the same time and can be used in different rooms.
The video processor Marantz ® SR5011 can scale analogue video-signal (resolution SD) till HD (720p / 1080p) and 4K, it has a full set of video calibration, which is certified by Science Foundation Imaging.
The receiver handles 4K 60p, 4: 4 : 4 and 24-bits video, provides it with high accuracy, even by watching of a fast moving video on a TV set or a projector, which is compatible with 4K Ultra HD and 60p, due to the supporting of 4K 60Hz input/output.
In addition to the traditional network options (on-line radio, flow-audio/video, playing of audio files and displaying of photos from a computer) Marantz ® SR5011 has on board complete functional of AirPlay® ‑ it allows to play the music playlist from iPhone ®, IPad ®, IPod Touch ® or ITunes ®, it supports the playback of high-resolution audio, such as DSD (5,6 MHrz) and FLAC files 192 kHz, by the way the commutation with outlying facilities can be accomplished by the wire line or wireless way of connection – Wi-Fi or Bluetooth.
There is an application «Marantz 2016 AVR Remote App» in the shell program of the new receiver, it allows to control the functions of Marantz ® SR5011, using iPad, iPhone or Android™ facilities (Google, Amazon Kindle Fire). Traditionally for the latest receivers of the brand, Marantz ® SR5011 supports the multy-room system – 2-zone-system with the broadcasting of audio from any sources into 2 zones, including AirPlay, On-line-radio, Spotify Connect, Pandora, SiriusXM.
The appearance of the new full-size network AV-receiver SR5011 in the market is expected this month and the manufacturer plans to make it available for $ 899.