Exhibition of electronic media IBC 2016 has  become a meeting place for professionals from more than 160 countries again.Since 8 to 13 September RAI Expocenter "buzzed" like an anthill, because right there the conference and an exhibition of hardware and technologies were held. In addition, during all these days there was an sunny weather what is quite unusual for Amsterdam.
According to the organizers, attendance at IBC 2016 once again exceeded the figures of the previous year  for a small percentage and reached  55 796 visitors. The number of participants was more than 1 800 companies (including Ukrainian ones), about 250 of them attended the IBC for the first time.
This year, a distinctive feature of the exhibition was absence of the "stereo television". Of course, a few 3D presentations were presented but not so much as a few years ago (within the launch of "Avatar"). But the number of exhibitors with multicopters increased and developers of virtual reality (VR) technology were more active. Thus, in the IBC Future Zone visitors could assess the possibilities of VR, "riding" on racing vehicles or "wander" with the VR-cameras on separate stands.
In one of the pavilions the next Hack Fest was held within the framework of exhibition , the participants competed not only for the grand prize of EUR 4 000, but also for the prize gadgets for each competitor.
Students and young professionals "checked their fortune" at IBC Rising Stars where the representatives from Adobe and Ericsson carried out the training in "robot-oriented" environment of the future, and Greg Spence, the producer of "Game of Thrones", presented the modern technologies used in the film industry.
Among the main trends this year there was continued growth of UltraHD (4K), HEVC/H.265, HDR (High Dynamic Range) and HFR (high frame rate up to 60/120 frames/ second) technologies popularity. Replay systems, multiscreen, hardware and software solutions for the post-processing, storage and transmission of video, the expansion of hardware and software functionality, as well as further devices hybridization and active use of energy-saving technologies were widely introduced.
What was interesting at IBC 2016?
There were not only presented solutions, but also the entertainment program which was successfully complemented by the video shows at the IBC Big Screen 2016. This room is designed just for 1700 viewers. Because of this a crowd of people who wanted to get on the show was like a line for scarce goods in the Soviet times. By the way, the room is filled with modern projection laser equipment of high brightness Christie 6p 2D/3D as well as audio system by Dolby Atmos. This time, The Jungle Book of Walt Disney production and the film The Revenant by 20th Century Fox were shown to the audience
SET-TOP-BOXES AND RECEIVING
SUBSCRIBER EQUIPMENT
Almost all models are running Android, and a distinctive feature of the presented solutions at the exhibition is a possibility to integrate the capabilities of "smart house" in the set-top-boxes. In particular, this applies to models by the company ABOX42 (Germany), among them were M50 and M30 series announced within the framework of the exhibition. M50 line with Broadcom ARM BCM7252S chipset supports 4K/UHD (up to 2160p60, DVB-C/T/T2/S2, IPTV, OTT), H.264/AVC-MPEG4, H.265/HEVC, with a memory of 2 GB (8 GB flash). This equipment has HDMI, USB 3.0, Ethernet 10/100/1000 Mbit/s, it is possible to connect an external USB-HDD. Built-in Wi-Fi 802.11 a/b/g/n is optionally supported. Another new model of the M30 series based on Broadcom ARM BCM7250 chipset with 1 GB (4 GB flash) memory supports FullHD (up to 1080p60, H.264/H.265, HDMI, USB 2.0, DVB-C/T/T2/S2 with the possibility of connecting external HDD). Ethernet 10/100/1000 Mbit/s and Bluetooth 4.0 are supported in the models of both lines.
Infomir company is manufacturing STB since 2006, and only in 2015 more than 750 thousand devices were sold worldwide, and the total number of sold devices exceeded 3.5 million pcs. Currently, their products are supplied to more than 120 countries worldwide. The company's product line includes both a  new models (MAG257, MAG325, MAG350, MAG352 ) and a models that already gained a popularity (MAG250, MAG255, MAG275).
So, MAG257 is a high-performance solution based on STiH301 chipset, with 1 GB RAM. This set-top box plays high-quality video, including FullHD, has USB 2.0 and USB 3.0 ports to connect removable devices and Wi-Fi adapters. The model is integrated with the Verimatrix content protection system.
MAG350  is the set-top box of premium class with 1 GB RAM based on Broadcom chipset for the operators offering their TV services via IP-based networks. Wi-Fi 2.4/5 GHz, Bluetooth 4.0 are optionally supported.
MAG352 is another model of premium class for OTT/IPTV based on Broadcom chipset designed to work with 4K60p content. It has up to 2GB RAM. Wi-Fi 2.4/5 GHz, Bluetooth 3.0/4.0, CAS Verimatrix Advanced are optionally supported in this model.
All these 3 models support HEVC video compression format
DataMax Company (China) presented STB DM12S4 model based on Amlogic S912 chipset running Android 6.0 which is equipped with DDR3 2GB RAM + EMMC 8GB.
We would like to note among the novelties GK-MP1111C by Shenzhen Giec Digital (China).
This compact box contains the device with 4K/HEVC support based on Android 6.0 and with HDR support. Processor ARM Cortex A53 and graphics chipset Mali 450 are used in it. The device has 2 GB of memory + 8GB flash. Wi-Fi 802.11 b/g/n/ac (2.4/5.8 GHz), as well as HDMI, USB 2.0, Ethernet 100 Mbit/s are supported.
There are several models among the novelties by HwaCom Systems (Taiwan). This is hybrid A6010 based on dual-core processor ARM B15 running Linux/Android and equipped with memory of 2 GB (4 GB flash) with the tuner DVB-C/S/S2/T/T2. This model supports 4K HEVC/H.264, HDMI, USB 3.0, Wi-Fi 802.11 b/g/n, Ethernet 1 Gbit/s. Another model of the same company is gateway M3360 based on ARM Cortex A7 chipset with memory of 2 GB (8 GB flash) running OS Android. The solution supports 4K HEVC/H.264/MPEG2, HDMI , Wi-Fi 802.11 b/g/n/ac, Ethernet 1 Gbit/s, Bluetooth, as well as IPTV, OTT, VoD and DVR function. Models are promoted under Amaze TV brand.
SmartLabs (Russia) presented a few novelties. This is SML-5041 with the support of UltraHD (up 4K60p)/HEVC and HDR based on ARM Cortex A53 chipset running Android 6.0/Linux. Graphic chip is ARM Mali-400. HDMI, Wi-Fi 802.11 (2.4/5 GHz) up to 867 Mbit/s, Ethernet 10/100 Mbit/s, USB are supported in this model. The device is equipped with DDR3 memory 2 GB (8 GB flash).
High-performance STB SML-5112 based on BCM7251S chipset supports UltraHD (up to 4K60p)/HEVC, optionally Bluetooth 4.0, and also has a SATA connector for HDD connection. This model is designed for multicast broadcasting via Wi-Fi. USB 3.0, SATA, HDMI, Ethernet 1 Gbit/s are supported. According to the company's representative, due to the fact that the population of the CIS countries is mostly short of money, the demand for inexpensive set-top boxes prevails. This model is now available in the US market, where the demand for such products is noticeable. The device is equipped by memory 1 GB (up to 2GB), flash memory 256 MB (up to 16GB).
Shenzhen Shiningworth Technology (China) presented HFIO device with built-in speakers and support of 4K/2K@60fps/H.265. The solution is optimal for OTT and is based on AML S905X (Cortex A53) chipset and graphic chipset Mali-450 with memory 1 GB DDR3 (8 GB flash) and running OS Android 6. Ethernet 10/100 Mbit/s, Wi-Fi 802.11 b/g/n/ac/a (2.4/5 GHz), Bluetooth 4.0 are supported.
Another presented model is also very interesting – portable projector with the size of a palm.
SDMC Technology (China) presented Octa Core OTT/IPTV STB based on Amlogic S912 chipset running Android 6.0, and Shenzhen Jiuzhou Electric (China) presented several models: DTC9035 and JM203-6 (for FTTH).
Sagemcom (France) presented a number of solutions. DIW384 (Wi-Fi, IP), as well as several new products for different countries: DT61440 (4K, DVB-S2, for Turkey), RSTIW384-500 (Vivo, for Brazil market) model ONEBOX (Wi-Fi) for operators in France and the same model but without Wi-Fi for Brazil. Both versions ONEBOX support 4K / UHD.
TCL company also is developing a new model – T8015N. This solution supports HEVC HD OTT + GPON) and will be available after 2 months. It supports Wi-Fi 802.11 b/g/n/ac, Bluetooth 4.0, Android, HDMI, USB, Ethernet.
Shenzhen GoShip Electronics (China) presented cable modem S3000C with support of DOCSIS 3.0, HEVC/H.265 running Android 4.4. This device has built-in memory DDR3 1GB (up to 2GB, 8GB flash, maximum up to 32GB), Bluetooth 4.0, Wi-Fi (2.4/5GHz).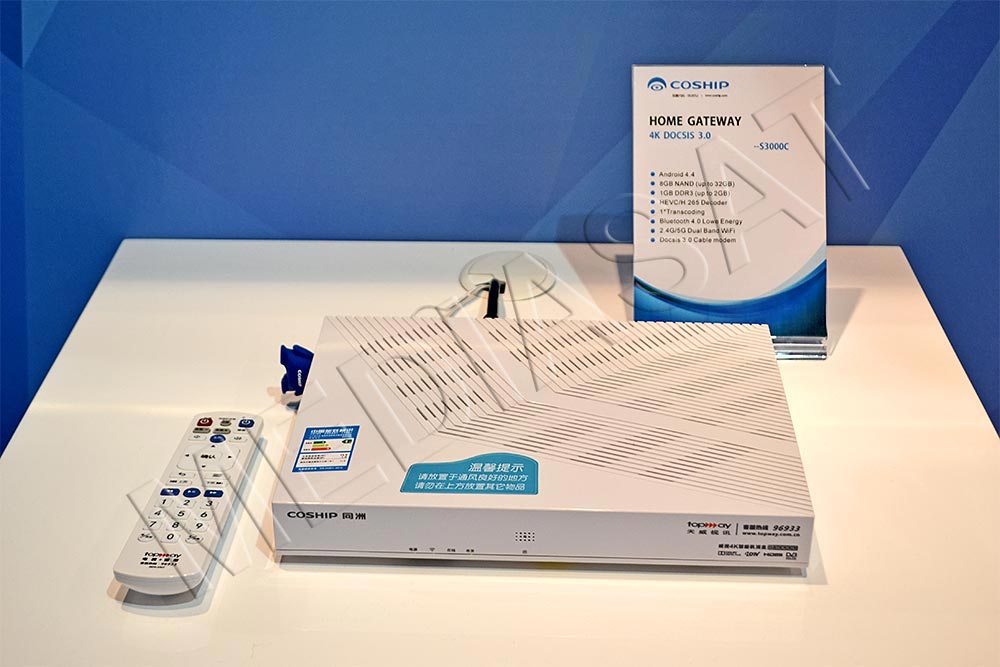 Vestel presented its new STB IP7252 with support for 2K/4K and HEVC/H.265, DVB-S/S2 running Android 6.0 (the model is expected early in 2017). Wi-Fi 802.11ac, Bluetooth, HDMI, PVR are supported. Power consumption in standby mode is less than 0.5 W. The company also introduced HD DVB-IPTV television panel with integrated STB.
The model SP-110 from presented at the exhibition by Septlex company differs by non-standard form. This half-moon shaped solution is expected in the first quarter of 2017 and supports H.265/H.264/MPEG4/MPEG2 and stream media via IP-based networks. HDMI, USB, Wi-Fi a/b/n/ac (2,4/5 GHz) are also supported.
Intek Digital presented a new model STB UHD-S24NV.
And Humax presented two new models. Android 4K HDR model supports Ethernet 1 Gbit/s, equipped with DDR memory to 4 GB (flash memory 4GB eMMC), Wi-Fi 802.11 ac, Bluetooth 4.1, 4Kp60/HEVC. 4K model (for Sky Deutschland) supports DVB-S2, has 2 GB DDR3, 8GB flash, HDD 1TB (up to 185 hours of recording time in HD-quality).
The Korean company Digital Multimedia Technology (DMT) has also introduced several novelties: hybrid DMT-1521AN based on ARM B15 processor with 4K60p/HEVC, USB PVR, Ethernet , Wi-Fi, Bluetooth; it has built-in CAS, as well as UHD-solution for OTT – Hera (Android, IP) + HD Gateway STB.
Developing the direction of "smart house», Antik Technology presented Mini 3 STB (expected in a couple of months). Device functionality is different from the usual set-top box – a model is focused on the smart home segment and provides monitoring of energy consumption by a variety of devices, their state (which devices are on, monitoring of gas leaks in the room, etc.). Also the necessary smart-devices were presented.
To be continued…