Final. Please read previous articles IBC 2016: set-top boxes and subscriber devices and IBC 2016: Satellite operators, solutions for content protection, screens and antennas.
DRONES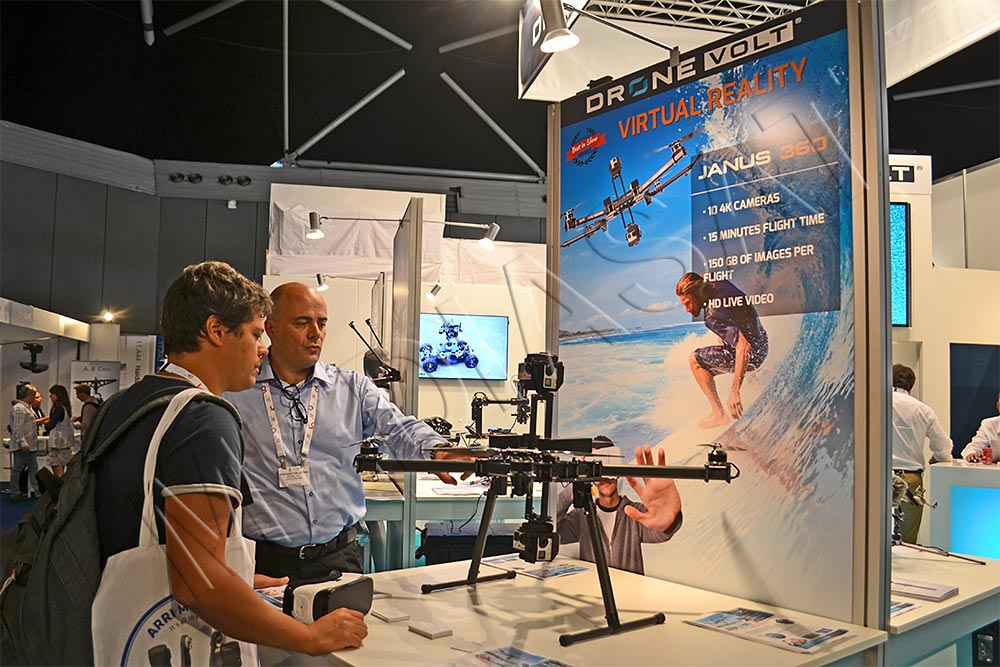 Janus 360 model (value about EUR 20,000) was presented at the stand of Drone Volt (France). According to the developers, this is the first flying VR camera that captures 360 degrees video on 10 cameras at 80 fps (each supports 4K). The model can be in flight during up to 15 minutes and record up to 150 GB of images within a single flight, being away from the starting point up to 1 km. This solution is optimal to create the 3D video for tourism, builders etc.
Varanon (South Korea) presented Aero VR Gimbal multicopter with carbon-fiber body and a flight distance of 1.5 km (carrying capacity up to 12 kg). The distance depends on the transmitter parameters. However, this "toy" will afford not for everyone with a price of USD 27,000. This weatherproof solution performs stable recording without shaking during the flight. Circular 360 degrees recording is available.
According to the developers, this model is the fastest in the world (speeds up to 200 km/h).
SOLUTIONS FOR BROADCASTERS AND OPERATORS
Continuing improvement of the popular universal multi-format cable ASTRO U100 TV platform modules line, ASTRO Strobel (Germany) introduced a new U159 module (already available for order).
The cable operator can use the modern network architecture concept where all the TV content (video and radio channels) is transformed by a central farm into digital MPEG TS streams and is transmitted over the branched backbone IP-based networks covering vast areas of big cities and regions. MPEG TS converting to the required format for operator – DVB-C, DVB-T, analogue cable TV broadcasting and FM radio – is made at the level of local/regional farms only.
U159 is a high EdgeQAM modulator with an extremely high channel density and a variety of redundancy options with RTP support and FEC error correction. One module provides up to 64-QAM output streams (16QAM-256QAM) in the range of 47-1006 MHz generated from MPEG over IP TS coming to 4-input the GigE interfaces. The module provides both automatic input link-redundancy reserving (LR) and source-redundancy (SR), and this guarantees the TV content delivery both in the case of the input link failure (toward redundancy) and the loss of the input multicast (source redundancy). The combined use of both redundancy schemes (LR+SR) is available.
In the case of input redundancy the maximum number of output QAM streams is reduced to 32 (for SR or LR schemes) or 16 (LR+SR). One compact (1RU) U100 bus allows to set up to three U159 modulators that provides from 48 to 192 QAM output streams in total (depending on the input redundancy use). This allows the operator to broadcast from several hundred to more than a thousand TV programs via cable network. At the same time, various mixing options: 64-32-16 or by channel are available according to the operator's needs. So, a selected number of especially important channels can have a full redundancy (LR+SR), and the less important (LR) and not very popular channels can be broadcasted without any reservation.
LiveU presented LU600 – a portable unit for a news broadcasting for different sports events. The solution provides work with H.265/HEVC-video content due to bitrate up to 20 Mbit/s and low delay (less than 0.5 s), and control is performed using a 5″ touchscreen. The device is equipped with 16 GB built-in memory, Wi-Fi is supported.
Convergent Design announced Titan HD Extract – a solution that allows creating 3 HD-video using a single 4K-camera (expected in October). The result is one video with a maximum resolution and two videos with the smaller, the resolution is manually selected by the operator.
SAM (Socialising Around the Media) platform presented on the exhibition is also of interest. Proposed software for the second screen is different from the solutions present on the market which generally duplicate the main screen contents. In this decision the second screen can be used for a more detailed study of the content displayed on the main screen. The application area is online training, business presentations etc.
Advantech presented VEGA-3304 – PCIe-videocard-encoder with 8K/HEVC (8Kp60) support – the optimum solution for VR. HDR, 16x3G-SDI input signals are supported.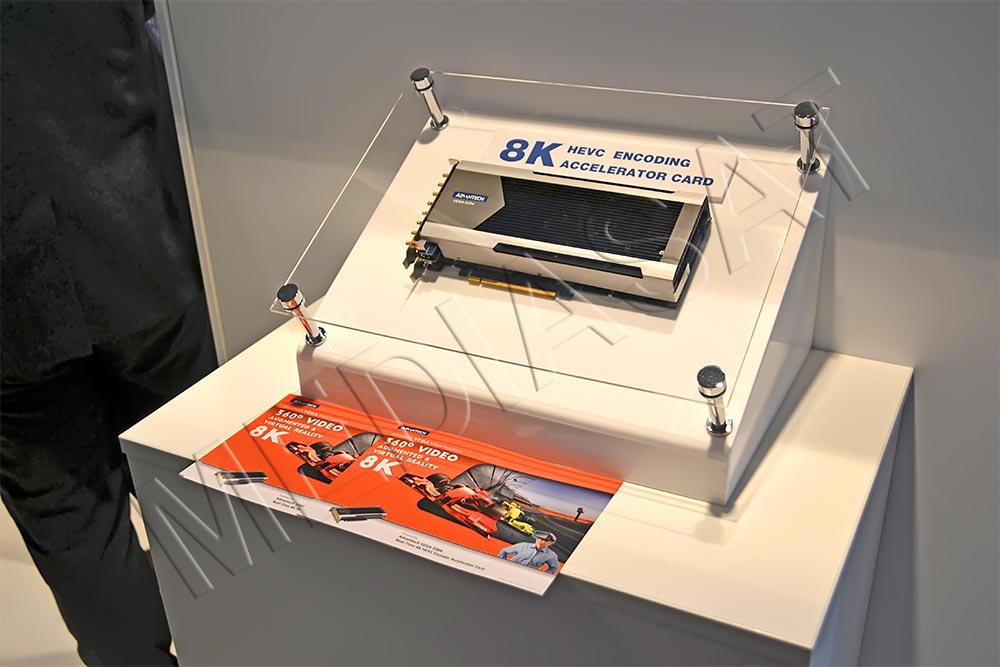 NEP The Netherlands (the Netherlands) presented multi-camera production platform based on Cloud Production IP-technologies. Each studio faces the problem how to minimize the time of reportage release and save the budget at the content production but receive the best content quality. And sometimes TV company does not need a fully equipped studio for the filing of a TV project. Here, the cloudy solution by NEP would be the best. Of course, microphones, cameras, and support staff are required but all other resources will available via the cloud data center.
Focusing on green technologies, Advantech Wireless demonstrated the power amplifier for SSPB-Ka20 Ka-band with the time between failures of 520 thousand hours. In addition to  MTBF parameter improvement, the model has become 70 % smaller in size with increased power. A-SAT-II (Adaptive Satellite Access Technology) technology is also of interest to achieve the most efficient satellite capacity use. The technology provides an of optimal range choice and reduces the channel congestion.
Axon Digital Design BV has demonstrated SynView 4K/IP (20ms@50Hz, 16.ms@59.94 Hz) multi-viewer, the most rapid in the world, according to the company representatives. The solution is built on a modular principle (5 basic modules) and has low delay. A hybrid multi-viewer with up to 100 inputs (outputs: 8x1080p (SDI) or 2xUHD/4K) can be formed by combination of the modules. Ethernet 10 Gb/s is supported.
NewTec presented several new solutions including satellite MDM5000 VSAT modem with DVB-S2x support (up to 133 Mbit/s); MCX7000 – Satellite Gateway with DVB-S2X support, providing companies a significant cost saving on CAPEX and OPEX (operating expenses). Support of Clean Channel Technology saves up to 15 % bandwidth, and Equalink 3 technology saves up to 10 % of the channel bandwidth. The required level of data protection is provided by AES encryption standard support.
New consumer modem MDM2210 was also announced (will be available later).
The agreement on Dialog NewTec multiservice platform signed between NewTec and Arab Satellite Communications Organizations (Arabsat) within the framework of IBC will allow the latter to extend the list of provided DTH (Direct-to-Home) services. The platform combines several technologies: MF-TDMA, SCPC and brand Mx-DMAR.
Providing maximum bandwidth and a fast return of investments, the solution by NewTec also includes Equalink technology that provides an additional increase in data traffic by 15 % within the current satellite capacity.
Demonstration at the KONOVA Korea stand attracted by the possibility of a plurality GoPro cameras mounting on a single axis on multicopter that provides 360 degrees filming. NS VR GIMBAL solution allows to work with both GoPro cameras and with models by other brands – mounting 6 or 11 cameras after appropriate weight balancing is allowed (the necessary weights are provided). Magnetic Encoder is used to reduce the vibrations (3 battery 1000 mAh each). The weight of the whole structure with balancing weight is 1.7 kg. The solution is "attached" to drone on carboxylic "tube."
Norwia (Norway) has demonstrated the camera adapter that simplifies selection and remote control between Sony/Hitachi/Ikegami models.
Dejero Labs presented the Live + gateway to provide access to the Internet and private networks. The solution is made in 1RU form factor and includes the hardware mountable in minivan as well as all the necessary things to work with mobile and satellite equipment. In particular, the antennas for cellular networks, satellite dishes etc. Up to three 3G/4G/LTE-networks, Ethernet 1 Gbit/s, USB, HDMI, Wi-Fi 802.11 a/b/g/n/ac are supported. A combination of multiple networks (mobile, satellite, Wi-Fi) – up to 100 Mbit/s for upload/download – is used for the stable high-speed data transfer.
TP-Link Technologies presented several solutions: the world's fastest, according to company representatives, Talon AD7200 multi-frequency Wi-Fi-router with the speed of 4600 Mbit/s (60 GHz range is used for Wi-Fi 802.11AD that is almost 10-fold faster than standard solutions on the basis of 802.11ac  available on the market and 30-fold faster than 802.11n). Hardware is based on 1.4 GHz dual-core processor. And specially oriented 32 60 GHz antennas formed as an antennas array provide the best performance. According to tests, the router allows to send a file of 1 GB size in 3s and download FullHD film In 14 s. Availability of three different Wi-Fi-ranges allows to combine them achieving a stunningly high rates – up to 7200 Mbit/s (!). In addition to 60 GHz range this device supports 2.4 GHz (up to 800 Mbit/s) and 5 GHz (up to 1733 Mbit/s) ranges. The data streaming transmitted on multiple devices allows to triple the Wi-Fi speed in 2.4 GHz and 5 GHz ranges. The price of this high-speed device is EUR 349.
The company presented "Internet via power line" solution made in the form of a power supply adapter AV2000 Gigabit Powerline ac Wi-Fi Kit (TL-WPA9610) – it supports two-frequencies Wi-Fi (up to 1200 Mbit/s) and HomePlug AV2 support allows to transfer data at speeds up to 2000 Mbit/s. AC2600 Wi-Fi the Range Extender (RE650), another solution by TP-Link brand, will help to expand Wi-Fi coverage area. Dual-band Wi-Fi allows to combine two bands, 2.4 GHz and 5 GHz. The device is equipped with four antennas and 1 Gbit/s Ethernet.
Another model AC1900 Smart Home Router with 4.3″ touchscreen (SR20 model) provides the speeds of up to 1900 Mbit/s that allows video stream in 4K format without any delay. Management and monitoring of devices is performed using the free Kasa application for iOS/Android.
The next device – AC750 Wi-Fi Range Extender with smart socket and Gigabit port (RE270K) – provides Wi-Fi to 433 Mb/s (5 GHz) and up to 300 Mbit/s (2.4GHz).
Broadcast Solutions' (Germany) introduced the Streamline family for their "studios on wheels". All the auto trailers support 4K and can be supplied in S4 (up to four cameras), S6 (up to six cameras), S8 (up to 8 cameras), S12 (up to 12 cameras in full-size trailer) and S16 (up to 16 cameras) configurations. The abundance of this choice allows to choose the most suitable option for TV companies that perform the "on-site" broadcasting from various events.
NEC Corporation has demonstrated the line of digital UHF-transmitters with low power consumption DTU-L10 (in 2U cases (output power up to 200 watts, DTU-L10/R01, DTU- L10/R08, DTU-L10/R2 models), 3U (400 W, DTU-L10/R4) and 4U (600 W, DTU-L10/R6), that are placed in a standard 19″ rack. In this transmitters line DVB-T/T2 and ISDB-T/Tb (470-790 MHz) are supported.
CoT Connected (Korea) demonstrated several solutions: Cloud 360 Video – according to the developers, the world's first high-performance video platform for TV/STB-enabled devices with 4K support; and Cloud HbbTV for rapid integration and efficient management of HbbTV services.
DigiSoft.tv (Ireland) showed Zappy video platform – the optimal choice for operators that are planning to distribute premium level video content for its subscribers (e.g. via VoD). The solution is designed as a Platform-as-a-service and allows to minimize capital investments in content and infrastructure, as well as OTT-services prompt monitoring. Zappy is available in a wide variety of devices, including mobile phones, handhelds, smart-TV, game consoles, media streamers (Apple TV, Google Chromecast, Amazon Fire TV, Roku). Among the main advantages are the lack of CAPEX costs, the availability of DRM-free content, fast market penetration, broadcasting for almost any device, plus a variety of options to monetize. Developers should be interested in announced CastSDK platform allowing to deliver content to a plurality of TV devices. There are no additional costs for new devices. It is supplied as a mobile version for iOS/Android.
SlomoTV also presented an interesting solution. Thus, Simple R SDX hardware allows to record on 16 SD-cards.
However, unlike similar BlackMagic Design solution presented before, this model has 8 inputs instead of one. In addition, export to USB and multiviewer are available. The price of this device is EUR 9000 (8 channels) or EUR 6600 (4 channels). VideoReferee 4K solution for live events recording (football, basketball, hockey, etc.) providing up to 18 4K50p/3G/ HD-SD-SDI-channels is the special SlomoTV's pride.
The most powerful on the market RED ARROW server for video replays in 2RU format earlier presented at the NAB Show and presented at IBC 2016 also should be noted. This solution has 24 3G/HD/SD-SDI-port and allows to record up to 266 hours of HD-video (100 Mb/s).
You should not think how many servers and by what vendors are best to use to solve problems – one Red Arrow device is enough. USB 3.0/eSATA, Ethernet 10 Gb/s are supported. In particular, 48 channels for 3G and HD are available: 20 for recording, 20 for search, and 8 for playback.
BlackMagic Design presented Teranex AV converter with low delay. 12G-SDI, HDMI are supported.
GatesAir demonstrated a transducer with DVB-T2/ATSC 3.0 support.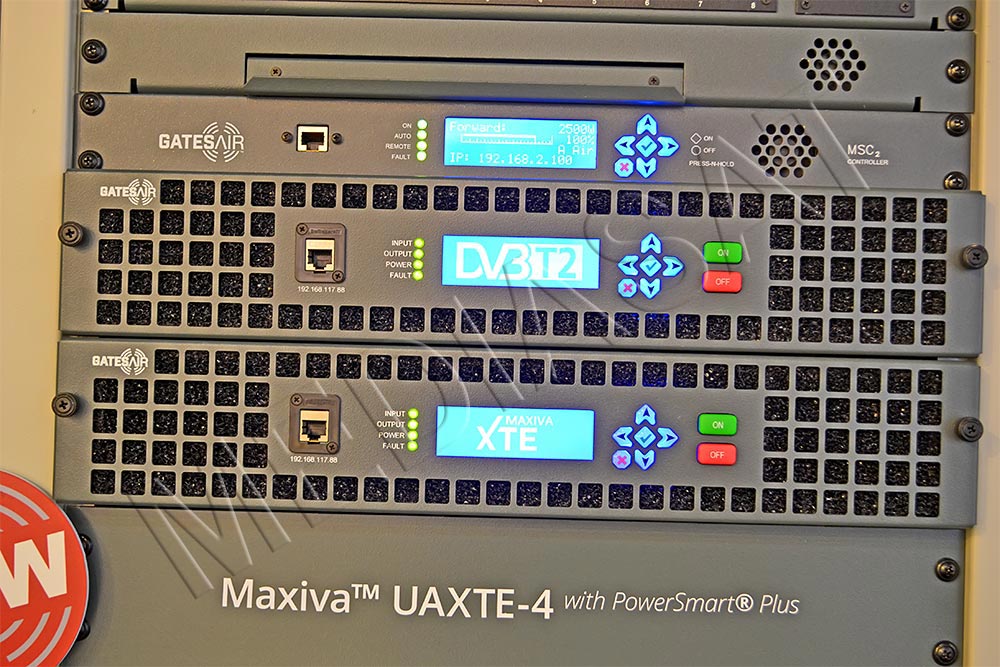 Wisi Communications (Germany) presented Katamaran system with customization option (billing, etc.; wishes of consumers, operators are presently studied).
The platform provides the multi-screen/OTT opportunities for videographers that have to deploy and maintain multi-screen services on iOS, Android, Roku devices, and in the future – HTML5. The platform offers a cloud-based DVR functions, catch-up TV, EPG, authentication, and others. The company also demonstrated Inca 5420 server which can be used as a part of Katamaran and separately for multi-screen/OTT. The model supports multilanguage, subtitles, and work with 5,000 simultaneous subscriber connections. Using the solutions by Wisi brand, cable and IP-based networks operators can distribute and monitor video content (linear/non-linear TV) via their networks on TV receivers and mobile devices (smartphones, PDAs, laptops).
Panasonic demonstrated two models of cameras: AG-UX90 and AG-UX180. AG-UX180 camcorder model supports 4K/50p, auto focus, 20x optical zoom, improved image stabilization, super-slow motion (120fps/1080p) with the ability to change the frame rate from 2 to 60. AG-UX90 camcorder supports 4K/30p, 15x optical zoom, 4K, auto focus, variable frame rate from 2 to 60 (1080p). Both cameras support remote management over a wireless network using a free app.
Fujifilm (Fujion brand) presented X-T2 4K-camera on their stand. The device cost is EUR 1699. HDMI, the simulation mode with the addition of filters during video recording without additional post processing are available.
TECHNOLOGIES AND INTERESTING SOLUTIONS
TV studios will be interested in transcoding technology from any conventional SDR (Standart Dynamic Range) video content to HDR (High Dynamic Range) that was presented on the Institute of Research and Technology stand for the first time. Technology called "watermarks" to protect the HDR Forensic video content ("watermarking" label is "hidden" in the video and is invisible to the viewer) was also presented here.
Among the shortcomings the author would note significantly increasing noise in the video.
Increased consumer's interest in systems of intelligent home control devices forces developers to increase the number of such solutions. This exhibition where companies have demonstrated such solutions was not an exception. Among them there is Opentech which together with Pineone has demonstrated automated online-management solution for Ez Thing "smart house". The solution allows to control the smart house functions using a mobile application: to control the status and manage smart devices, mobile devices, to connect new devices and take a reading from them. This solution provides smart home installation with a minimal costs, and it is beneficial to everyone: manufacturers of smart-devices, solutions distributors and end customers. The latter, in particular, obtain energy saving that is necessary for smart-devices (heating, lighting and other electrical appliances, control devices, etc.), as well as also increase the safety of the premises use. The solution runs iOS/Android.
KaonMedia (Korea) presented Smart IoT "smart home" running IoT Hub. The device supports all wireless protocols (Wi-Fi 802.11a/b/g/n, Bluetooth 802.15.1, ZigBee 802.11.4a, Z-Wave), Ethernet up to10/100 Mbit/s.
Demonstration example included connected smart devices (domestic cooking units controlled via the network; lighting devices, various sensors (temperature, presence of gas and water leaks, motion, etc)).
NTT Group (Japan) demonstrated Kirari telepresence system (Immersive Public Viewing).
The concept is a three-dimensional video creating an impression of presence in the sporting event for the viewer. The effect is additionally enhanced by surround stereo sound. Objects demonstrated in the video are automatically cleared from the background. And the viewer is watching the final isolated object (for example, the players on the field). Compared with NAB Show, the screen size was increased by several times.
CONCLUSION
Summing up the results of the exhibition, a significant fact can be noted: developments in VR direction will continue to go on, and the number of such solutions will increase in the near future. Installation of such solutions on multi-copters will allow TV stations and software developers to offer a completely new three-dimensional video products that will be undoubtedly liked by the audience.