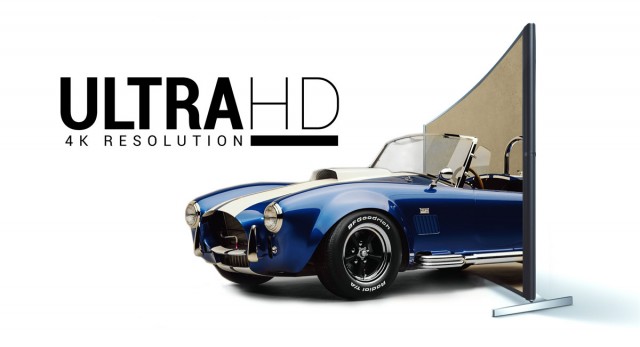 November 16-18, the Russian Television and Radio Broadcasting Network (RTRS) presented a technical solution for terrestrial broadcasting in UHD 4K format, at the XX International Congress NAT and the 12th International Exhibition of Professional Equipment and Technologies for TV, Radio, Internet Broadcasting and Film Production NATEXPO. This was informed to the Mediasat reporter by the RTRS' the press office.
The presentation of receiving terrestrial TV signals in UHD 4K format was arranged at the RTRS' stand during the NATEXPO Exhibition. That stand simulated a living room. On a wide flat-panel screen, there were shown videos in 4K UHD format with a resolution of over eight million pixels (3840×2160) and multichannel sound. TV signal transmitted over 16 million colors and six-channel sound in Dolby Digital Plus standard.
"Right now we are thinking about broadcasting in ultra-high-definition standard. All the more so, as according to analysts' expectations, the base of 4K TV-sets will account for a few million in the Russian households, as early as in 2018", as stated by Andrey Romanchenko, CEO at RTRS.
RTRS started a test 4K UHD broadcasting in DVB-T2 standard on August 1, this year, i.e. on the eve of its 15th anniversary. Today, the experiment goes on.
To transmit video, RTRS applies a High Efficiency Video Codec compression standard (HEVC or H.265), which is almost twice as effective as the MPEG4 codec, actually applied for broadcasting in a standard digital quality. The transmitter power at the Ostankino Tower is 300 W. The antenna is set at a height of 415 meters. The signal can be received on TV channel 58 (770 MHz) by any resident of Moscow and the Moscow vicinity on any TV-set supporting UHD/DVB-T2/HEVC.