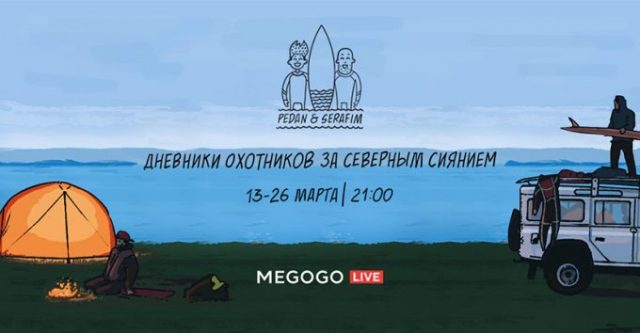 The famous Ukrainian TV host and extreme sports lover Alexander Pedan and his friend Serafim Romanov, the founder of Surf-community Surfin'ua, went on an expedition to Norway, where they plan to travel around the Nordic country in trailers, not just viewing the sights and nature of the picturesque Viking homeland, but their goal is to find the best spots for extreme pastime, showing them to the online audience in an interactive mode.
The travelers will record their Norwegian adventures on video and will broadcast them exclusively at the online cinema MEGOGO.
So, for two weeks, from March 13 to March 26, the famous Ukrainian extreme sports lovers will surf on the waves of Norwegian fjords, do snowboarding on the slopes of ski resorts in Norway and explore the freeride opportunities of the faraway Lofoten islands, aa well as witness the polar lights, if they are lucky.
The first episodes of the new unique travel show Pedan&Serafim "Diaries of polar lights hunters" are already available at the online cinema MEGOGO in the section LIVE. Every day, there will appear new episodes of Norwegian adventures of the team of Alexander Pedan and Serafim Romanov. The total of scheduled episodes is 14.
The protagonists of the unique travel show confess that the idea to go on an extreme journey through Norway came up long ago, but the decision to make a series of videos available all over the world was the spontaneous one, largely owing to the popularity of the new format of online broadcasts, in particular, the MEGOGO LIVE project among them.
Previously, MEGOGO already succeeded in broadcasting concerts of "DahaBraha" and "Machete"; «Z-Games 2016» festival, dance shows and competitions like "Alice in Wonderland", "Feel the Beat", "Red Bull BC One Camp Ukraine"; sports competitions like "Ukrainian Combat Games", "Reebok Kyiv Battle", "Bukovel Free-Fight Cup"; e-sports "WGL 2017 Season 2". And the other day, the MEGOGO LIVE team even arranged broadcasting of the ballet "Giselle". In the coming month, it is scheduled to broadcast "Zaruba Freestyle Dance Contest", the first Z-Games on Snow and many other events.