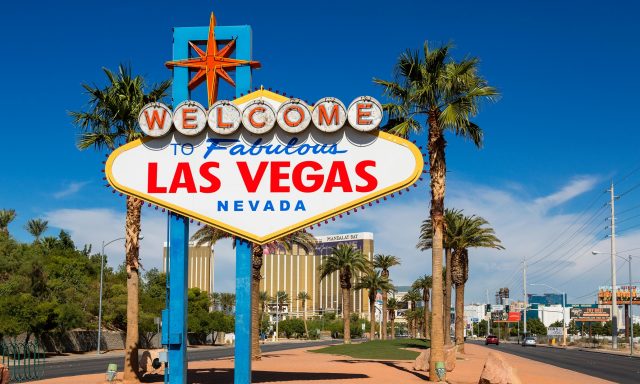 Continuation. Read the beginning in the article NAB Show 2017: Monitors and Set-Top Boxes.
Solutions for Testing, Monitoring and Measuring Parameters
Nippon Control System presented a line of multifunction analyzers for UHDTV-DAB8000 mini.
The "6-in-one" solution is designed to monitor 4K/8K video, is housed in the half of the 3U case and consists of an analyzer/waveform monitor, signal generator, audio analyzer, signal converter (U-SDI<->8K 3G-SDI, RGB<->YCbCr), real-time protocol analyzer and focus assistant (simplifies to focus in difficult situations for 8K cameras).
KeySight Technologies presented digital its oscilloscope DS0Z11026 with a band of up to 100 MHz, and Tektronix is a prototype software solution for online monitoring.
Leader Instruments presented test equipment like the test signal generator LT4610 (3G/HD/SD), the multi-format video generator LT4600A and the module LT4448.
Antenna equipment
Focusing on the advanced industrial standards, Jampro Antennas presented its antenna JUXD, supporting Futurization Technology, which allows any polarization "reconfiguration" (if operators need it in the future) without having to change the antenna design. The solution is ideal for operators providing broadband access or multichannel broadcasting services in DVB-T2 and ATSC 3.0 standards, facilitating to select any polarization (horizontal, vertical, elliptical, circular).
AVL Technologies presented the model 1315, a segmented carbon 1.35-meter three-band antenna. The model is lightweight, consists of 12 carbon reflector fragments and can be installed just in 5 minutes. The polarization is selected manually. The stationary device withstands a wind speed of up to 45 mph.
Kathrein presented a line of UHF antennas with a power of 1 to 600 W (470-862 MHz), which are designed for a wind speed of up to 240 kph, and Dielectric presented an omnidirectional antenna system TFU-GTH-BB with up to 240 kW of power and elliptical polarization.
Drones
DJI presented its multi-copter Phantom 4 Advanced. The model is equipped with a 1˝ camera with a 20-megapixel CMOS sensor (4K60p/H.264, 4K30p/H.265). The control console has a 5.5˝ monitor (16:9) with a resolution of 1920×1080, a built-in memory of 16 GB and HDMI. The drone controllable range is up to 7 km. An accurate navigation is provided by GPS and GLONASS. The water and uneven surface landing disable is monitored.
At the Amimon's stand, XDynamics presented its hi-end modular industrial drone D-02 with a carbon base (8-propeller version – octocopter) with an option of using different models of DSLR cameras, as well as the debut model XDynamics Evolve. D-02 is able to stay in flight for up to 20-30 minutes.
The number of "propellers" and equipment of D-02 depends on specific missions (ensuring speed, reliability, etc.). The reliability guarantees a smooth landing even in case of failure of one or more engines. Thanks to the Amimon's firm-specific technology of wireless transmission with a minimum signal delay (under 10 ms), D-02 provides a stable and smooth FullHD video picture (1080p60).
The company JI Technology announced a prototype of the YI Erida copter (coming this summer). The model is made of carbon fiber, which significantly strengthens structural integrity (against the conventional steel) and reduces weight. The vehicle can stay aloft for up to 40 minutes and speeds up to 120 kph.
However, the drones explore not only air, but also water. So, PowerVision Group (PowerVision Robot) introduced its underwater robot PowerRay 4K with up to 20 minutes of operation time.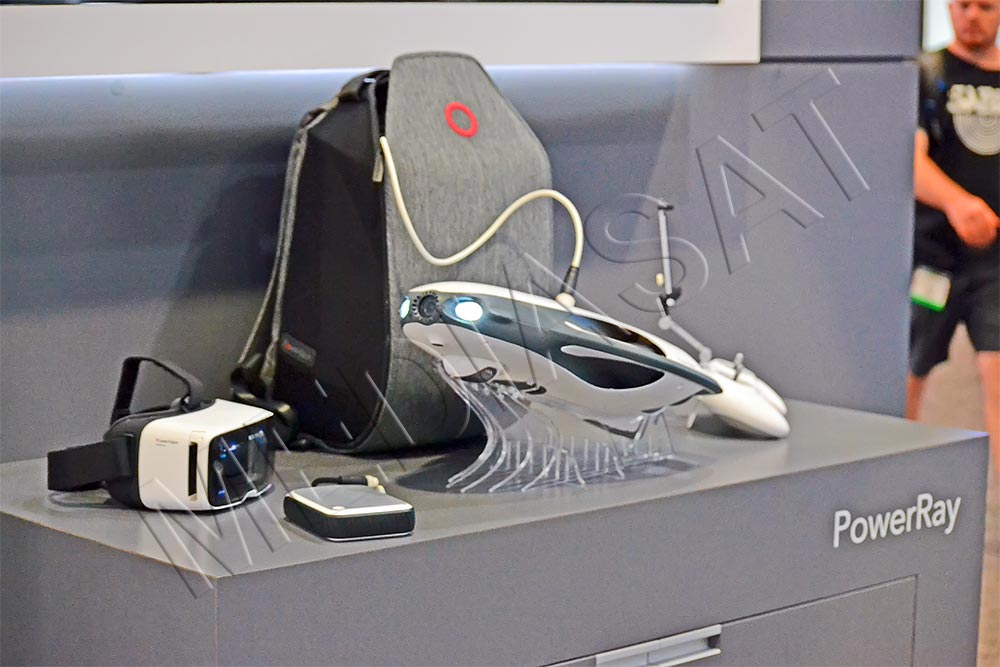 It should be noted that, despite the growing popularity of companies and individuals for multicopters (unmanned aerial vehicle, UAV) as a video shooting tool, the use of unmanned vehicles is not allowed in all places and countries. Even in view of the FAA' authorization to use these devices for photo and video shooting in the United States, the use of drones is prohibited ,for example, on the Golden Gate Bridge in San Francisco, according to the warning near the bridge. A similar taboo is applicable to airports and other facilities. Therefore, before launching such a vehicle in the destination country, it is advisable to learn relevant application restrictions, in order not to face unpleasant situations that have occurred in Western Europe in recent months.
According to the Tractica VR market research, the revenues of the three main segments (tools for making VR content, head-mounted displays and other equipment) will grow rapidly in 2015-2021. So, if the total revenues of all three segments did not even reach USD 500 million in 2015, then this figure should approach the mark of USD 1 billion by the end of 2017, exceeding USD 2 billion in 2018, being more than USD 7 billion by 2020, and surpassing the mark of USD 9 billion in 2021.
Solutions for Cameramen and Broadcasters
Expanding the portfolio of AV-over-IP solutions, Matrox Graphics presented its Maevex 6150 Quad Encoder. The solution provides video capture and simultaneous streaming and recording of four or more channels in the format 4K/UHD 4:4:4 (H.264). The device "produces" video/audio content with a zero delay; it supports HDMI, USB and is coming in June.
AJA Video Systems run a technical presentation of a hardware converter scaler for FS-HDR video.
The solution will be of interest to TV studios that need to convert video signals from SDR (Standard Dynamic Range) to HDR (High Dynamic Range) and vice versa. It supports 4K/UltraHD and 2K/HD. The solution uses a Colorfront-Engine video processing technology. If required, it is available both downscaling (from 4K/UHD to 2K/HD), and reverse conversion (upscaling from 2K/HD to 4K/UHD). AJA Video Systems also showed a number of solutions like IPT-1G-SDI, IPT-1G-HDMI converters, KUMO CP2 console, HELO encoder (H.264), as well as KONA IP (HD/SD), 12GDA, 12GM (12G-SDI).
Blackmagic Design presented its switchboard console ATEM Television Studio Pro HD (4SDI+4HDMI, 1080p60), and Ultra Studio HD mini.
Kramer Electronics (Israel) presented two models based on the chip by Texas Instruments, i.e. these are 731 and 732 transducers. Just one transmitter can send 4K60-video (4:4:4), data and service information to a whole hundred receivers for a distance of up to 4 km. They support HDMI, USB, RS-232.
The apparent interest of visitors to the NHK's stand (Japan Broadcast Corporation, Japan) was generated not only by presentations in the 8K cinema at that stand and 8K rooms, but also a hardware 8K HEVC/H.265 codec, as well as a microwave system for broadcasting 8K content. It is noteworthy that the system was presented 3 years ago in Japan, and for the first time in the USA.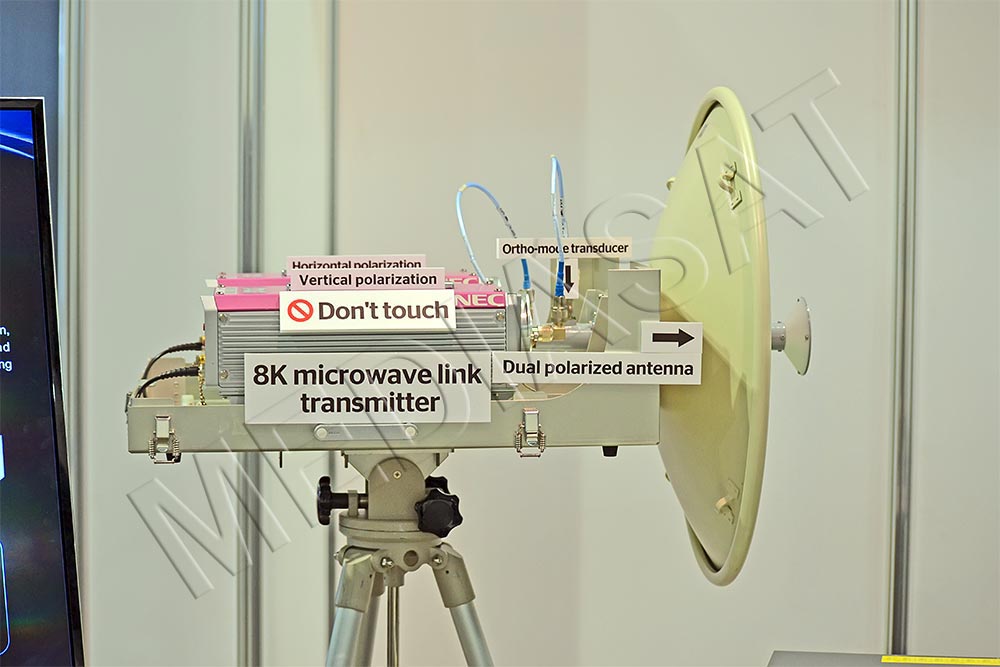 The BrightEye NXT solutions by Ensemble Design are well-deservedly popular amongst broadcasters. This time, the company presented 3 versions of its NXT 950 model (differences in the variety of inputs/outputs).
NTT Electronics also presented a prototype 4K encoder for online mode.
Niagara Video Corporation presented models for broadcasters and service providers: a multichannel encoder/transcoder Niagara 9300 and a low-cost version Niagara 9200, based on Intel technologies. The solution is rack-mountable, supports MPEG-2/H.264 (optionally HEVC in model 9300).
NEC presented two devices: a VC-971 encoder and a VD-971 decoder. Each solution is housed in a 1U case, supports H.264, H.265/HEVC, and provides a high-quality video due to own NEC encoding algorithm. The solutions operate in a real-time mode, providing an ultra-low delay when working with 4K videos. They support 12G-SDI, Ethernet 10/100/1000 Mbps. There is an option of monitoring via the Internet.
The Intraplex IP Link MPXp solution, presented by GatesAir, should be of interest to radio stations operating through IP networks. The solution optimizes the IP network bandwidth. It supports IP multicast and unicast for multiple streams, so one encoder is able to "work" with multiple decoders. For visual monitoring it is used a 3.2 ˝ display. The solution is coming in July.
The ZyPer 4K solution by ZeeVee provides distribution and switching between uncompressed video/audio. ZyPer 4K has a zero delay when delivering UltraHD (4K60);  it supports Ethernet 1Gbps, HDMI and AES encryption.
Bluefish444 presented its server system IngeSTore Server 3G with an option to capture simultaneously up to four video streams (3G/HD/SD-SDI) coming from different SDI sources. There are available models both with an option of data storage on the built-in device, and network storages.
TvONE announced its Magenta Encoder-100, a single-channel video encoder, supporting a resolution of up to 1920×1200 (coming in June). It integrates with CORIOmaster and 4K playback module, allowing a simultaneous broadcasting of normal video content via HDMI to the video wall. At the same time, the video stream can be "converted" (compressed) before the transmission in order to reduce the traffic.
At the joint stand, NPO Videosolution Group (Ukraine) presented its VSS-19Pro teleprompter and consoles, and SoftLab-NSC (Russia) exhibited its 4K UHD HEVC encoder, based on the Intel chipset, for online operation.
Spin Digital Video Technologies (Germany) presented its 8K encoder (H.265/HEVC), supporting 120fps.
The software solution for Windows/Linux for UHD video can be used for HDR, HFR (High Frame Rate), WCG (Wide Color Glamut) and VR (4:2:2, 4:4:4, 360-degree video). The distribution kit comprises a SDK toolkit for user applications. Just to compare, the developers declare a decrease in bitrate due to this innovation by 26% (for 4K60p, 4:2:0, 10 bits) and by 42% (for 4K60p, 4:4:4, 10 bits), as well as by 38% for 8K60p (4:2:0, 10 bits) and by 52% (4:4:4, 10 bits).
Exterity presented AvediaStream e3732, a HD encoder for high-quality video streaming online via IP with a low delay.
Gefen presented several new models like a 4×1 switchboard, Matrix 4×4 (coming in the II quarter), and a splitter 1×2, 1×4, 1×8.
The multi-viewers were presented by many companies. So, the Chinese GraVue (former Gefei Technology) showed its model MIO MVS-4K (3G/HD/SD), and Apantac presented its MX-32.
Vaddio presented its AV gateway Matrix MIX (coming this summer).
The device ACE-2000, presented by LINK Electronics, captures video and converts audio tracks into texts (subtitles). It supports 5 languages. The converted text can be sent via RS-232 or TCP/IP.
Barnfind Technologies AS showed its Barn mini-07 (multiplexer) and Barn mini-08 (optical splitter), as well as optical converters Barn mini-11/12.
At its stand, ARRI Group presented a couple of wireless devices like a WVR-1 video signal receiver and a WVT-1 video transmitter.
The devices are suitable both for ALEXA SXT W cameras, and other products not only of this brand, but also other manufacturers. The solutions are housed in waterproof and dustproof cases and can operate in a wide temperature range (between -20C and + 45C). They support an input voltage between 10.5V and 34V.
TV studios will be also interested in a compact module for transmitting 4K data via HDMI at a distance of up to 100m via one duplex multimode optic fiber HDFX-300-TR by the Korean manufacturer Opticis. For example, to transmit a signal to a remote HDMI monitor.
Not without new cameras. So, Samsung announced its camera Samsung 3D 360, Marshall Electronics presented its "all-weather" HD-mini camera CV225 (IP67 security level, 1080p60, 16:9, 2.5 megapixels), and Hitachi exhibited its Z-HD5500 camera model.
Several models of cameras were presented at the Cinematics' stand under the CineVR brand: a 6-camera model (6-Standard Customized) and a 13-camera model (13 Pro Customized).
JI Technology announced its next-generation virtual reality camera JI Halo, which consists of 17 synchronized cameras that work as a single unit and allow shooting video at up to 60 frames per second. There is an option of remote monitoring through an Android-based application. The solution provides up to 100 minutes of video shooting due to the built-in battery. It supports 3D-360 video with a resolution of up to 8K.
The brand Autoscript (Vitec Group) announced several solutions for cameramen/TV studios. These are teleprompters EVO-IP (1024×768), EPIC-P (1920×1080), and also XBox-IP for "distributing" video content directly to teleprompters (solutions are coming in August).
The cameramen who have to shoot video from different non-standard positions (from too low or high position) there will be helpful a new viewfinder AiRScouter WD-330C by Brother (coming in late summer).
The micro-display attached to the head at the eye level provides a 720p HD image, and the virtual display itself is commensurable with the image on a 19 ˝ monitor at a distance of 1 meter. At that, this solution can be used even by users who wear glasses. It supports HD-SDI port, and the IP-54 security level allows working even in a damp environment (for example, in the rain). The operation on battery power is up to three hours.
Mobile Viewpoint (the Netherlands) presented several solutions. So, WMT Agile Airlink should be of interest to journalists and cameramen shooting in an online mode.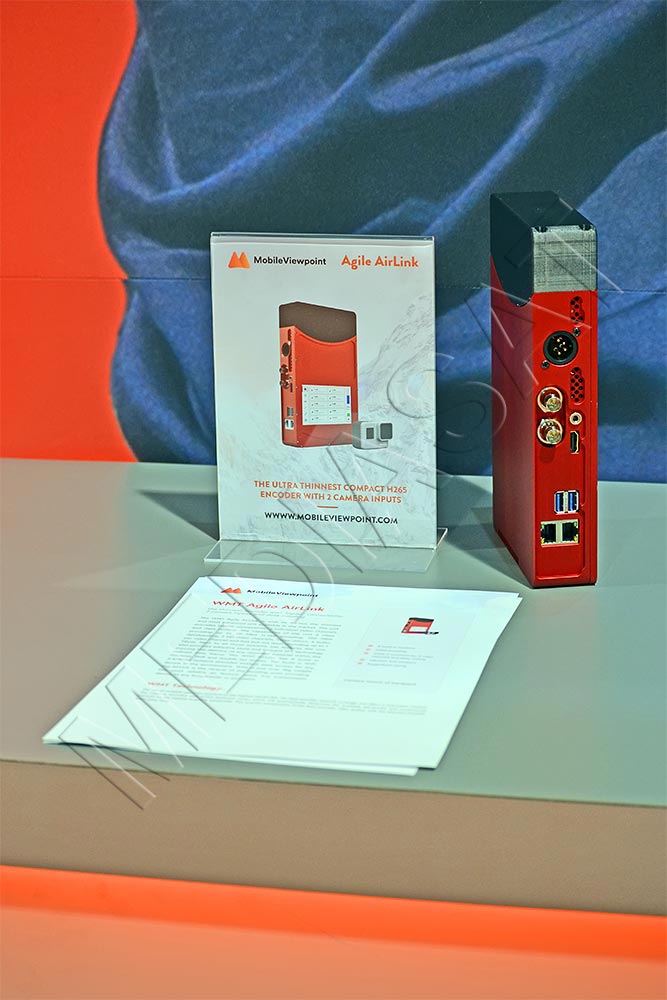 The device is only 40 mm thick and has 8 built-in modems (LTE (4G) and 3G for reverse channel), supporting H.265 encryption (up to 50 Mbps), 2 HD video channels. It supports 4 audio tracks per channel and an option of recording up to 1 TB; HD/SD-SDI, there is HDMI, USB, Wi-Fi (2.4/5 GHz), Ethernet 10/100/1000 Mbps. Another solution is WMT NEO, a super-compact device for live signal broadcasting, supporting H.264, H.265/HEVC and SD-SDI. There are 4 integrated modems 3G/4G, Wi-Fi, USB, Ethernet 10/100/1000 Mbps. Both devices are equipped with a built-in SSD drive (120 GB).
At the Digital Broadcast's stand, the Italian company Screen Future S.R.L. presented several solutions. These are a DTV amplifier SFK-142/XE 1400W, as well as a Universal driver ARK-X, a combined device with features of transmitter, gapfiller, etc. The solution supports DVB-T/T2/H, ATSC, etc., Gigabit Ethernet, USB, a built-in GPS/GLONASS receiver.
Cobalt Digital presented several solutions. These are a FAST-STREAM OTT platform, which appeared as a result of a joint development of the team of developers and customers of Cobalt. The solution is designed in the 2RU form factor and is operated via the DashBoard system or SNMP. Both single-channel and dual-channel configurations are available. One 2RU unit supports up to 6 channels. The new hardware was represented by several controllers like 9971-MV6-4K (hybrid UHD multi-viewer, supporting HDMI 2.0/12G/3G/HD/SD-SDI), 9923-DSK-LG (3G/HD/SD-SDI + logo insertion), 9904-UDX-4K (UHD cross-converter and scaler, supporting 12G/3G/HD/SD-SDI, which is the next generation of scalers. It allows converting 3G/HD/SD-SDI to UHD1 (3840×2160) .There is HDMI, optional Ethernet 10 Gbps), as well as an amplifier with remote monitoring BBG-DA-12G-1×6.
Variant Systems Group showed a video replay system in two configurations, i.e. conventional and ultra-slow.
Seagate presented its Seagate DJI Fly Drive with a capacity of 2 TB, supporting USB 3.1 and an integrated micro SD hub (USD 119, coming this summer). The solution is moisture and shockproof and is designed for installing on multi-copters. The declared capacity allows saving up to 60 hours of video.
LaCie (acquired by Seagate) presented a data storage docking station LaCie 2big Dock Thunderbolt 3 (up to 440 MBps, and RAID support). There are 3 configurations available for 12 TB, 16 TB and 20 TB.
V-Nova announced its V-Nova PERSEUS2 next-generation video coding software, which allows cameramen to deliver the highest-quality content via a wide range of applications, including UHD, IPTV, OTT, mobile video and VR/360 video. The solution works both with mobile video (from 100 Kbps), and UHD content with the required bandwidth from 10 Mbps.
Bon Electronics presented its Mini-Rec, a recorder with a 7˝ LCD display and an option of recording to USB. The maximum resolution is 1080/60p. The solution is useful for capturing the content of a PC screen or video from the video cameras.
The visit to the next stand inspired nostalgia for the early 2000s, the peak of popularity of the "Styrlitz" encoding converter. However today, the company Shtirlitz Media Software is engaged in slightly different activities…
To be continued…