The exhibition ANGACOM 2017 was held for the 17th time at the Exhibition Center Koelnmesse, Cologne, Germany. This year, the exhibition has significantly expanded. According to the participants, it became 7-8% larger than last year. Even the stands seemed to increase in size.
In 2017, the exhibition was attended by 18,000 people, 52% of them are international visitors, 450 stands from 37 countries.
At the same time, the subject matter of the exhibition underwent important changes. If earlier the exhibition was called ANGA Cable, then just ANGA, so now it is called ANGACOM – international exhibition of products and technologies for multiservice operators of landline networks.
The satellite solutions were minimally presented, the terrestrial broadcasting was not presented at all, and suppliers of solutions for cable operators focused on products for optics.
TV solutions
In recent years, the main subject matter of the exhibition has evolved from analog cable TV to OTT. In 2017, it is hard to stand out a single trend. There were presented various technologies like OTT, HEVC, HDR, and HLS.
Judging by exhibitors, it is definitely possible to observe a withdrawal from the 3D market. The VR/AR technology still remains a toy without major application. The participants speak about it reluctantly, but some stagnation is in the air in this segment. This is not about VR providers, but the leading suppliers of solutions for cable operators.
Many companies were not represented at the exhibition at all (Nagra/Conax, Blankom, Spaun, Viaccess/Orca, Inverto, Neotion, Engel, Dreambox, GSS). TV channels were not represented as well. Integrators (for example, SHM) were present without stands.
Appear TV
The AppearTV is a global leading supplier of next-generation video signal processing platforms for high-quality broadcast and streaming video and it presented three new modules for its high-speed network video platform X20/X10. New platforms X10 and X20 allow broadcasters to shift from SDI to IP-oriented operation (SDI over IP). The current portfolio of modules supports processing and transmitting several video services, up to the UHD resolution. Both compressed and uncompressed formats can be easily processed with the advanced codecs like HEVC, JPEG2K and TICO, and they can be shown in any combination with ultra-low delay, optionally 4:2:2 Chroma subsampling. In addition, the platform provides Simulcrypt scrambling and descrambling up to 2000 services in one module.
At the exhibition, is was also presented a universal uncompressed video gateway module that supports multi-channel SDI over IP encapsulation, following the actual SMPTE2022-6 standard.
The world-famous platform XC5000 was also presented at the exhibition. The modular platform allows easily adapting to any requirements without a full system replacement in the future. The unified head-end station can contain a wide variety of specially designed modules for processing and receiving via IP, ASI, DVB-C, ISDB-T, 8VSB, DVB-T/T2 and DVB-S/S2, descrambling, coding, transcoding, scrambling, multiplexing, as well as all available common output formats, including IP, ASI, DVB-C, DVB-T/T2 and DVB-S/S2. The chassis can be also configured and monitored using a built-in web interface. In addition, the system has a totally open architecture with interfaces that include XML, SOAP and other industry standard protocols.
Moreover, the Appear TV presented its ABR packager at the exhibition. The Appear TV ABR system is a modular software solution that provides a powerful video segmentation tool, a high-performance data storage solution, just-in-time packager/DRM technology, origin server and optional offline encoding/transcoding in one set.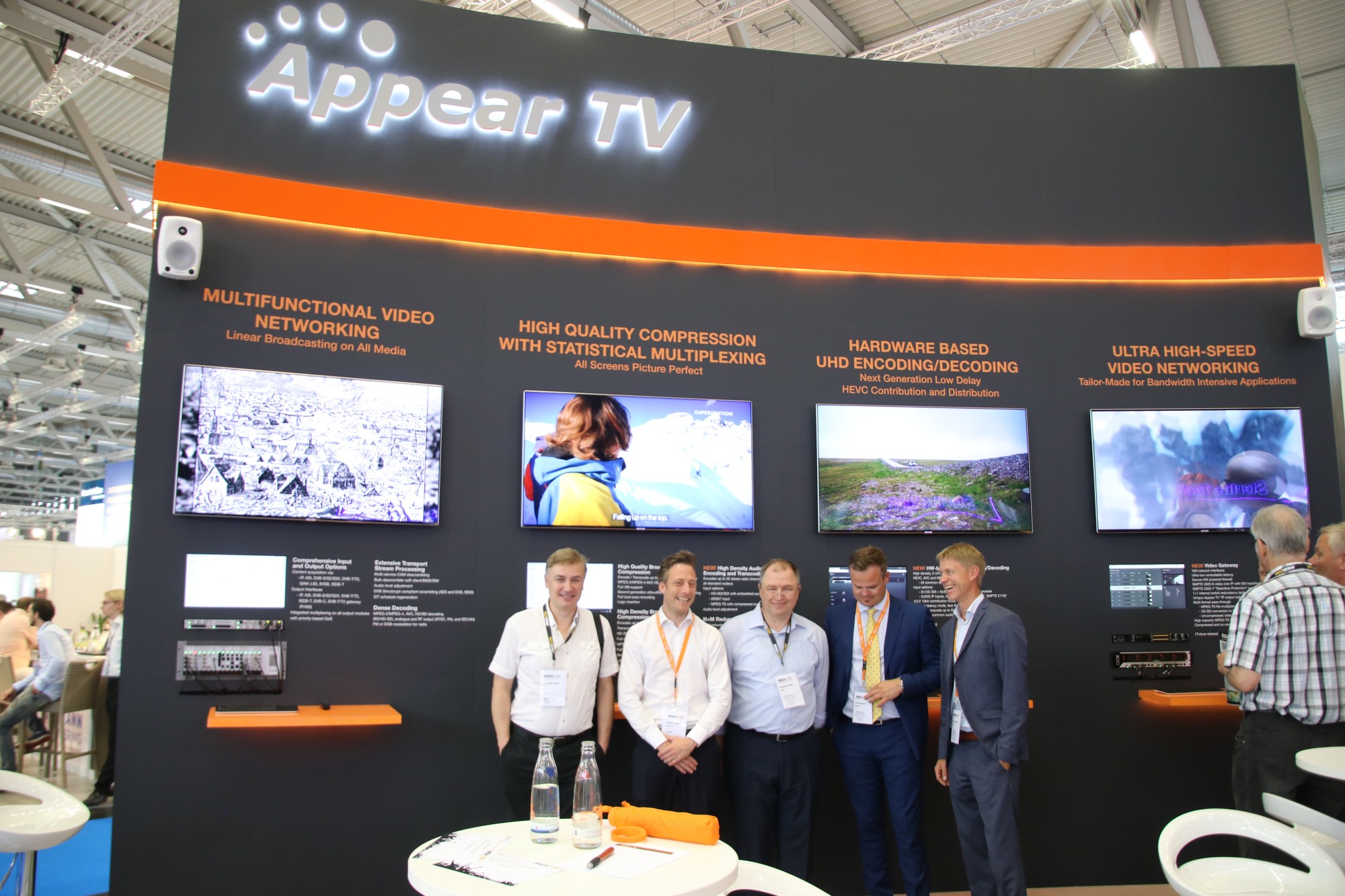 Teleste
The Teleste Corporation is a leading supplier of broadband systems and video or data transmission services.
The company got it with the development of the DOCSIS 3.1 market and approached the moment of upgrading networks with a fully completed portfolio, including active, passive and head-end equipment.
The Teleste proudly presented its new DOCSIS 3.1 Remote PHY, a compatible optical node AC9100 Neo. This node allows operators to receive DOCSIS 3.1 frequencies and then migrate to a distributed network when required an additional capacity increase.
The Luminato platform got integration with Verimatrix VMX ViewRight®. This integration allows descrambling several streams of protected video content in one Luminato receiver module, avoiding the external effects of any decrypted content and preventing possible security breaches and fault points.
In addition, the Teleste presented GPON, a joint development with Iskratel.
Coherent Solutions
The segment of DOCSIS 3.1 and 1.2GHz goes on developing. Most manufacturers have already presented their second-generation HFC equipment.
There appeared many suppliers from other optics exhibitions (Gabocom, OFS, R&M). It was the first time when we met the Inno Instrument and Slovenian Iskratel with GPON at Angacom.
Inno Instrument
The company presented a new model of a welding unit for fiber optics M7. As it turned out, this is not a new development, but an existing model, designed in a light version (with a shortcut battery) for the Portuguese market with a great demand for welding on poles.