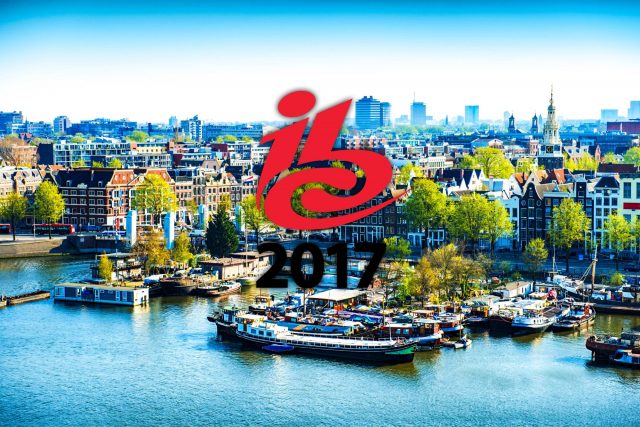 The IBC 2017 Electronic Media Technology and Entertainment Exhibition celebrated its 50th anniversary this year and was held on September 15-19 in its traditional venue RAI Expo Center. The event was attended by professionals from more than 170 countries, and it broke the attendance record again.
According to the organizers' statistics, the number of IBC 2017 visitors amounted to 57669 people, which is 3.4% higher than last year's figures. 1735 companies participated in the exhibition, being hosted in 15 pavilions (including representatives from Ukraine). The TOP-10 countries represented at the exhibition are as follows: the Netherlands (19%), United Kingdom (16%), Germany (10%), USA (9%), France (6%), Belgium (4%), as well as Italy, China, Spain and Russia (2% each).
This year, the focus was on solutions for television, OTT, virtual reality (VR), cloud and IP technologies, as well as robotics, cyber security and 5G technologies.
Over the past 50 years, there have been many landmark events that changed the history and significantly affected TV industry evolution. So, in 1967, there was carried out the first color TV broadcast in Europe (Wimbledon Tennis Championship) by BBC. In the same year, the first IBC exhibition was held, although it was in London. If in 1967 the exhibition was attended by representatives of 24 countries, then in 2016 the number of countries exceeded 170. The number of exhibitors of the first exhibition was 30, and 550 visitors attended it. The exposition 2017 was visited by over 57.6 thousand people.
In 1969, Neil Armstrong was the first person to walk on the Moon, and the broadcast of that landmark was shown to the whole world. In 1972, there appeared the first paid TV network Home Box Office (today HBO). In 1973, the show of Elvis Presley in Hawaii was watched via satellite by over 1 billion viewers. In 1975, the first videotape recorders MK III for home video were presented. In 1976, there appeared the first tape recorders operating in B and C standards. In 1979, there was presented a home satellite TV receiver with a 6-meter dish. In the same year, NTT (Japan) launched the world's first satellite telephony. In 1981, there appeared the first IBM PC with a memory of 640 Kbytes.
In 1982, Sony presented its Betacam format, and in 1984 Apple presented its Mac. And already in 1986, Sony showed its first DVR-1000 digital video recorder at IBC. In 1988, there came Photoshop, and in 1989, Sky launched its first DTH service in the UK. In 1991, Linus Torvalds designed Linux. In 1992, IBC moved to Amsterdam. In 1993, there appeared MPEG-1. In 1994, Sony presented its PlayStation. Lillehammer Winter Olympics (Norway) were covered in HD, i.e. recently adopted 1080 format. In 1995, Canal Plus broadcasted in DVB format via satellite. In 1995, Sergey Brin and Larry Page designed a search engine BackRub, later renamed Google. 1996 was the year of the first HD broadcasting in the USA; appearance of the first video server; popularization of the standard 16:9. In 1997, there was presented HDCam digital video recording format. In 1998, there was presented the first personal audio player supporting MPEG-1 audio coding level 3 (commonly known as MP3). 2004 was the start of HD broadcasting in Europe. In 2005, there appeared YouTube, and in 2007 iPhone. In 2008, NHK exhibited at IBC its own video format Super Hi-Vision 8K.
This year's exposition pleased with the diverse innovations…
Among the main trends in the video industry there is an ongoing interest in 4KTV (UHD-1), and 8KTV (UHD-2) in some countries. However, the increase in resolution entails a significantly growing video size, which presses to use high-capacity data transmission channels. The manufacturers face a problem of which cables to use, whether to go on using SDI, and how to transfer uncompressed video in the bandwidth of 3 to 40 Gbit/s. For the time being, Ethernet allows transferring HD-video without losses (up to 1 Gbit/s), several 4K-streams (up to 10 Gbit/s) and 8K (25 Gbit/s) on the basis of existing codecs. The design of new codecs (like JPEG XS) and the optimization/modification of existing codecs (JPEG 2000, HEVC) provide for addressing the above problems. Similar problems are faced by radio stations with audio streaming. The users may face problems when going out of cities, when 4G/LTE "turns into" 2G, or in places of mass gathering of mobile operators' customers. At the moment, there are two technologies with adaptive bitrate available for these situations: MPEG-DASH (Dynamic Adaptive Streaming over HTTP) and Apple HLS (HTTP Live Streaming). However, the most efficient is the xHE-AAC codec, operating in both 2G and 4G/LTE networks. Moreover, the codec has a signal level control option, which is helpful when the commercial slots "interrupt" radio broadcasts or there is resetting for radio stations with different signal levels. All these developments are carried out by the Fraunhofer Digital Media Alliance, regularly represented at the exhibition by the Fraunhofer Institute.
The new technology of "all-round" (360˚) video will require even more bandwidth in the data transmission networks. For this purpose, the MPEG Standardization Committee has been designing the standard Omnidirectional Media Format (OMAP, coming at the end of 2017).
The virtual reality (VR) potential was demonstrated at IBC. However, despite the tempting features, the in-depth examination reveals that a VR picture is still pixelated. Perhaps, a little later, there will be a demand for the 3D HBR technology (Human Body Reconstruction), which is developed by the Fraunhofer Institute. This is a technology where the audience can view characters not from one point on the couch, but from the one of its liking.
Within the IBC Big Screen 2017, the visitors were presented with two films: "War for the Planet of the Apes" by 20th Century Fox and "Baby Driver" by TriStar Pictures and others, in cooperation with Dolby Laboratories (Dolby Vision and Dolby Atmos). As always, the laser projectors with high brightness Christie 6p 2D/3D were used for the show. And again, there were no stereo viewing lenses: the trend of showing 3D-video seemed to become less interesting for the modern TV industry…
The most illustrative is the launch of UHD-broadcasting, supporting MPEG-H Audio in South Korea. First, the broadcasts start in Seoul with further expansion to cities and towns hosting the 2018 Winter Olympics in PyeongChang. And by 2020 the broadcasting will cover the entire country. In the meantime, the residents have been acquiring TV receivers supporting MPEG-H by LG and Samsung. The Olympics in Korea should be remembered also by the fact that this will be the first Olympics broadcasts supporting 5G-technology, which is 20 times faster than LTE, as well as the availability of many IoT services plus 4K-broadcasting.
Set-top boxes and receiving subscriber equipment
Abox42 (Germany) announced its Abox42 M35, latest development of its "intelligent" STB device, supporting 4K/UHD, H.264/H.265/HEVC and an option of simultaneous recording several video streams.
The solution supports OTT/IPTV, DVB-C/T/T2 and is designed on the Broadcom ARM BCM72604 chipset. There are 2 GB of RAM and 8 GB of eMMC memory. Operating OS Linux (Android). There are HDMI 2.0 and USB 3.0 to connect external storages. It supports Ethernet 1 Gbit/s, Wi-Fi 802.11 a/b/g/n (2.4 GHz), as well as CAS Verimatrix/AES and optionally Bluetooth 4.0.
Panodic Electric (China) announced its IV3012, new Android 4K OTT Box (starting with $40) for the line of smart home devices. The solution supports HEVC, H.264/H.265, and also 3G/4G Dongle. There are 1 GB of DDR3 memory and up to 4 GB of eMMC memory. One can watch videos via USB (including HDD) or SD card. It is designed on the Amlogic S905 processor (ARM Cortex A53). There is a dual-band Wi-Fi 802.11b/g/n/ac (2.4/5.8 GHz, up to 20 m), Ethernet, HDMI 2.0, USB 2.0. One may connect a wireless mouse or keyboard to the device.
Shenzhen Vivant Technology (China) presented its VV98M2 running OS Linux/Android (coming in November). The box supports DVB-T/T2/S2/C.
The other two models have updated chipsets: Hi3798CV200 (designed on A53 chipset) running OS Android 5.1 and Hi3796m (A7 chipset-based) running OS Android 4.4. The Hi3798CV200 supports 4K60p, USB 3.0, SATA 3.0, 2GB DDR4/16GB eMMC 5.0, dual-band Wi-Fi 802.11ac. The Hi3796m has a dual tuner DVB-T2/S2/C, and supports 4K30fps, 16GB DDR3/8GB eMMC 4.5, USB 3.0, Wi-Fi 802.11a/b/g/n up to 150 m.
HiMedia Technology (China) presented its Q10 Pro Android TV Box designed on the Cortex A53 processor (HDMI, 4K60p, Wi-Fi 802.11 ac (2.4/5 GHz), Ethernet 1 Gbit/s) running OS Android 7. There are RAM 2GB DDR3/16GB eMMC, USB 2.0/3.0, SATA 3.0.
Intek Digital presented its 4K/UHD Android OTT set-top box designed on the Amlogic S905X processor (ARM Cortex A53 2GHz) and graphics chipset Mali450 (DDR3 memory 1(2) GB, eMMC 8/16/32 GB, HDMI, Wi-Fi ac/a/b/g/n (2.4/5 GHz), HDR).
And also the model HD-J21F-Hbb supporting DVB-S2 and designed on the Mstar K6lite MSA5S83 processor (ARM Cortex A7) with memory DDR3 512 MB + 128 NAND Flash and supporting HEVC/H.265.
Shenzhen SDMC Technology (TM SDMC, China) presented two models of its set-top boxes 4K/HEVC/H.265 with router functions: DV8230-AP and DV8230-AP LTE (supporting 4G).
Both models running OS Android 7.0 are designed on the Amlogic S905K chipset (ARM Cortex A53, MALI-450 graphics chipset). There is a built-in DDR3 memory of 2 GB, eMMC memory o 16/32/64 GB. There is also an integrated dual-band Wi-Fi 802.11b/g/n (2.4/5 GHz, up to 50 m). They support OTT, operation with HDR 1.0, HDMI 2.0, USB, Ethernet, SD-cards.
Shenzhen Geniatech (China) presented its several solutions. Among others there are EyeTV Netsream DUO (dual tuner DVB-S2/T/T2/C), which provides broadcasting of two channels to two devices; EyeTV Netstream 4S (DVB-S/S2, Ethernet 1Gbit/s, SAT> IP, for example, via ASTRA satellite) to deliver satellite content to smartphones, palm computers or PC to anywhere indoors (satellite TV reception on devices is carried out via the existing Wi-Fi 802.11n network). Another model is EyeTV Netstream Air (DVB-S2/T/T2) with hardware transcoding. The models Duo and Air are coming in 2018.
Among the innovations of the "Infomir" Company we single out several models. The final version of the IPTV/OTT set-top box MTV410 supporting UHD 4K/HEVC, running OS Android and designed on the Cortex A53 processor (Wi-Fi b/g/n, 2 GB RAM, 8 GB eMMC, 4 USB) (its prototype was presented at NAB Show 2017), as well as the announcement of the models MAG412 (coming in the 4th quarter), MAG325C (under development) and MAG325 (coming in the 3d quarter). MAG412 is a UHD/4K/HEVC set-top-box running OS Android 6.0. It supports 2 GB RAM (8 GB flash eMMC), and is designed on the Cortex A53 processor. There are 2 USB ports and built-in Wi-Fi. The MAG325 model will replace the 256th one. It supports HEVC, having Wi-Fi, 512 MB/1 GB of RAM. The MAG325C model is a hybrid solution supporting HEVC and having 512 MB/1 GB RAM and Wi-Fi.
Setplex (USA) showed its final release of Setplex SP110 designed on the Broadcom BM7250-3G chipset running OS Android (available on Linux).
The solution supports 4K/H.264, eMMC 4 GB. There are 1 GB of DDR3, built-in Wi-Fi/USB (optional). The price of the box varies, depending on the user preferences, but the version running Android is a bit cheaper.
Szhenzhen DataMax Technology (TM DataMax, China) presented its compact hybrid IPTV set-top box DM33 in several color versions designed on the Amlogic S905X 2 GHz processor with a graphics chipset Mali-450.
The solution is equipped with 2 GB of DDR3 memory and 8(16/32) GB of eMMC memory. The set-top box runs OS Android and supports 4K/H.265, HDMI, USB 3.0, Ethernet.
Tatung Technology (Taiwan) presented its hybrid STB-3871 (4K/HDR, H.264/H.265, DVB-C/ISDB-T) for the Japanese market (coming in 2018), and Changhong Electric (TM CHANGHONG, China) presented its TS Player (DVB-C/T, USB 2.0).
Videostrong Technology (China) also presented its 4K / H.265-models running OS Android 7.1 and supporting DVB-S2/T/T2/C: KI Pro designed on the Amlogic S905D processor (2 GB DDR4) and KIII Pro designed on the Amlogic S912 processor (3 GB DDR3). Both models support eMMC 16 GB, Wi-Fi 11ac 2.4/5GHz, Ethernet 1 Gbit/s.
The commercial distribution of the new STB was presented by KAONMEDIA (TM KAON, South Korea). This is an intelligent AI STB (artificial intelligence) with a voice-control function that combines an IoT concentrator, a speaker box, 4K-STB and a voice-activated agent with search options (including dial-taxi, dial-meal, etc.).
The "SmartLabs" Company, which celebrates its 10th anniversary, presented its modern Android-based set-top box SML-5041W designed on the Amlogic S905X chipset and supporting UHDp60/HDR, as well as SML-5112 (4Kp60/UHD, Android/Linux, PVR, Wi-Fi 2/5 GHz). For the first time, there were presented boxed versions of flagship solutions, i.e. the content delivery systems SmartMEDIA and the platforms for providing interactive TV services SmartTUBE 5.
Amino Communications (United Kingdom) showed its model of a compact and high-performance set-top box Amigo 7 Android TV (4K UHD, dual-band Wi-Fi 802.11ac). The solution is designed for operators who are looking for fast options for deploying new entertainment services and delivering content, based on OTT.
Please, read the continuation in the article IBC 2017: 50 years of innovation. Part 2