Kyiv-Amsterdam-Kyiv – Oleg Nikitenko. The IBC 2018 Electronic Media Technology and Entertainment Exhibition threw opened its doors to professionals for the 51st time on September 14 to 18 in the capital of the Netherlands. Representatives of the television and radio industry from all over the world were able once again to appreciate the innovative solutions and startups exhibited there.
The exhibition was attended by both habitual participants (brands like SES, AMOS, Sony, Conax, Astro Strobel, BlackMagic Design, etc.), and newcomers.
This year, getting to the exhibition became much easier and faster due to a new subway line connecting Amsterdam's downtown with the RAI Expo Center. Therefore, even taking into account the arrival time of the train, the trip was reduced by half. However, the "innovations" came into the picture too. Specifically, the urban and suburban transport (buses and trams) switched to a totally non-cash payments. So now, getting on a vehicle, one can buy a ticket only by card, i.e. drivers no longer accept euros in cash. However, it didn't affect the railway.
In the city and its area, one can frequently see solar street lamps (mainly for illuminating traffic signs). In Ukraine, these lamps also began to appear, but they are not so much frequent.
Caring for the environment is evident in the Netherlands, i.e. one will pay a fine of "some" 140 euros for rubbish thrown past the litterbin (relevant adds are regularly rolled on monitors inside subway cars), including the fine for swimming in channels. This encourages residents and tourists to keep Amsterdam clean and tidy.
Summing up, the organizers recorded the IBC 2018 attendance of 55884 visitors, which is slightly less than the last year's one, but significantly exceeds the attendance of national expositions.
More than 1,700 companies from 173 countries, including exhibitors from Ukraine, attended the show. The number of women speakers at the conference grew from 14% in 2017 up to 30% this year.
The attendance rate in terms of countries did not differ so much from the last year's indicators. Thus, the top ten countries that visited IBC were the Netherlands (19%), Great Britain (15%), Germany (10%), USA (10%), France (5%), Belgium (4%), and also 2% each from China, Italy, Spain and Russia.
In 2018, there appeared even more artificial intelligence (AI) solutions, while the mainstreams are a sustainable demand for OTT, VoD and user content, virtual reality (VR), cloud technologies for storing/rendering/streaming content, as well as IP technology.
Examining the current situation in certain countries in the course of panel discussions, the conference attendees considered the impact of the UK's exit from the European Union on broadcasters. As it turned out, "Brexit" had an unpredictable impact on the industry, negatively affecting both the country's economy and the entire broadcast TV market of the Great Britain. This results in the churn of talented professionals; content production cost increase, as well as export restrictions, including licensing problems.
Solutions for broadcasters and operators
The codec HEVC/H.265 has gained popularity of an industrial standard for a couple of years since its adoption, as the best option for "packaging" and delivering video content. First of all, due to its low delay when encoding/decoding content (for 4K content, the parameter is under 100 ms). Sure, we are talking about the hardware implementation of HEVC (the standard is supported by most of hardware manufacturers), while the above indicators are unattainable for software solutions. Moreover, sports content requires a high framerate. So, live broadcasts of sports matches in 4K format require at least 100fps or even up to 120fps, and it is the hardware version of HEVC that can ensure these rates.
Despite the growing popularity of HEVC, other codecs also have legs. According to experts, AV1 is right capable to cause a market repartition in the coming years. AV1 is based on VP9, but has failures that HEVC does not. And there are also XVC, VVC (Versatile Video Coding), JEM (Joint Exploration Model) and JPEG-XS …
The specifications of JPEG-XS standard are awaiting approval by this yearend. TICO-XS codec, which is currently under standardization, was presented on the intoPIX stand and proved that JPEG-XS would be able to provide an extremely low microsecond delay in a 1 Gbps network, as opposed to the actual SMPTE ST2022-6, ST2100 that require 10 Gbps or even 25 Gbps networks to perform these indicators. Thus, in case of using JPEG-XS, the network infrastructure cost is significantly reduced.
By the way, according to a recent Bitmovin's poll of more than 450 manufacturers, despite the active support of H.264 standard, the new codec H.265/HEVC has shown a significant grow in 2018. However, hardware manufacturers prefer AV1. So, over the next twelve months, 36% of manufacturers are about to use HEVC/H.265 codecs (40% in 2017), 15% (18%) – VP9, 29% (14%) – AV1. For the time being, the Alliance for Open Media's "technology" AV1 is supported by Firefox, Google Chrome and other browsers.
As for content monetization options in 2018, 41% of companies prefer advertising (26% in 2017), 36% (51%) opt for subscription (SVoD), 20 % (22%) choose pay-per-view (PPV), and 26% (previously 17%) are fans of hybrid models. That is, monetization models are diversified.
As for the major video technology challenges, 55% of respondents mentioned signal delays, 50% specified the playback of content on various devices, 36% highlighted problems of CDN-networks, 28% sorted out DRM, and 22% referred to advertising.
If we go back five years, we would look with nostalgia on 3D premieres on the Big Screen of the RAI Expo Center. Alas, stereo cinema ceased to be a highlight of the show, and exhibition visitors have been offered ordinary video shows on modern Christie's projectors for several recent years. This time, we watched Jurassic World: Fallen Kingdom by ILM and Incredibles 2 by Pixar Animation Studios and Walt Disney Pictures.
While Ukraine is still dealing with problems of transiting to DVB-T2 and cutting off analog broadcasts, other countries are introducing 8K broadcast standard. For example, two-year test satellite broadcasts in Japan resulted in 8K Super Hi-Vision technology's thorough refining, and on December 1, NHK (Japan Broadcasting Corporation) launches regular satellite broadcasts in this format. The mass switchover to 8K content in households of the Land of the Rising Sun is anticipated by 2020.
At the exhibition, NHK presented its improved technology of automatic video images "coloring" based on monochrome video using artificial intelligence. So now, the transformation of an old black-and-white video into the color one is reduced by times. Thus, the colorization of a 5-second video actually takes some 30 seconds and not several days.
NHK also showed off its final version of a slow-motion replay system based on an 8K camera and a video server, where the original 8K signal of 240 Hz is converted to a slow-motion video of 8K/60 Hz.
The company also presented its Hybridcast Connect X architecture, which allows for an interactive communication with audience via various mobile and IoT devices. Thanks to this technology, customers can purchase online, book hotels, etc.
According to recent researches by Statista Analysis, IDate, HIS Markit, since 2015, the market has evidenced slumping sales of conventional TV receivers, while consumers has been preferring SMP (streaming media players), such as Apple TV, Amazon Fire TV, etc. Therefore, if TV manufacturers do not go to drastic changes and "adapt" to the customer demands, the sales of conventional TV-sets will go on decreasing.
According to analysts, one of the solutions is more active promotion of VoD services, as well as the sale of SmartTV connection solutions, for example, the smart home ones.
Consumers prefer content providers that offer connection through various devices. So, according to Statista Global Consumer Survey and Statista Analysis, US consumers use devices for watching videos as follows: 39% use SmartTV, 21% opt for streaming video players, 87% gain advantage of smartphones, 57% are fans of handhelds (tablets), and 19% prefer smart speakers.
The average European viewer watches TV some 3 hours daily, and this figure did not actually change from 2012 to 2017.
The trends prove that the demand for TV content remains high, but consumers are gradually switching to the digital content and less watching conventional (linear) TV.
Global revenue from OTT video services has been constantly growing, mainly due to subscriptions, including SVoD (Subscription Video on Demand).
Given the high penetration rate of SmartTV and SMP devices, the total anticipated revenue from OTT video content will grow fast, amounting to USD 30 billion by 2020.
Perfectly understanding that the main source of hardware manufacturers' revenue is the sales of devices, the same developers of devices are regularly implementing new solutions, gaining new markets to attract new consumers. Combining earnings from advertising, sales of devices and direct payments from users, provides for competitive prices and "diversified" services.
When it comes to paying for video streaming, the number of SMP users exceeds the one of SmartTV subscribers. Following the research of Statista Global Consumer Survey and Statista Analysis for the USA, Germany and China, the average number of SMP subscribers who pay for VoD services is 12% higher than the number of SmartTV subscribers.
Trying to win their subscriber, some companies like Amazon or Google expand the applicability of their devices for the very living room where conventional TV receivers traditionally run the show before.
Curiously enough, the technologies of recording and storing data on magnetic tapes did not only fall into oblivion (as happened with magnetic disks and cassettes), but also go on being improved. So, the outdated LTO-7 standard was replaced with LTO-8 technology with doubled capacity. The LTO Technology is not about to give up and plans to improve the cartridge capacity up to 480 TB (!).
According to the Digital Storage for Media and Entertainment's report, some 106 exabytes of data will require storage by 2022. With 2:5:1 compression, one tape provides for storing up to 30 TB of data (or up to 12 TB of uncompressed data). This should solve the problem of storing "heavy" 8K content. Against LTO-7, the new format reduces the storing cost of 1 TB by 50%. For the time being, LTO-8 is the cheapest option for long-term data storage. Since the information is stored offline, it ensures the safety of data storage, protecting it from malware and other computer threats. Moreover, the new technology allows for minimizing data storing cost in data centers.
Set-top boxes and subscriber receiving equipment
The vast majority of set-top boxes (STB) and media boxes were presented at the Chinese companies' stands. So, the Shenzhen Konka Information Network presented its JPI-10 -I-PON Home gateway for 100/1000 Mbps networks. The solution supports EPON/GPON, Wi-Fi (up to 300 Mbps), has three ports of 100 Mbps and one port of 1 Gbps; Wi-Fi 802.11 b/g/n, USB. The device at a cost of some $100 is so far available only on the Chinese market.
Shenzhen Oranth Technology presented several models: IPTV Box running Linux costs only $15. The solution is positioned as MEGA mini and supports HDMI, Ethernet 100 Mbps. A version for Android is also available. Another new TV Box model that runs Android 8.1 is TX5 MAX designed on the Amlogic S905Y2 chipset based on the ARM Cotex A53 processor (ARM G31 MP2 graphics chipset). The device has 2/4 GB of DDR4 memory and 8/32 GB of flash memory (eMMC). It supports 4K/2K@60p, H.265, HDMI, USB, Wi-Fi 802.11 b/g/n 2.4/5 GHz. There is an embedded card reader. No Ethernet.
Shenzhen Justek Tchnology exhibited its hybrid quad-core set-top box 4K UHD DVB-C Dualtuner Android 8.0 based on the ARM Cortex A53 chipset (Hisilicon3798) with 2 GB of DDR4 memory.
The company also presented a working prototype of the hybrid solution Android 8.0 UHD DVB Hybrid supporting MPEG-4/HEVC/H.265/4K/UHD/HbbTV 2.0.
SunShine Top Co (China) presented its line of solutions with integrated Wi-Fi: the I95 model is based on the Mlogic 905W processor (ARM Cortex A53) running Android 7.1. The device has 1 GB of memory, 8 GB of ROM-memory and supports VP9/HDR10, 4K/60fps. The I97 model is based on the Mlogic 905X processor running similar OS and supports 4K/60fps, HDMI, Ethernet. RAM memory is 2 GB (ROM 16 GB). Another I99 model is based on the Rockchip3229 processor (ARM Cortex A53) running Android 7.1. It has integrated memory of 2 GB (ROM 16 GB). The I100 model is based on the Rockchip3128H processor (ARM Cortex A53) running Android 7.1 and supports HDMI, USB, Ethernet. It has an onboard memory of 1 GB, and 8 GB of ROM-memory.
ChongQing Xinlifeng Electronics presented its model supporting USB, HDMI, Ethernet.
The Shenzhen Junuo Electronics' products were upgraded by adding DVB-T2/HEVC H.265 support to the STB line.
Intek Digital (South Korea) presented its Hybrid Android TV STB (HDMI, USB, Ethernet).
Antik Technology (Slovakia) exhibited its model Antik Mini 3 Pure IP. This model supports HDMI, Wi-Fi 802.11 ac/b/g/n (access point, 2.4/5 GHz), 4K (2160p60), HDR, PVT, DRM, HEVC/H.265, H.264, VP9, power consumption 8 W, Ethernet 10/100/1000 Mbps, USB.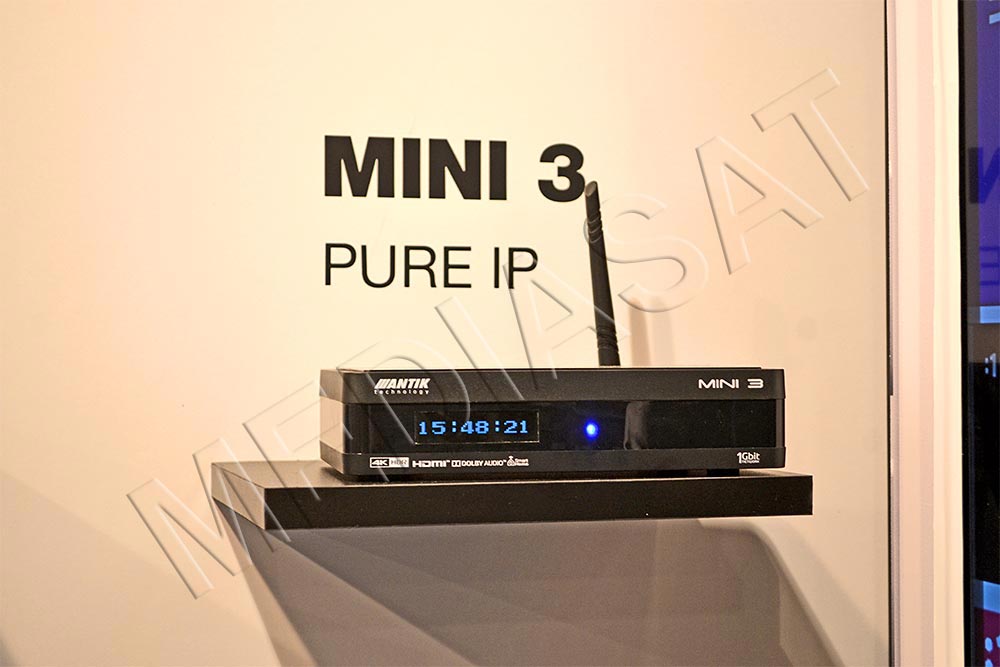 It runs Linux/Android OS. It supports CAS Conax and others. Optionally, there is a tuner DVB-S/S2/T/T2/C. The Main memory is 2 GB DDR3/4, the flash memory is up to 8 GB (eMMC). ARM Mali-450/Mali-T720 is used as a graphics chipset. The processor is HiSilicon Hi3798MV200/Hi3798CV200.
Infomir (Ukraine) presented its new IPTV set-top box MAG324. Its modification MAG424w3 is under development, having an integrated Wi-Fi unit on the standard 801.11 b/g/n/ac. Both set-top boxes support 4K high resolution video, HEVC codec and Bluetooth 4.1. These models run Linux 4.4.35. High performance is due to a powerful processor based on the HiSilicon chipset with 1 GB of RAM and 8 GB of flash memory.
Another model MAG424Aw3 is also under development; and this solution runs Android 7.0. The interface of the set-top box is designed in accordance with Google's guidelines, so it is equally user-friendly and familiar to operators and viewers. It is also worth mentioning the look of new models, i.e. the manufacturer fully redesigned them, making them more ergonomic. The set-top box fits easily into any interior. And, of course, it is important to mention the new Ministra TV platform. Its version 5.5 became even more user-friendly and advanced for IPTV/OTT/VoD operators. The dashboard was improved and the user interface was changed as well. Now, viewers can search, sort and watch films and TV series in a definitely new way.
Among the solutions presented by SmartLabs (Russia), let us single out UHD set-top boxes and the SmartCare service quality monitoring solution for prompt detection and monitoring of signal delivery failures. Thus, the premium hybrid set-top box SML-5442CT of the midi line runs Android 6.0 (Linux version is also available) is equipped with the ARM Cortex A53 quad-core processor and the Mali-450 graphics chipset and it is based on the Amlogic S905D chipset. It supports 4Kp60, USB, HDMI, 10/100 Mbps, Wi-Fi 802/11 n/ac (2.4/5 GHz). The model has 2 GB of DDR3 memory and 8 GB of flash memory (eMMC).
The SML-5041 model of the mini line is designed on the Amlogic S905X (ARM Cortex A53) chipset and is equipped with the Mali-450 graphics chipset. It runs Android 6.0 (or Linux). It has 2 GB of DDR3 onboard memory (additional 8 GB of flash memory eMMC). It supports 4Kp60, HDR, USB, HDMI, Ethernet 10/100 Mbps, Wi-Fi 802/11 n/ac (2.4/5 GHz).
To be continued…