Continuation. Read the beginning in the article NAB Show 2018: Solutions for Video Shooting, Testing and Monitoring Video Signals
Set-Top Boxes, Receiving Subscriber Equipment and Content Security Solutions
Among domestic manufacturers of the user equipment, we would like to mention the company "Infomir", which was represented by its US distributor. Several new models of IPTV/OTT set-top boxes were presented at the Show. Among others, there were new products based on BCM75839 chipset: MAG322 (512MB RAM, 512MB flash memory), MAG322W1 (same, but with Wi-Fi b/g/n), MAG324 (1GB RAM, 512MB EMMC) , MAG324W2 (1GB, EMMC 512MB, Wi-Fi b/g/n/ac). Another development is coming soon: MAG424A/424AW3, supporting UHD/4K/HEVC and based on the Hi3798 chipset, Android OS 7.1 (2GB RAM, 8GB EMMC, Wi-Fi b/g/n/ac, Bluetooth 4.1/3.0).
Videostrong Technology (China) presented its Octa Core Android TV Box S912 in two visually nearly identical modifications based on Android OS 6.0/7.1. The solution is based on 1.5GHz Amlogic Cortex-A53 processor with Mali T820MP3 graphics chipset. It supports H.265, H.264, as well as HDMI, Ethernet 10/100/1000, DRM. The memory capacity of DDR3 is 2/3GB and eMMC memory is up to 32GB. Another model is KB5 running Android 6.0 and based on Amlogic S905X (ARM A53 2GHz) chipset with Mali-450 graphics chipset. 2GB DDR3 and 16GB eMMC memory are "on board". There is a built-in Wi-Fi (802.11 b/g/n/ac), Ethernet 10/100 Mbps. It supports HDMI, HDR, 4K/H.264, HEVC/H.265, CAS.
WeTek announced its model Hyperion Android TV 4K, available only for users in Africa.
The product line of Atlanta DTH (USA, TM Tolka) is represented by various-purpose STB. So, A1100 model is designed on the M3823 chipset with 256MB DDR3 memory (128MB additional flash memory). The solution runs Linux OS and supports DVB-C/S/S2/T/T2, MPEG-4/H.264, OSD control, Wi-Fi, and CAS. The software is updated via USB, Ethernet or terrestrial signal. There is HDMI.
Another model of IPTV set-top box is IP7880, which runs Linux OS and is designed on MS07866 chipset (512MB DDR3 + 256MB flash memory). It supports MPEG-4/H.264, USB, HDMI, Ethernet 10/100 Mbps, and CAS/DRM. The software is updated via USB or Ethernet.
AI2200 model, running Android OS, supports DVB-C/S/S2/T/T2, MPEG-4/H.264, HEVC/H.265, MPEG-DASH, CAS/DRM. The software is updated via USB, Ethernet or terrestrial signal.
However, STB is not the only expertise of Atlanta DTH. The company also presented its own patented technology Digital Signature Engine, which allows integrating a digital label into the "player", which is unique for each device. When detecting content coming from the operator's network, the digital label identification is performed. In case of the mismatch, the relevant "sanctions" are applied to the "unknown source" of content.
Some solutions like Nature TV by GoShip Electronics offer a projector integrated into STB (DVB-C/S/S2/T/T2).
Monitors and Panels for Broadcasters
Atomos announced its Atomos Ninja V monitor (5.2″, coming in the third quarter) based on IPS-panel, supporting 4Kp60 (1920×1080), HDR.
Weighing just 350g., the monitor can be connected to any camera. It supports HDMI, SSD (which provides for giving up internal compression and removing record time restriction). The solution is ideal for DSLR cameras and gaming applications.
Boland presented its line of 4K-monitors with HDR support: 4K09-HDR, 4K17-12G, 4K17-HDR, 4K24-12G, 4K24-HDR, 4K31-12G, 4K31-HDR, 4K43-12G, 4K49-12G, 4K55-12G, 4K55OLED, 4K55QD-HDR, 4K65-12G, 4K65OLED, 4K75-12G, as well as monitors for rack mounting with signal display in wave and vector forms: BRM09 (2 displays), BRM09 (2 displays), BRM05-Triple (3) , BRM043-Quad (4), BRM207Q-Septuple (7).
4K-xx models support HDMI, RGB 4:4:4. as well as wave and vector forms of the signal. The 12G/3G-SDI support is also typical for the above line (specifically, for 4K09-HDR, 4K24-HDR, 4K31-HDR, 4K55OLED, 4K55QD-HDR, 4K65OLED).
Canon presented its SDR/HDR monitors DP-V1710 (17″) and the DP-V2421 (24″).
DP-V1710 supports 8K/UHD (3840×2160), 12G-SDI and allows connecting to Arri, Canon, Panasonic cameras, etc., and DP-V2421 is "friendly" with 4K (4096×2160) and HD-SDI. Both innovations support HDMI.
Ikegami Electronics presented several models of multi-format LCD monitors: HLM-2460W (24″) and HLM-1760WR (17″). Both models support FullHD, HDMI, USB, 3G/HD/SD-SDI, as well as provide for displaying wave and vector forms of the signal.
Korean company Bon Electronics presented its 7″ LCD-recorder Mini-Rec with USB recording (up to 2560GB).
The company also announced new models like 18.5″ monitor BMQ-183 (SD/HDMI), switch BVS-300 (6xDVI) and multiviewer BMQ-210 (4xHDMI).
Benq presented its model PV271 (VideoVue line) for after-sales, which is equipped with IPS-matrix (3840×2160) and supports HDR, 12G-SDI, HDMI, USB (coming by the year-end).
Flanders Scientific presented its model XM650U, a 65″ UHD OLED display (3840×2160). The solution supports SDR, HDR, 3G/12G-SDI, 4K, as well as signal display in wave and vector forms.
The Korean manufacturer TVLogic presented several models of monitors: LVM-241S (24″, 1920×1200, FullHD, the market launch in May) based on IPS-matrices. It supports 3G-SDI, HDMI, DVI, Ethernet, USB (software updates), time code, wave and vector forms of signal display. Power consumption is 65W. Another model LUM-313G has a 31.1″ diagonal and supports 4K/HDR, HDMI, 12G/6G/3G-SDI, power consumption is 125W. The first two models have a viewing angle of 178 degrees. LUM-318G has a diagonal of 31.1″ and supports 4K/UHD, HDR, HDMI, 12G/6G/3G-SDI, and also displays signal in wave and vector forms. LUM-430M with a 42.5″ diagonal supports 4K/UHD, HDMI, 12G-SDI and consumes 96 watts.
The innovations were also presented by Samsung with its monitor LED 1.2 (IF line), as well as Feelworld and Zhangzhou Seetec Optoelectronics Technology (TM Seetec, China) with FH703 (7″, 4K, IPS, HDMI, coming in mid-summer) and FS173-S4K (17.3″, FullHD, 3G-SDI, HDMI).
Lilliput Electronics (USA) also presented several models of 4K/FullHD camera-top monitors with HDMI support: A5 (5″, f.5941) and FS7 (7″, 3G-SDI).
Wohler Technologies presented its 5″ HDMI monitor RM-2350W-3G for rack mounting with support for 3G/HD/SD-SDI and signal display in the wave, vector, and histogram forms.
AEQ SA (owner of TM KROMA Telecom) presented its 4K broadcast monitors LM9000 24″ (3840×2160) and 31″ (4096×2160). The solutions support HDR and remote monitoring via Ethernet.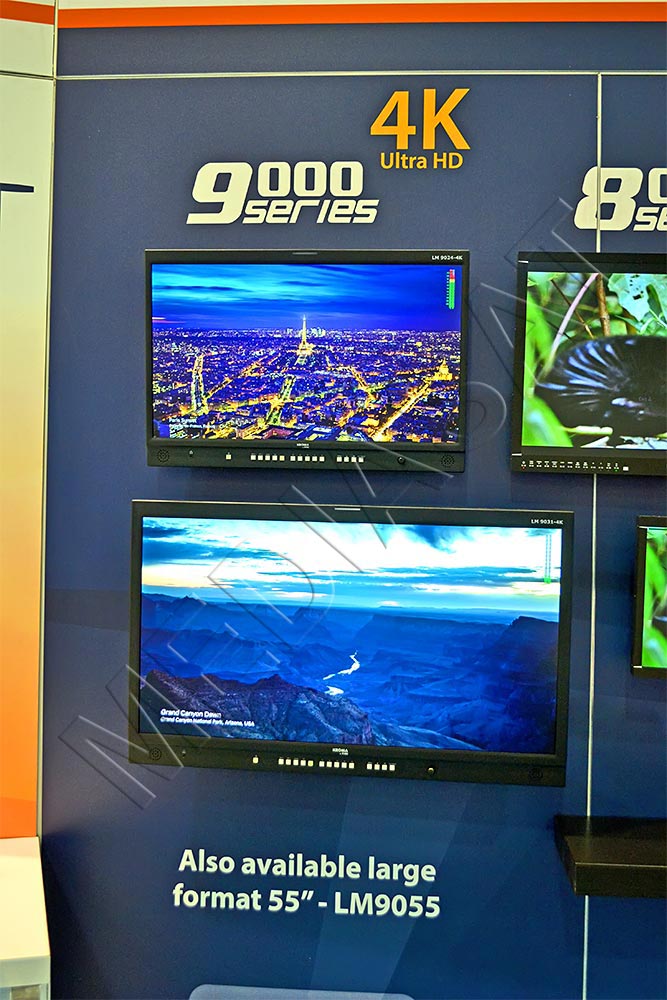 Densitron Technologies presented two models of 6.6″ displays: UReady-16600D and UReady-16600T based on IPS-matrices (1440×240).
The new products of SWIT Electronics America include HDMI-monitors supporting 3G/HD/SD-SDI: FM-21HDR (21.5″, 1920×1080, HDR, USB), FM-24DCI (24″), FM-32QUAD (31.5″).
The visitors' attention was also attracted by the video wall by Sharp: 330″ (8×104″, 17280×5280 or 8×2.5 m).
Shenzhen Gloshine Technology (China) showed video wall panels for indoor mounting X1.9 (pixel size is 1.9 mm, based on LED SMD1010), and also announced the release of its models like X2.53 (2.53 mm, based on LED SMD1515/SMD2020) and X3.8 (SMD2020).
DeepSky (Hong Kong) announced its prototype of the digital panel VEGA (0.93 mm) with the LED density of 1.2 million/sqm and a viewing angle of 178 degrees. The color temperature is settable (factory setting is 6500K). It supports HDMI, 12G-SDI, Ethernet 10/40Gbps. The size of the module is 216×108 mm. It is possible to use both indoors and outdoors (the protection rating is IP65). The operating time up to brightness reduction by 50% is 150 thousand hours. The power consumption is 720W/sqm (HDR) or 1600W/sqm (maximum brightness). The final release is coming in the summer.
Shenzhen RETOP LED Display (China) presented its line of commercial displays HiPad to replace DLP/LCD, i.e. 110″ model (1536×864) with a power consumption of 950W and a viewing angle of 160 degrees for wall or floor mounting. It supports HDMI, USB, Ethernet, IPTV, VR. The company guarantees 100 thousand hours of operation.
Epson presented several models of projectors: PRO L1715SNL, PRO L1750UNL, PRO L1755UNL. All three models support HDMI, DVI-D (the latter two models also support 3G-SDI). The mean time between failures (MTBF) is 20 thousand hours.
Shenzhen Lamp Video Technology (China) showed panels for outdoor video walls (IP65) SUR4525 (pixel size is 2.5 mm, color temperature is 2500-1000K, the warranty is 150 thousand hours), and Ledman Optoelectronics (China) presented its indoor panels M1.5, size of 608×342 mm and a viewing angle of 160 degrees. (IP30, point size is 1.58 mm).
The 8K signal test broadcast (Super Hi-Vision/Ultra HD) was started in Japan on 1 August 2016. The official launch of satellite broadcasting in this format is scheduled for December 2018. The technology developer is Japanese company NHK (Japan Broadcast Corporation) that intends to provide 8K-broadcasts during the Olympic and Paralympic Games in Tokyo in 2020. Provisionally by 2030, TV audience will be able to fully enjoy 3D TV.
Among the innovative solutions of NHK, presented in a separate "area of the future" Futures Park, let us single out a few ones. Among them, there is a slow video replay system based on a high-speed 8K-camera (33 megapixels, 240Hz). The solution is able to simultaneously record and playback "slow motion" in 8K/60Hz mode. 8K signal (RGB 4:4:4) is transmitted via a special U-SDI cable (Ultra-high definition, recommendation ITU-R.BT.2077).
Another NHK's innovation is an IP broadcasting system with mezzanine signal compression.
Today, the following two options are most commonly used: an uncompressed signal and a signal fully compressed and ready for broadcast. But optionally there is one more method, the "medium" one. The signal (bitstream) is slightly compressed to become "convenient" for broadcasting in many DTV networks (some 45 Mbps are required). It is this "mezzanine" option that NHK offers.
The solution is designed for the remote production of TV shows (e.g., to transmit signal in the highest quality from stadium cameras to a TV studio). This requires a bit less bandwidth than for an uncompressed 8K signal. At the same time, the video keeps its high quality subject to real-time processing, and the above option also provides a low delay. Thus, due to Ethernet of 10Gbps and multiplexing, the solution allows transferring 8K-video (60Hz) over long distances without any need for expensive auxiliary hardware.
Unfortunately, the virtual reality (VR) technology is far from perfect in terms of image quality, which is often too pixelated (those who remember the 1990s and popular then CGA-displays, will understand what it is about). Most "monitors" in VR glasses are characterized by a low resolution. To address the above problem, NHK first presented its VR based on OLED microdisplays with 8K support (the presentation was held along with Semiconductor Energy Laboratory). However, to watch the picture, each visitor put on "napkins". Because the queue of those who wished was similar to an army of "Zorros" wearing white masks. The showcase was an image of Japan Aerospace Exploration Agency.
8K technology is not just about broadcasting. High definition video is in demand in healthcare (surgery), education system, and video presentations of museum showpieces, etc. Keep in mind video surveillance systems and security (enlarged HD-video fragments are not helpful due to blurred image). Today, NHK's "pool" accounts for a wide range of regularly updated content: ranging from the ballet "The Nutcracker" and the Olympics, up to national parks, galleries in the Louvre, etc.