Are consumers and ATSC 3.0 equipment manufacturers ready? Are virtual reality (VR) solutions in demand and what are the prospects for this technology? What video compression technology is most ideal for certain content? What content processing technologies are available on the market? The answers to these and other questions were possible to get at NAB Show 2018, the largest exhibition of digital media, entertainment technologies and content, traditionally held in the capital of the US gaming industry Las Vegas on April 7-12.
Notwithstanding a slight decrease in the number of exhibitors this year (up to some 1,700), it was not so noticed due to the relatively large exhibition area (around 1 million square feet). And those who visited the exhibition for the first time, hardly drew attention to that fact. But even despite stands rotation, more than 240 new exhibitors took part in the show.
The great variety of topics at the NAB Show allows justifiably calling it the largest exposition where many technologies are simultaneously gathered on one platform: broadcasting, digital media, telecom, education, advertising, IT, post-production, security, etc.
Visitors (which accounted for some  93 thousand this year) had an opportunity to get acquainted with the latest innovations in creating, delivering and consuming content. The exhibition was held once again under the aegis of M.E.T. effect – a convergence of media, entertainment solutions and technologies. For instance, a special "shuttle bus" were offered for this year's visitors to get acquainted with NextGen TV technology more in detail.
Along with famous brands like NHK, Blackmagic Design, Google, Christie, Panasonic, Verizon, SES, Newtec, etc., as well as Ukrainian and CIS companies, there were also new startuppers housed in the special Sprockit area. And it was extremely pleasant to observe signboards in CIS languages, including the Ukrainian one.
Within the framework of the Show there were also held a job fair for young professionals, a mini-expo of retro-TV equipment, as well as workshops, round tables, conferences and o on.
Following the established tradition, companies began to hold presentations of their solutions before the official opening of the Show. And, as before, not all of them participated directly at NAB Show 2018, preferring to announce their solutions and set small stands in the largest hotels of the metropolis.
The primary trends of this year's exhibition were artificial intelligence (AI: Microsoft, Google, Amazon), virtual reality (VR), 4K/8K and HDR (High Dynamic Rate), as well as a decrease in the number of companies dealing with drones and robotics. "Dancing robots" welcomed visitors at the entrance to some pavilions. Of course, network security and content protection did not remain forgotten as well.
Sunny Las Vegas is in stark contrast to domestic cities, not only in terms of ecology, but also the appliance of energy-saving technologies. Here, on the thoroughfare (Las Vegas Strip) you will not find trucks (only on highways), and the air is all of fragrance of flowers. The irrigation system is automated, supplying water at a set time (no janitors with irrigation hoses or street sweepers). That is why even coniferous trees and exotic flowers in the desert feel good.
All city buses run on natural gas, so the environmental damage is minimized. Well, the revving jeeps with smoking tailpipes like in Ukraine, are a rare occurrence there.
Many traffic signs are powered by solar energy (panels are installed directly on street poles). And just a few kilometers (more accurately – miles) away from Las Vegas Strip, there are "fields" of solar panels. Local authorities do not forget about aesthetics, disguising mobile station dishes like palm or coniferous trees.
And now, let us look through some presented innovations.
Solutions for testing, monitoring and measuring parameters
SRI International (USA, sri.com) presented its new test signal generator Visualizer, supporting SDR/HDR (4K/UHD/2K, MPEG-2, H.264, HEVC, RGB 4:4:4).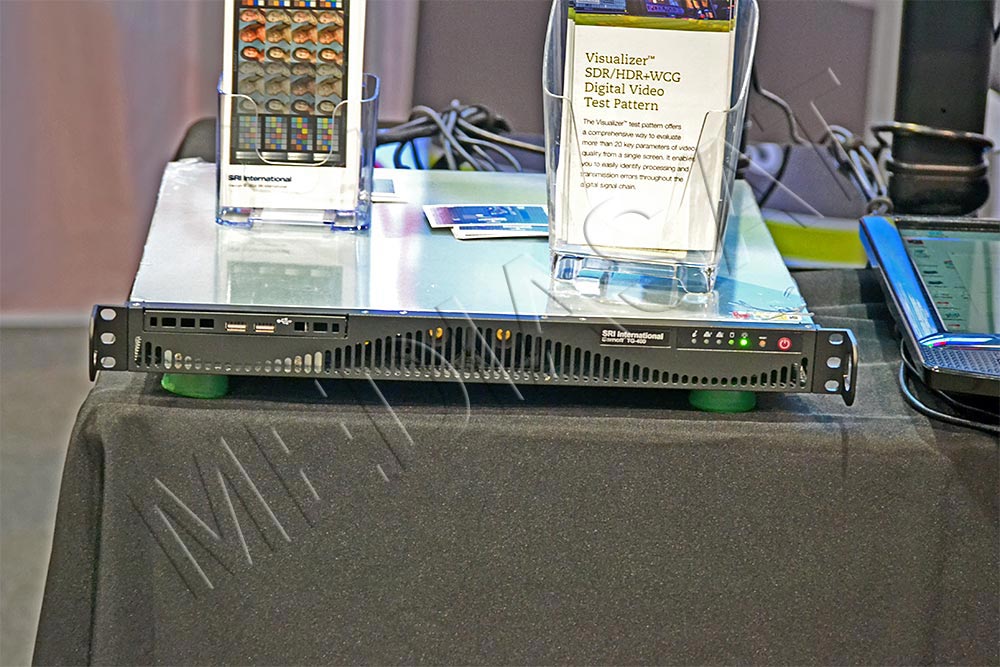 The video signal is checked for more than 20 test parameters on one screen, including digital signal transfer errors.
At Gefei stand, GraVue (USA) presented several low-cost and high-performance video monitoring solutions under the Gra-Vue brand: VIO MVS-16-4K (4096×2160) and VIO MVS-16-IP (8 SDI-inputs and 8 hybrid IP) with a warning feature for "failures" in video/audio signals.
Leader Instruments presented a number of new measuring products for video and audio monitoring: 7-inch wave monitors LV5600/LV5300 and rasterizers LV7600/LV7300.
They support HDR, 12G-SDI. The model LV7600 has 1U size.
TSL Professional Products presented PAM2-IP-3G, a solution in 1RU/2RU case for monitoring uncompressed SMPTE 2022-6 and SMPTE 2110 signals, as well as 3G/HD/SD-SDI videos. There are 2 Ethernet ports of 10 Gbps, USB (for software updates). Remote monitoring runs via the Web interface. Power consumption is 40 Watts.
Operators will also be interested in a joint solution by Telecomunicazioni Aldena SRL and MPB. This is an isotropic triaxial SEP-antenna (Selective Electric) for measuring electromagnetic field parameters, combined with a spectrum analyzer and a radio-frequency switch. The frequency range is 100 KHz – 3.6 GHz, the range of coverage is up to 300 meters.
Promax presented a remote telemetry module supporting DVB-T/T2/ATSC.
Traffic Sim (Japan) showed its STBWatcher solution for video monitoring.
Will-Burt (USA) presented its D-Tec Safety System, a solution to determine electromagnetic and electrostatic radiation threshold exceeding, which allow operators to secure their equipment.
Equipment for testing lenses, which are widely used in projectors, was presented by Chrosziel (Germany). The Lens Test Projector TP-7 solution is designed for products of ARRI, Sony, Canon, Nikon, Leica, Olympus, etc.
The popularity of drones in TV and Radio industry is still growing. So, Sixarms monitors signals of TV and Radio stations in the band 500 kHz – 6 GHz by means of copters.
Solutions for video shooting (cameras)
SHOTOVER announced its SHOTOVER M1 camera with 6-axis gyro stabilization, designed for operating with 2K/4K/8K. The model is coming by year-end.
The announcement was also made by Blackmagicdesign. It was Blackmagic pocket cinema camera 4K. The model is coming in autumn at a retail price of $1295.
JVC presented its 2/3-inch HD-camcorder GY-HC900, and ideal solution for sports and studio shooting.
The camera supports 1080/720p with a low delay (less than 500 ms), integrated Wi-Fi (2.⅘ GHz), signal-to-noise ratio of 62 dB. Optionally it is equipped with a dual LTE-modem.
Antelope Femto is a new mini broadcast camera by Antelope Camera Systems. Its size is only 30x30x31 mm. The model supports 1080@60p and remote control.
Shenzhen ImagineVision Technology (China, z-cam.com) presented its 4K-camera Z Cam E2 (coming in early summer). It supports 120 fps, H.264/H.265, HDMI, SDI (optional), Ethernet 1 Gbps (for live broadcasting and tuning).
Ametek Vision Research (USA, phantomhighspeed.com) presented its Phantom v2640, a model of ultrahigh-speed 4-megapixel camera (2048×1952) with a throughput of up to 26 Gigapixels/s, performing well in low-light conditions.
The camera is a fast-response one (ISO up to 25000), equipped with a storage of 74/144/288 GB, and CineMag IV of 1 (2) TB. According to export requirements, this company's equipment has some restrictions both for the use of non-US residents and delivery outside the country (requires US Department of Commerce's license).
Among the most recent ARRI models is Alexa LF solution supporting 4K/UHD/2K/HD, including own format ARRIRAW up to 150 Mbit/s.
Lumens Integration presented its new VC-A50PN-PTZ (pan, tilt, zoom) IP camera for wide-angle shooting, supporting NDI technology. It supports FullHD 1080p (60fps), PoE (Power over Ethernet), a twenty-fold zoom and a good "picture" in low-light conditions, as well as HDMI, 3G-SDI, Ethernet, H.264/SVC, delay of 120ms. The solution is ideal both for video shooting of the educational process in poorly illuminated rooms, and for video conferences, as well as for broadcasts. The maximum vertical rotation angle is 120 degrees, the signal-to-noise ratio exceeds 50 dB, the exposure time is up to 1/10000 s. The horizontal viewing angle is 63 degrees, the minimum illumination is 1 lux. The camera is controlled via Ethernet/RS-232/RS-422.
Datavideo Technologies presented its NightHawk NH-100 camera (coming very soon). The solution supports HDMI and 2x3G-SDI, performs well in low-light conditions (nightclubs, discos, concerts, etc.).