What are the opportunities and prospects for virtual reality (VR) and digital TV broadcasting (ATSC 3.0), and is there any future for 3D content? What are the solutions for operators to apply with ever-growing traffic? What are the prospects for the mobile device market and content for them? When will 8K technology become massively available in Europe and the USA? How to monetize content? What 4K content is in demand today? How all-purpose are multicopters for video shooting?
The answers to these and other questions could be found at the largest electronic media exhibition NAB Show 2017, which was traditionally held in the capital of the US gaming industry Las Vegas on April 22-27.
The number of represented companies seems just enormous, against the national exhibition centers. You must admit that just to walk around some 1.800 stands, not to mention discussions with exhibitors, is an unreal mission to perform in one day. Among the world-renowned brands like Panasonic, Verizon, NHK, Christie, SES, Blackmagic Design, Newtec, DJI and others, as well as companies from Ukraine and CIS countries, there were newcomers with their promising startups for the actual TV-industry, which were exhibited in a separate Sprockit Area.
The Show was completed with a one-day job fair, where young professionals were able to communicate with employers, who were in search of "fresh brains and unique ideas", as well as an exhibition of vintage TV equipment in working condition. Here, small black-and-white screens of cameras and monitors looked quite unusual in the age of color TV and sent 30-40 years back.
And the main feature of the "workshop and discussion" agenda was a direct communication with the space station…
Summarizing the NAB Show 2017 again, the organizers remarked new attendance records. Thus, the number of visitors broke records of the previous year and amounted to 103,443, which is 0.9% higher than in 2016. The size of the stand areas, where the exhibitors presented their products was 1,091,792 square feet. As befits mass events, the security outside and inside the pavilions was provided by cute "doggies".
Arriving in the USA, first you have to adapt not only to a fairly sharp temperature drop (even despite the rather late dates of the show, the cool Kyiv weather of this year "around +5" was in sharp contrast to the local climate and 30-degree heat), but also to a slightly unusual different measurement units (which are quickly and mentally converted into more familiar to us): length (miles instead of kilometers), area (feet), weight (a pound of cookies stands for some 400 grams of "ours"), capacity (gallons instead of liters), temperature (Fahrenheit instead of Centigrade), and so on. At that, you get used to it pretty quickly.
Already traditional presentations of the companies started a few days before the Show. And some companies refused to stand at the Show, but held a series of preliminary presentations. The places of the demos themselves were quite diverse, i.e. from the world-famous hotels to golf stadiums. So, what solutions were presented at the NAB Show 2017?
The key focus of this year was drawn towards M.E.T. Effect, so the organizers conventionally called a combination of media, entertainment and technology, that is, media, entertainment solutions and technologies that were not only widely represented at the Show, but also were actively discussed at workshops and round tables held within the NAB Show 2017.
Now, all three segments are closely related, and in fact are no longer able to exist individually. thus, mobile phones are actually not just a communication tool (voice communication, social networks), but also devices that perform functions of photo cameras, as well as simple tools for producing new or processing existing user content with subsequent posting it on the Internet.
Of course, the Show was not limited only to these segments, and there were presented next-generation technologies, including solutions for cyber security, advertising campaigns, facilitating production and distribution of more dynamic content, etc. The main trends were VR solutions, content for various devices (especially HDR – High Dynamic Rate), content visualization equipment, advanced hardware for video shooting and image stabilization (including drones), TV and radio monitoring complexes, etc.
This time at the NAB Show 2017 there was arranged for the first time a direct communication between the International Space Station and the Las Vegas Expo Center. The hall with a lot of media duly appreciated the direct video communication quality in 4K format with astronauts: the mission commander Peggy Whitson and Jack Fischer.
The visualization was arranged by means of Christie's Boxer projectors. Representatives of the "space house" showed some experiments with water under zero gravity, followed by a discussion on "Reaching out stars: the future with NASA and Hollywood". The panelists and the audience could once again see the benefits of using 4K for scientific research.
According to the CTA forecasts (Consumer Technology Association), 15 million UHD devices will be sold in the USA by the end of 2017, while this figure will be 24.5 million by the end of 2020.
At the same time, according to the study by Snell Advanced Media (SAM), despite the keen interest of broadcasters in switching to 4K, 64% of US residents do not hear of this technology at all. Only 17% of adults know about 4K, or at least have learned something about it. At that, young people (aged 18-24) turned out more advanced on this issue: 29% know about 4K, and 25% of them even watched something for the last six months. No wonder that only 11% of US adults purchased 4K TV-receivers. At the same time, having learned about that technology, 41% of consumers expressed their eagerness to purchase required receiving equipment with 4K support.
Unlike the USA, the situation in Japan is much better. The Land of the rising sun intends to switch to a full coverage of all islands by 2025. To promote 4K and 8K technologies, private and public broadcasters cooperate. Ever since January 2016, 19 channels of 11 broadcasters were licensed for commercial 4K broadcasting from late 2018, including FTA broadcasting. The immediate goal is that at least 50% of the residents should receive signal in 4K and 8K format by 2020. To a large extent, this is achievable due to the interest of the Japanese government. And by 2025, the 4K/8K signal should cover 100% of Japan. Naturally, the population will not only have to realize the need for moving to new technologies, but also to buy special equipment like tuners/ set-top boxes, monitors, antennas.
Monitors and Consoles for Broadcasters
Panasonic presented its new 65˝ OLED monitor TC-65EZ1000U, ideal for producing and post processing video content. The professional console supports 4K/UHD (3840×2160), the full range of YCbCr 422, as well as some additional features (after the software update, scheduled for the latter half of 2017). The model is coming in Europe in June, while in the USA in early autumn.
TV Logic presented some innovations. Among them there is a 16.5˝ broadcasting monitor LVM-171S (FullHD) with IPS LCD-matrix, displaying diagrams in a wave and vector forms. There is an Ethernet monitoring option. The viewing angle is 178 degrees. The pixel size is 0.1905 mm. There are HDMI and DVI.
The following model VFM-055A has a 5.5˝ OLED (Organic LED) on-camera viewfinder with native FullHD resolution of 1920×1080 and a viewing angle of 160 degrees. It has a true black color (16.7 million color casts) and cinematographic quality of video. There is a bidirectional HDMI <-> SDI conversion. The contrast is 17000:1. The pixel size is 0.063 mm. It supports HD-SDI/SD-SDI/3G-SDI, HDMI.
The new 55˝ (more precisely 54.6˝) OLED monitor LEM-550R with HDR support is designed for postproduction. It supports 4K/UHD (3840×2160 or 16: 9), 3G/6G/12G-SDI, HDMI. The contrast is 150000:1. The pixel size is 0.315 mm. The viewing angle is 179 degrees.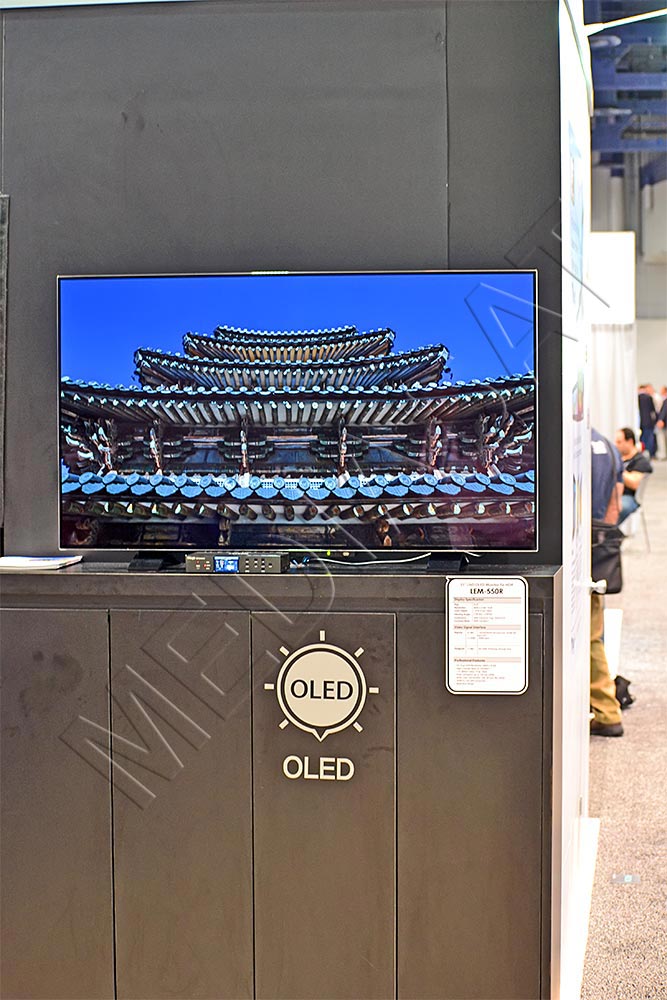 Another model is a 31˝ HDR-monitor LUM-310R, based on Super-IPS 4K LCD console (4096×2160, 17:9) with a viewing angle of 178 degrees. The contrast is 1000000:1. The pixel size is 0.1704 mm. It supports HDMI, 3G-SDI.
The broadcasters might be also interested in the innovations, presented by Plura Broadcast. These are monitors LCM-147-Q10 and PBM-347-Q10 for rack and supporting SD, HDMI, and DVI. MTD-ID is a 4.3˝ display to show time slots (up to seven different numerical time values are displayed simultaneously, which allows studio operators to keep them at hand when editing TV broadcasts).
The multi-format and multiprotocol video processor Plura 4K Xpress is the best solution for UHD/4K and 3G broadcasters, which is based on a powerful chip Xilinx FPGA. There is an expansion of the device capabilities by adding new features via Ethernet. It supports a bidirectional 12G-SDI converter.
Let us also mention two lines of monitors, presented at the Show. This is a UNB-4K line of 49˝ and 55˝ monitors with state-of-the-art S-IPS matrices. The devices have low power consumption and a pixel size of 0.63 mm; they give a clear and clean video picture at any distance from the monitor. This line of monitors is ideal for video walls and allows "following" up to 100 monitors via Ethernet and/or RS-232, using own Plura Wall Express software. They support HDMI, UHD (3840×2160).
Expanding the segment of 4K monitors, the company also presented its Plura PBM-4K with screen sizes of 24˝, 32˝, 43˝, 55˝, 65˝ and 84˝, supporting HDR technology (ST-2084, HLG). They support SMPTE2082, HDMI, and 12G-4K. All monitors, including the 4K line, can be calibrated remotely via Ethernet by company technicians.
NHK (Japan Broadcast Corporation, Japan) presented its LG OLED monitor 130˝, supporting 8K, 120fps and 22.2-channel sound. The solution in the 8K-room was implemented by 4 OLED consoles. Unfortunately, due to showing the "Olympic" content, the photography was not allowed.
Atomos announced a 19˝ production monitor-recorder SUMO, supporting 4K60 HDR. The solution allows recording 4K 128 bit RAW, as well as "live video" 1080p60. A 10-bit LCD console is coming in the third quarter.
Unilumin Group (China) presented new LED modules for video systems with a pixel size of 0.9 mm (pixel density is 1101068 pixels/sqm), and a viewing angle of 160 degrees. The IP50 security level allows using solutions in various places: for advertising in shopping centers, during public events, etc. the color temperature is adjusted within 2000K-9500K.
Zhangzhou Seetec Optoelectronics Technology (TM SEETEC) presented professional broadcasting monitors P133-9HSD (13.3˝ IPS-matrix) with FullHD resolution (16:9), a viewing angle of 170 degrees, and power consumption under 12 W. They support HDMI, 3G-SDI, DVI-I. The second model P215-9DSW is a 21.5˝ FullHD production monitor, based on the IPS-matrix with an option to display data in a wave and vector form, as a histogram, etc. It supports HDMI, 3G-SDI. The power consumption is under 18 W.
Lilliput presented a 15,6˝ broadcasting monitor, supporting 12G-SDI, HDMI. The model is coming in late summer. A new HDR monitor was also presented by Ikegami.
Distribution of TV Seats Indoors
The most recent study "Screen Life. TV Everywhere 2014. Craft", held by the company Thinkbox, evidences that users watch TV on various devices like laptops, handhelds, smartphones, etc. At that, if 56% watch TV in the living room, 19% watch it in the kitchen, 24% during class time, 12% in the garden/park, 46% in the bedroom and 9% in… the bathroom. The total exceeds 100%, because there were several possible answers.
In terms of viewing popularity, the leaders are laptops (notebooks), followed by handhelds (tablets) and smartphones.
Set-Top Boxes and Receiving Subscriber Equipment
It was a pleasure that there were several Ukrainian companies among the exhibitors. So, at the NAB Show 2017, the company Infomir presented its new model of the set-top box MAG410, among other innovations.
The start of supplies is scheduled for the second quarter of this year. The solution supports HEVC/4K and is implemented on the basis of a powerful Cortex-A53 processor. The device has 2 GB of RAM and 8 GB of flash memory inbuilt, and uses three USB ports and built-in Wi-Fi to contact external devices.
Manufacturing set-top-boxes since 2006, the company is constantly ramping up production and expanding sales regions. Thus, in 2013-2016, the number of destination countries for Infomir solutions increased from 77 in 2013 to 126 in 2016. At the same time, the turnover of set-top boxes amounted to some 865 thousand devices in 2016.
SVI Technology presented its set-top box N717B1, based on Android 6.0. The model, based on the Amlogic S905X processor has 1 GB of DDR3 and 8 GB of flash memory, Wi-Fi 802.11 b/g/n; H.265 HEVC (up to 4Kx2K@60fps). There are USB, HDMI, and Ethernet.
Despite frequent attempts of Chinese manufacturers to copy designs of others, the Chinese themselves do not really want to have their models "plagiarized". Therefore, they are not so eager to show off photos of their models. The same story happened with the model OTT/IPTV STB N9106N, presented by GoShip Electronics. Surely, it is not clear why the look of "black boxes" is so thoroughly guarded, because the core of any hardware is its software. So, the Android 7.0-based model supports 4Kp60 and HDR. It is designed on the ARM Cortex A53 processor and the Mali450 graphics chipset with DDR4 (1/2 GB) (additionally up to 8/16 GB of eMMC flash memory). There is Wi-Fi 802.11ac/a/b/g/n, Ethernet 10/100/1000 Mbps. Another innovation is a compact (only 50×23 mm) Wi-Fi router D01 on the MT7628 chipset (Wi-Fi 802.11a/b/g/n/ac with a data transfer rate of up to 866 Mbps).
SumaVision also pleased with its innovations. Among the presented products there were cable modems CM1121 (DOCSIS 3.0, Ethernet 1Gbps, Wi-Fi 802.11b/g/n up to 300 Mbps), CM1021 and CM1011 (both without Wi-Fi). All CM1* models meet RoHS requirements. The company also presented its PN8626 gateways in two versions (with/without Wi-Fi up to 300 Mbps, Ethernet 1Gbps, and power consumption under 6 W) and PN8625 also in two releases (with/without Wi-Fi, power consumption under 6 W).
Antik Technology also announced its several STB solutions. These are set-top boxes Mini-3 and Nano-3 (both support 4K/UHD, H.265/HEVC), which are coming in June.
GOSPELL Digital Technology first presented its GR-216-DRM/AM/FM radio receiver, coming this summer. Although the model is associated with the low-cost category, it provides reliable radio reception due to its high sensitivity.
There is a built-in active antenna, an option of ultra-fine 1 kHz pitched tuning, memory for 60 stations, an option to record and playback via USB, as well as to receive emergency messages (for example, in case of emergency situations like floods, hurricanes, etc.). It supports reception in the bands FM (87.5-108 MHz), VHF (530-1620 MHz), SW (2.3-26.1 MHz).
To be continued…