Kyiv – Las-Vegas – Kyiv. What is the current demand and the prospects for the use of unmanned aerial vehicles in the broadcast industry? What is necessary for the monetization of content? Which technologies are used to deliver content on multiple devices? What equipment is interesting for modern operators and broadcasters? What is the relevance of 4K and 3D formats? Answers to these and other questions can be found on the largest electronic media show NAB Show 2015, which took place on April 11-16 in Las Vegas (Nevada, USA).
According to the National Association of Broadcasters (USA) statistics, NAB Show 2015 once again demonstrated amazing figures: the number of registered users has exceeded last year's figures by 5% and amounted to more than 103,000. The exhibition was attended by 1,789 companies that took the area of 1015 sq. feet, which is 7% more compared to the last year. There are a lot of hardware developers and various software technologies there, including the world-famous brands: SES, Cisco, Newtec, Panasonic, Rohde & Schwarz, Sony, Christie, NHK, Microsoft etc., as well as companies from the CIS countries and Ukraine.
The preliminary demonstration of new products and technologies have begun  few days before the official opening ceremony. Therefore, the active stage of acquaintance with the exhibitors and the equipment started a bit earlier. Let us pay attention to the most interesting solutions for the broadcasting industry (broadcasters, telcos, operators and content owners)  that have been presented here.
Developers continue  positioning their new products focusing on content delivery to any device. Indeed, the younger generation in many countries  increasingly refuses the large TV sets, giving preference to watching video on compact devices (tablets, iPhones etc.). Moreover, at any time and anywhere. And this requires not only high-speed Internet channel, but also a tools for storing data for later viewing in the time required for a particular device, and hardware for conversion to the desired mobile device and suitable and understandable format. All of the listed and more was abundantly represented here: from HD to 4K and beyond.
So, NHK (Japan Broadcasting Corporation) in a special area (NAB Labs Futures Park) has once again demonstrated success in developing of 8K Super Hi-Vision technology.
In addition to daily video presentations in their own "mini-cinema" 350″ screen, visitors can get acquainted with a number of innovations presented here. In particular, it was presented the software for monitoring the 22.2-channel sound, as well as the insertion of advertisements for different age categories using the MMT (MPEG Media Transport) – media content transfer protocol in the 8K format for test satellite broadcasting in 2016. By the way, MMT was approved as part of the management level and the protocol for the next-generation broadcast standard ATSC 3.0.
NHK has presented several new videos, among them: a documentary about the tragedy at Fukushima nuclear station, episodes of the football championship 2014 in Brazil. In few words a big picture with high brightness and detail, supplemented with surround sound is very impressive for any who ever seen the 8K.
It seems, NHK intends to engage seriously in personal devices (handhelds, etc.), translating them to 8K. So, NHK presented the few prototype of new displays: the world's smallest 13,3″ OLED display with a resolution of 8K (UHD 664ppi; development by Semiconductor Energy Laboratory) and model CAAS-OS, as well as two new 8K resolution cameras: 8K live camera (Ikegami) and multifunction 8K camera (Hitachi).
"United" booth of ETRI (Electronics and Telecommunications Research Institute)  with LG Electronics and the Fraunhofer (Heinrich Hertz Institute) presented the system prototype for simultaneously distribution of 3D, 2D or FullHD video content to regular (2DTV) and stereo (3DTV) TV sets, as well as mobile device (e.g., iPhone) using just a single 6 MHz channel bandwidth.
This allows terrestrial broadcasters to ensure that 3D broadcasting services not need to use any additional broadcast frequencies. The solution is fully compatible with both DVB-T2, and with the new ATSC 3.0 standard (US market). (Development of Advanced Television Systems Committee; currently being finalized); support for HEVC/H.265, AVC/H.264 and others. Such an approach allows maximum use of frequency resources, and provide a hybrid 3D services in many countries.
In the very same area of NAB Labs it was also demonstrated the possibility of using the ATSC 3.0 TV standard. With the ability to combine Hybrid TV terrestrial broadcasting and broadband services (broadband) consumers will got more options.
The hybrid TV receiver box lets you adapt to the user, based on their interests and gender or demographic data (age, gender, income, interests and preferences, etc.). However, this requires the consent of the user, who is willing to entrust their personal information to the "black box" (the receiver or TV box).
It also demonstrated the ability to insert advertising into the stream, features and benefits of the second screen for users who want to get more detailed information on products, services etc.
---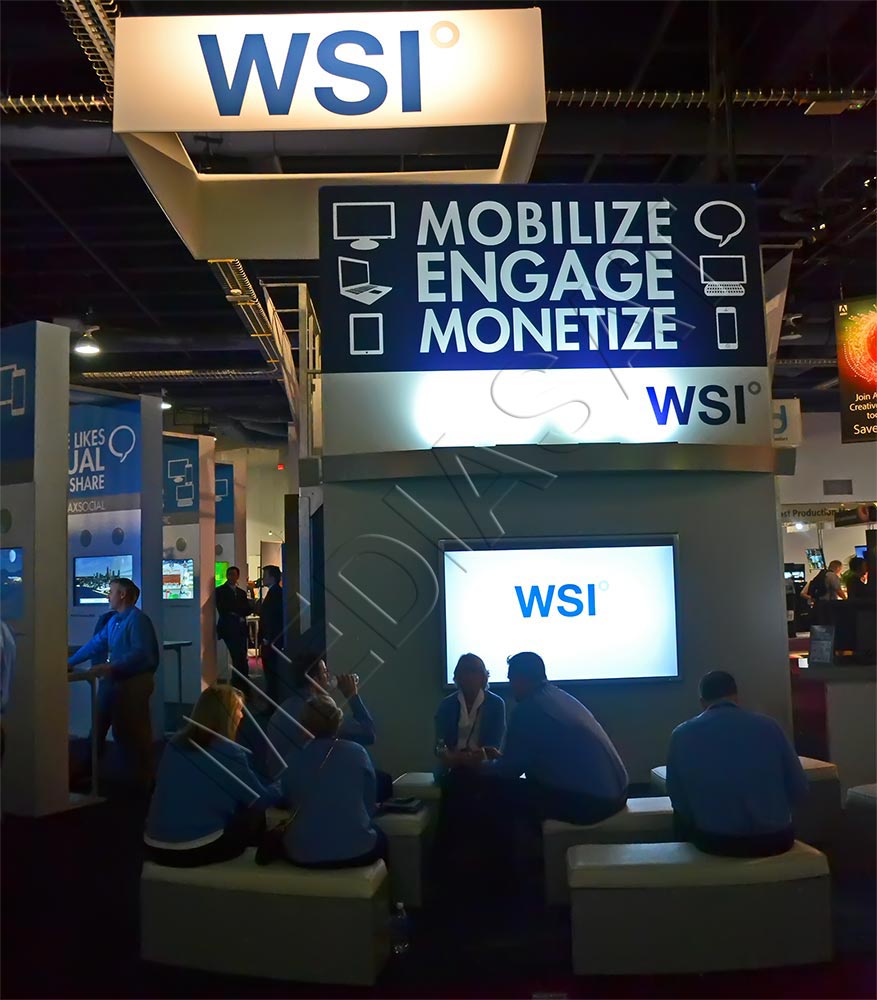 Content monetization was one of the topics that was actively discussed not only during conferences within the NAB Show, but at the participant's booth place. So the well-known "content holder" Shutterstock on the stand had been provide daily seminars on  working with 4K video content while rise the broadcast popularity among broadcasters around the world. Naturally, other "content holder" companies with similar profile also take place in NAB Show 2015.
However, if the broadcaster intend to provide broadcast in the format of 4K, it may be a shortage of high-quality content in the desired resolution. Indeed, just a few (but not all!) channels have representatives all over the world. And if, for example, some Australian broadcaster channel need video of the northern lights, or the European cityscape for any tourist program there is no reason to "sent" company's specialist (video operator) for a long trip. Because it is much easier to acquire such content from specialized "stock" sites like Shutterstock. Video and photo stocks agency market has existed since the beginning of the 2000s, and now meets the needs of a large part of content consumers (video, photos, audio).
Hardware manufacturers with 4K support provide broadcasters with the opportunity to offer the high definition content (mostly Full HD and beyond) for customers, allowing operators to increase revenue per subscriber (RPU). Broadcasters, web-TV, social media, media, bloggers and others with a lack of content able to found it and, if necessary, order the content of virtually any subject that still not presented on video stock web site.
Video from Youtube and Dailymotion services we do not consider because of massive copyright violations, but also because it is not always high-quality content (though 4K content available there). Unfortunately, some domestic Ukrainian channels often fill their "gaps" in broadcast by Youtube's fragments, where copyright was deleted, which is unacceptable. In addition, content from Youtube you're unlikely to be able to use for services and goods promotion. Moreover it is virtually impossible to verify the copyright owner of the video content on Youtube (who is producer if this clip?). The same situation with FaceBook social network and others.
Moreover, the photo and video stock agencies are fine place not only for broadcasters as a place where they able to find original content with the RF (Royalty Free) or RM (Rights Management) license but also for regular users which are content creators. These media platforms allow even ordinary housewife or any user from any part of the world to earn money from the content recorded by camera, and even much more, compared to youtube with its "penny" for thousands of video views and clicks on advertising banners.  RF-licensed content may sold repeatedly and with no time limit and region limitation. And, inspite of relatively small price for contributions, it allows to receive income on regular basis for legal content owners (vendors).
---
Multicopter. Exposition of 2015 significantly increased in the number of members whose profile were drones, more commonly known as unmanned aerial systems or unmanned aerial vehicles. Perhaps this is why one of the this year trends being demonstrated during the NAB Show was air-journalism, namely technology for creating movies in tight (problem) places. Multicopter is ideal for this purpose (drones is flying camera with 4, 6, 8 or more motors), which are capable to capture images in the most unexpected places: in the crater of a volcano in the ravines, on the roof of skyscrapers etc. The drone devices provide a panoramic shot from different angles, so that the picture for the viewer becomes even more attractive. Standard drone attribute is GoPro camera, popular among extreme sport fans (cross-country skiers, skydivers, bikers and others). The company's stand was also a demonstration area for drones. By the way, it is possible that GoPro will start producing its own drones by the end of 2015.
Depending on the number of motors, drones has synonyms. For example, the model with 4 screws named quadrocopter, with 12 motors (propellers) is geksakopter etc. You can manage these devices via radio channel (2.4 MHz).
Given the current trends, NAB Show has created for the first time the separated multicopter pavilion  this year. However, the presentation of flying models was not only there, but also at the stands of participants in other pavilions.
News stories shot with the drones give the viewer the opportunity to assess the magnitude of what is happening, whether it's a sporting event, parades, carnivals, natural disasters, military conflicts and others.
In addition, the devices increase the safety of television journalists in extreme conditions. Difficulties may arised for companies only when they need for permission to use drones.
Now in the United States the commercial use of drones is prohibited, although it is possible, these restrictions will be removed in the future. However, the Federal Aviation Administration (FAA) still gave permission to several companies to conduct video creation. However, drones with weigh less than 55 pounds, according to FAA federal guidelines may be used by TV companies.
By the way, focusing on market trends, some companies have started manufacturing cameras for drones. A 3DR company presented the latest development – the compact multicopter Solo for GoPro camera with the work duration of 20 minutes. (device expected in May).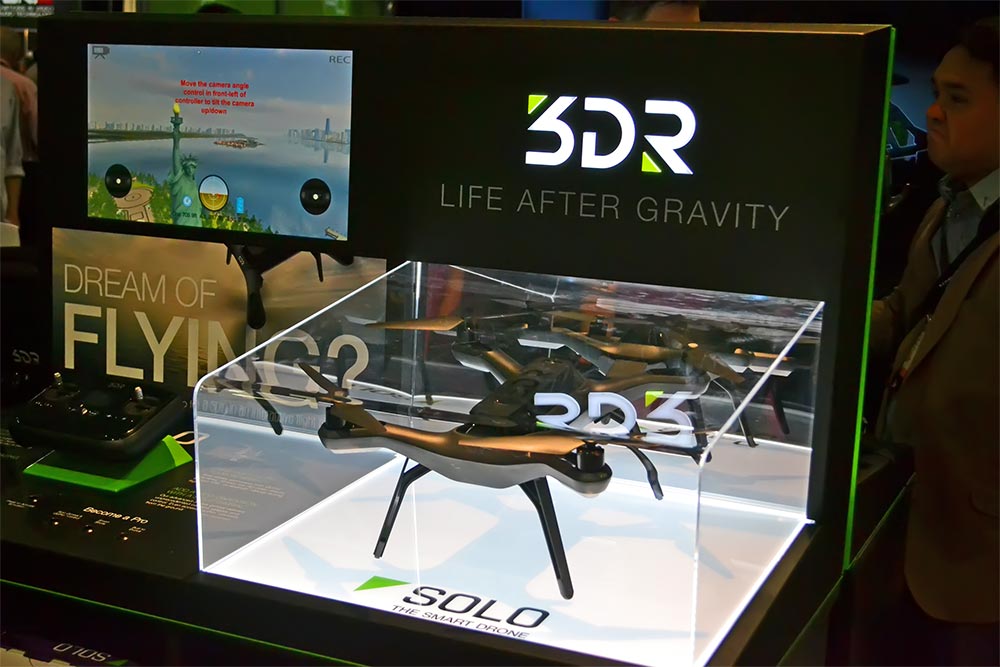 ---
Media player and STB. Not many really new models were introduced during NAB Show 2015. Nevertheless, the Dune HD company presented several IPTV/OTT STBs, among them – the prototype of a compact TV-204 on chipset Sigma SMP8756 supporting HEVC (H.265), FullHD, conditional access systems (CAS/DRM). It is available in several configurations: Standard (without HDD), supporting DVB-S2 (TV-204-S2 dual tuner Si-2166, SATA HDD) and DVB-C/Tx (TV-204-C/T/T2, Tuner Si-2168/2144, SATA HDD). All three modification support Wi-Fi (2.4/5 GHz), CAS/DRM Verimatrix (basic version also supports Conax, and models with DVB-S2/C/T/T2 – also Nagra).
Next novelty – TV-205 with UHD 4K and HEVC (H.265) support based on the chipset Sigma SMP8758. The model supports Wi-Fi (2.4/5 GHz) and also comes in three versions: standard, with DVB-S2 support (TV-205-S2 tuner Si-2166) and DVB-C/Tx (TV-205-C/T/T2, chipset Si-2168/2144). All three models support the modification of the CAS Verimatrix, standard version – also Conax, and model with the DVB-S2/C/T/T2 – also Nagra.
Another two new Dune HD devices based on Android 4 operating system. It's TV-171 and TV-191 supporting HEVC (H.265), FullHD and Wi-Fi 802.11 a/b/g/n. Model TV-171 is available in few versions: standard and with support for DVB-C/Tx (TV-171-T2, chipset Si-2168/Si-2141).
Finally, model TV-191 works with the UHD 4K and HEVC (H.265) content. Unlike previous 3 devices, TV-191 has one USB 3.0 connector, built-in Wi-Fi 802.11 a/b/g/n, 802.11 ac and Ethernet.
Geniatech presented a model for the US market – ATV1900AC/ATV1900 HDD. STB is running under Android 5 with support for UHD (3840×2160), HEVC (H.265), USB, HDMI; has two Wi-Fi-antennas (2.4/5 GHz) and offers a 2.5″ or 3.5″ HDD (SATA). This hardware priced at $169 and expected on US market in May, and little later in Europe.
Shenzhen GoShip Electronics (China) has presented a new series HEVC HD STB – N8781C supports H.264/MPEG-2 and the conditional access systems (CAS), and DVB-S/S2/C/T/T2, ATSC-T, ISDB -T, USB 3.0, Wi-Fi.
---
Measurement equipment and solutions for testing. Focusing on 4K, updated equipment was presented by Rohde & Schwarz. So, this is R&S VENICE 4K – UHD server production studios supporting synchronous conversion of HD-SDI HD and 4K.

R&S CLGD Signal Generator support new DOCSIS 3.1 cable standard, providing consumer electronics and component manufacturers (broadband tuners, cable modems) the reliable test equipment. The solution provides a download channels simulation according to DOCSIS 3.1 (and DOCSIS 3.0), and works with both digital and analog signals. Operating frequency from 47 MHz to 1,218 GHz (optional up to 1.794 GHz). The solution enables the generation of up to 6 192 MHz channels (DOCSIS 3.1) and up to 160 QAM channel, and able to combine two types of channels.
However, the company is developing not only the range of measurement hardware. Updated version of SpycerBox Cell storage solution  supports now up to 60 TB in the 1U case, provide broadcast industry with powerful solution for video streaming up to 8K. Each module supports one SpycerBox Cell uncompressed 4K stream (60p) or up to 3 streams of uncompressed 4K (24p). To improve performance, multiple devices may be combined into a cluster.
Additional 4K support in the AVHE1000 live broadcast encoder, provides a clear picture of a tennis ball flying at a speed of 200 km/h. The solution provides live encoding format HEVC 4K/UHD at up to 60 fps.
Broadcasters and cable operators are interested in the solution of Tresent Technologies. This is Portable media stream Analyzer IPQ1000. The first version of the device is focused on the US market (ATSC), but the developers are planning to add later support for the European standards (DVB-x). The solution is optimal for IP-based networks, equipped with 5″ touch screen for quick switching of sources. There are several Ethernet ports and USB. The battery charge is enough for 5h operation.
Leader Instruments Corporation (US) presented a 4K multi-rasterizers LV7390 prototype with support for up to 4 input 3G/HD/ SD-SDI signals (expected in mid-summer), as well as the final version of the test signal generator LT8900 (SD/HD/3G).

Triveni Digital has introduced the StreamScope MT-50 analyzer with advanced control for 2K/4K video streams with the possibility of simultaneous analysis of up to 10 streams.
---
2D/3D-monitors and projectors.
Christie Digital Systems presented a new D-line of its products. This is new 2K projector CP2215, as well as Christie LX801i-D (8000 lumens), Christie LW751i-D (7500), Christie LW651i-D (6500), Christie LWU701i-D (7000), Christie LWU601i-D (6000). All new line models are available now.
Adhering to the principle of removing the projector from the audience (e.g. during conferences), , the company promises to make by the autumn available Ultra Short Throw lens (0.38:1), allowing to show content at angles between 100 and 350 degrees. (Diagonal from 254 cm to 889 cm).
TV Logic presented several new products. Among them: LUM-310A is a 31,1″ UltraHD 4K display (4096×2160) with the contrast level of 1450:1. It supports 4 SDI and 4 HDMI, and Full screen zoom. 17.3″ broadcast monitor LVM-170A is a Full-HD model with support of 3G-SDI, HDMI, DVI, and a wide viewing angle.
Among the novelties there are six models of monitors for video walls with size from 17,3″ up to 55″: SWM-170A, SWM-240A, SWM-320A, SWM-420A, SWM-460A, SWM-550A with a wide viewing angle, support for SDI/HDMI/DVI, touchscreen capabilities (OSD buttons). These models are controlled by a free software Observer, provides remote control and device monitoring. Broadcasters also will be interested in four different rack mounted monitors from TV Logic (3.4″, 5.6″, 7″ and 9″).

AstroDesign (Japan) showed the world's smallest 55″ monitor prototype with a resolution of 8K (7680×4320, 20 ms latency) on a IPS matrix with viewing angle of 180 degrees, the maximum power consumption of 600 W (expected by the end of the year). There was also presented a prototype of TB-8101 backup system for the 8K Super Hi-Vision.
Companies do not forget about the OLED technology. So, Sony presented a 29,5″ 4K monitor BVM X300 based on OLED technology (4096×2160, SDR/HDR), and Bon Electronics presented multi format monitor TXM-243T3G (1920×1200, 3G/HD/SD-SDI, DVI). Moreover, Bon Electronics demonstrated the BXM-173T3G model (1920×1080, 3G/HD/SD-SDI, DVI).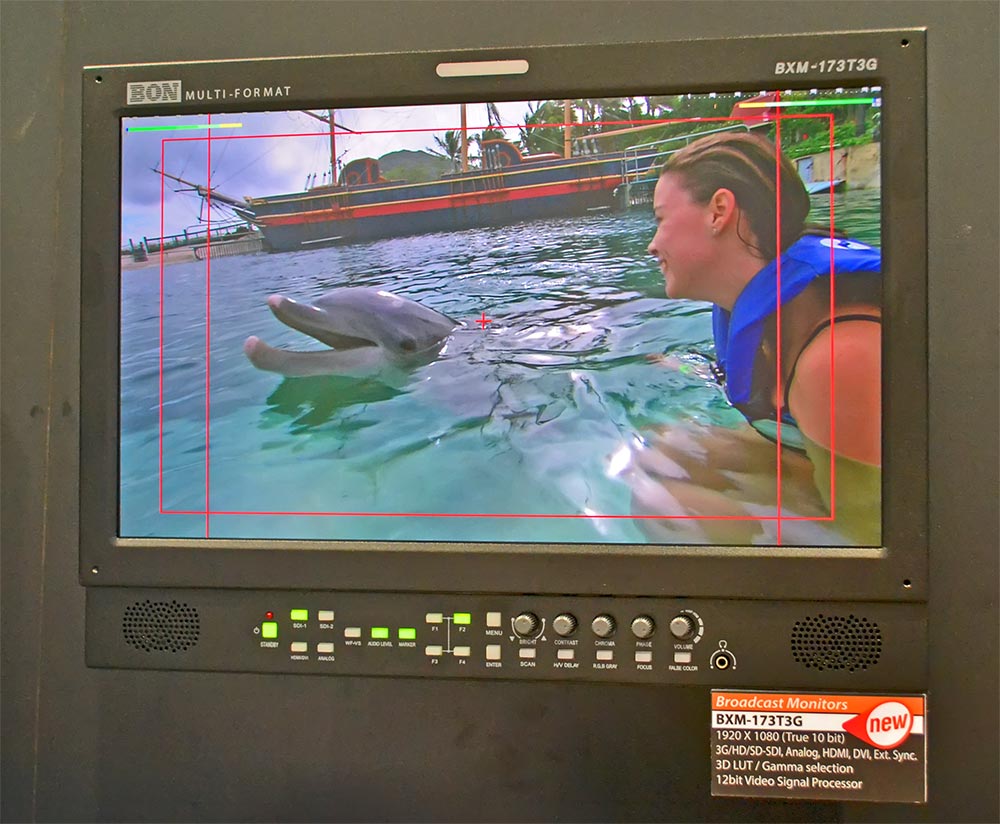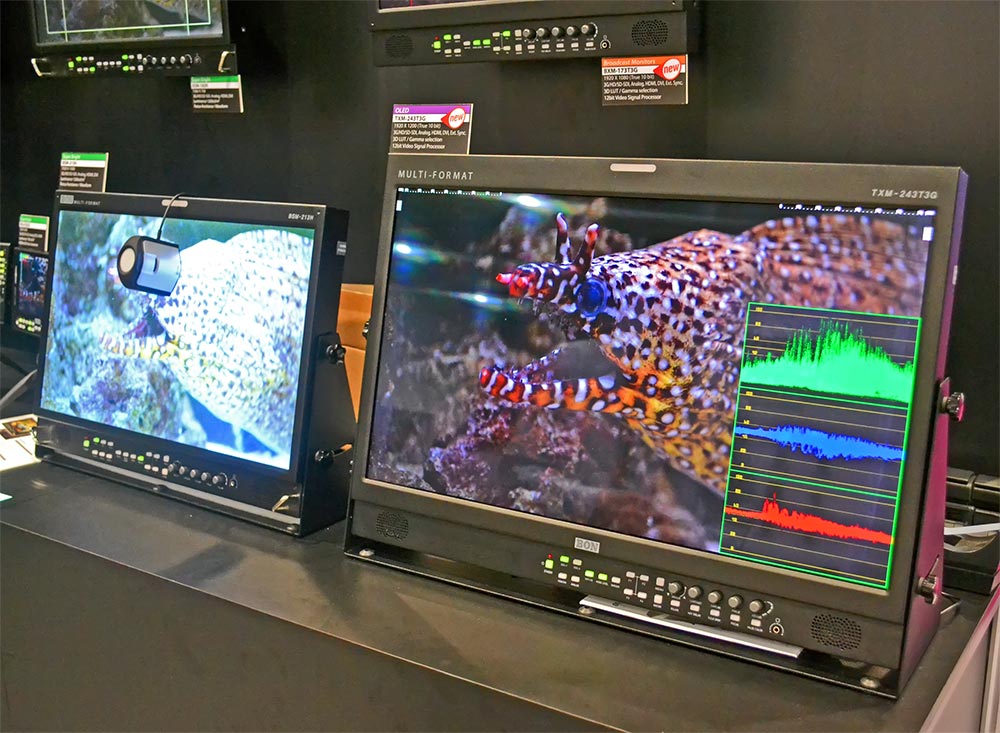 Plura Broadcast presented the LCM-4K monitors with a diagonal up to 84″, as well as 7″ and 9″ monitors LCM-207-3G, LCM-209-3G . Model LCM-4K-184 provide 16:9 picture aspect ratio, 3840×2160 resolution and 7.5ms latency.
A prototype of the professional 23.8″ monitor TL-D2400HD (1920×1080) announced by Ruige company.
Hewlett-Packard have presented the Dreamcolor monitors line with diagonals of 24″, 27″ and 32″.
New for 2015 monitors were presented by CreateLED. This is AirMAG-2-E "blocks" for the creation of UltraHD 4K display with a viewing angle of 140 degrees and the time between failures of more than 50,000 hours.
---
Antennas. The Swedish company DataPath International presented a prototype of SWE-DISH QCT90 for X/Ku/Ka bands. The final release is expected in autumn. The model may be deployed within less than 5 minutes and optimized for SES, Intelsat, SkyNet, etc.
JAMPRO Antennas introduced several new solutions, including a JAT-U line – the UHF Super Turnstile model (470-860 MHz) with horizontal and vertical polarization mounted on the roofs of highscrappers or towers and able to working under strong winds (up to 220 km/h), It has a maximum power of 2kW to 10 kW (depending on the modification). Another new hardware is JFWD (Band II Folded Dipole Antenna) for the 88-108 MHz band with vertical polarization.
New items have been presented by Kathrein – it's lightweight UHD directional antenna for 470-698 MHz band, horizontal polarization in few versions: 2.5 kW and 5 kW (maximum wind speed up to 150 miles/hour or a little more than 220 km/h).
Skyware Technologies has announced a solution for mobile journalists. There are small antennas for live broadcasting with high-speed Internet access (through a network of Global Express satellites by Inmarsat). The final version of the product is expected in the fall.
The new antennas was presented by AvL Technologies. This is the 0714 FlyAway model (70 cm) for X/Ku/Ka band for manual configuration and with deployment time up to 8 minutes. And the 0814 (85 cm) FlyAway model for the Ku/Ka band with manual adjustment, which may be supplemented by motorized drive and is able to withstand the maximum wind load up to 145 km/h (the assembly structure is less than 5 minutes). Another model is 1510 SNG (1.5m). This is motorized antenna mounted on a minivan for Ku/Ka band, designed for maximum wind speed up to 129 km/h. Time setup is less than 15 minutes.
By the way, part of the "antenna" exhibitors were located in outdoor pavilion. And when during one of the Show's days it was unexpectedly flown, but strong wind, like a small sandstorm caused many exhibitors to hastily cover their booth… Visibility is shown on the picture.
---
Solutions and technologies for broadcasters, studios and operators
Among the novelties of the Blackmagic Design company is the light and compact Blackmagic URSA Mini (4.6K Super 35 sensor) with the ability to capture up to 60fps, and bright 5″ viewfinder. The model is available in four versions: with sensor 4K EF ($2995) and 4K PL ($3495), and with sensor 4.6K EF ($4995) and 4.6K PL ($5495).
There was also presented the professional video editor and color corrector DaVinchi Resolve 12 with UltraHD support (by the way, a lightweight version of DaVinci Resolve Lite 12 company offers for free while full version price ranged about $30,000).
The new professional mini-camera Blackmagic Micro Studio Camera 4K is particularly interesting ($1295).
The next hardware is ATEM Talkback 4K Converter. This is a solution for two-way communication with eight cameras (operators) for interactive broadcasting. If you need to increase the communication distance it is sufficient to connect optional optical modules.
Production studios will be interested in SmartView 4K. This is UltraHD (60p) LCD monitor for broadcasters ($1,995), and the Blackmagic MultiView 16. This is multiviewer with the ability to monitor up to 16 SD/HD/UltraHD SDI sources in any order ($1,495).
The company also presented a Teranex Mini converters (12G-SDI) with support for SD/HD/UltraHD up to 2160p60 with the ability of video monitoring directly from the front panel (when installing optional Teranex Mini Smart Panel for $85). The cost of converters with support for SDI is $495, the price of optical one is $895.
Another multi-converter is Teranex Express ($1395) with support for SD/HD/UltraHD (up to 2160p60) and converts any of them in any other format. Current solution is ideal for installation mobile channels for minivans with a concert or sports video content.
Some companies were involved only in the events before the NAB Show opening ceremony and had no their stands at the Show. Thus, the company QNAP Systems (Taiwan) for the first time presented the 4th generation decision. This is QNAP Turbo vNAS for 4K UltraHD video transcoding based on Intel Core i3/i5/i7 chipset. This is the TVS-x71 product family: TVS-471 (maximum capacity of 32 TB, 4 SATA, memory up to 4GB), TVS-671 (48 TB, 6 SATA, memory up to 8 GB), TVS-871 (64 TB, 8 SATA, memory up to 16 GB capacity and bandwidth of 2300 Mb/s). The product line is optimal for working with 4K content (storage, playback, transcoding).
Matrox Video Products Group (Matrox Digital Video Solutions) presented a two-channel encoder for H.264-broadcasters. This is the Matrox Monarch HDX – a small device that supports 3G-SDI, HDMI and adjusting of frame synchronization. Thanks to the two integrated encoders devices provides video streaming for two different locations and provides simultaneous recording and post-processing of multiple tasks, or an interactive translation and simultaneous video recording. The universal "boxes" are expected in June.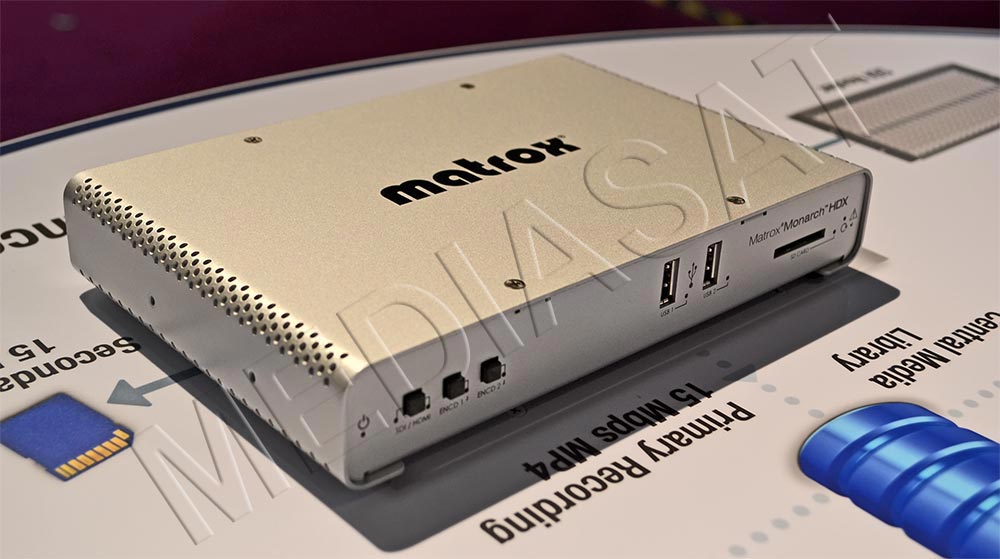 Broadcasters must be interested in Ultra NEXUS-HD (delivery expected in May) in the 1RU case presented by LEIGHTRONIX. This is the HD/SD Video Server for automation broadcasting. This is very economical (power consumption less than 20W) supports simultaneous processing of SD/HD (H.264) signals, a scalable RAID-architecture (up to 20 TB 4 TB – USB, 16 TB – NAS).
On the Vitec Video Innovations (Vitec Group) stand we found two new hardwares – portable HEVC/H.264 IP-decoder MGW D265 with low latency in decoding of SD/HD (400 ms) and the ability to handle up to 60 fps. The second device is a compact HEVC/H.265 encoder MGW ACE (FullHD at up to 60fps) with the latency of 75 ms. There is a possibility of remote monitoring via the Web-based interface.
VisLink also introduced several new products: This is the UltraCoder in 1RU case for H.265 SD/HD/4K video coding (expected in May).
The company also presented its own small wireless transmitter for CODFM-camera GoPro called HEROCast) for extreme sports and different events.
Cogent Technologies presented the miniature microwave receiver and decoder (SD/HD, H.264) "in one box" in three modifications: R-22, R-22D, R-22P with different number of output connectors (HDMI, HD/SD-SDI). There was also presented Cogent BodyCaster. This is lightweight portable cellular transmitter with built-in antenna, error correction and the ability to  use up simultaneously four cards to work with the 3G/4G/Wi-Fi networks for fast and stable video transmission.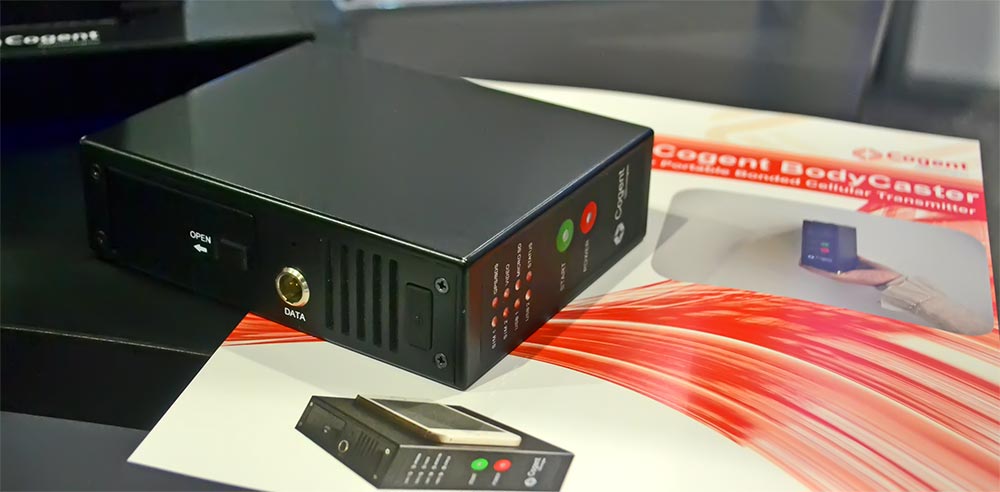 Due to the large amount of content a significant part of it is a quite large files that are no longer fit even for double layer DVD (9 GB). And the problem of storing and broadcasting of such content is very actual. In addition, owners of smartphones and tablets don't watch any presentation on DVD, while data not copied to another media (HDD, USB flash drive, etc.). But what to do with more no-digitized content (vintage film or photographic film tapes)?
Digital Video Archive Company offered its software and hardware solution named DVA Deluxe based on cloud technology, which allows to digitize (convert) legacy data and make them available for any device, from smartphones to Smart-TVs. The only caveat is not so much the price of the system ($1,795 discount during show) as software's subscription price ($79.95 for two users, $139.95 for five) plus aditional $1.99 for each content uploading.
DataDirect Networks company presented MEDIAScaler. This is high-performance platform for the operation of transcoding, editing, distribution and archiving of content "in one bottle". Configuration starts with a volume of 80 TB and can be expanded to hundreds of petabytes. The capacity of each unit is 6 PTB. Solution support Ethernet 10/1000 Gb, and optics, and it may be used for the content up to 8K.
ZeeVee presented a two-channel digital HD-SDI encoder and modulator HDb2920-NA with low latency, and the decision ZyPer4K for signal distribution over HDMI with 10 gigabit network to different types of monitors.
ATTO Technology introduced the FibreBridge 7500 in the 1U case. Hardware is rack-mountable, and allows to build their own SAS solutions for storing content with minimal investment.
Noting the 30th anniversary, Digigram company introduced the first HEVC-1RU encoder.
New solutions introduced Streambox. This is the Streambox Avenir Micro and the Drone Encoder Pro.
New products are compact but powerful, and focus on mobile use in multicopter, cameras or minivans. Avenir Micro works with SD/HD video over 3G/4G/Wi-Fi (2.4/5 GHz) or IP network. The solution supports USB 3.0, Gigabit Ethernet, GPS and consumes only 10-11 watts in 1080i mode; It is expected in Q3 2015.
On the Korea stand Kaimedia company presented the first professional HD/4K UltraHD decoder BGD4000 (joint development of DS Broadcast and KBS; the Korean market model is present in the market with the name KMD-U4K) with TFT LCD display for online monitoring the broadcast content (for 4K at up to 60p), including TS/T2MI data via DVB-ASI, USB, HDMI, IP. It supports DVB-T/T2/C/C2/S/S2, ATSC, QAM (64/256). It also has optional support for mSATA HDD/SDD. [Dsc66386.JPG, dsc66384.JPG]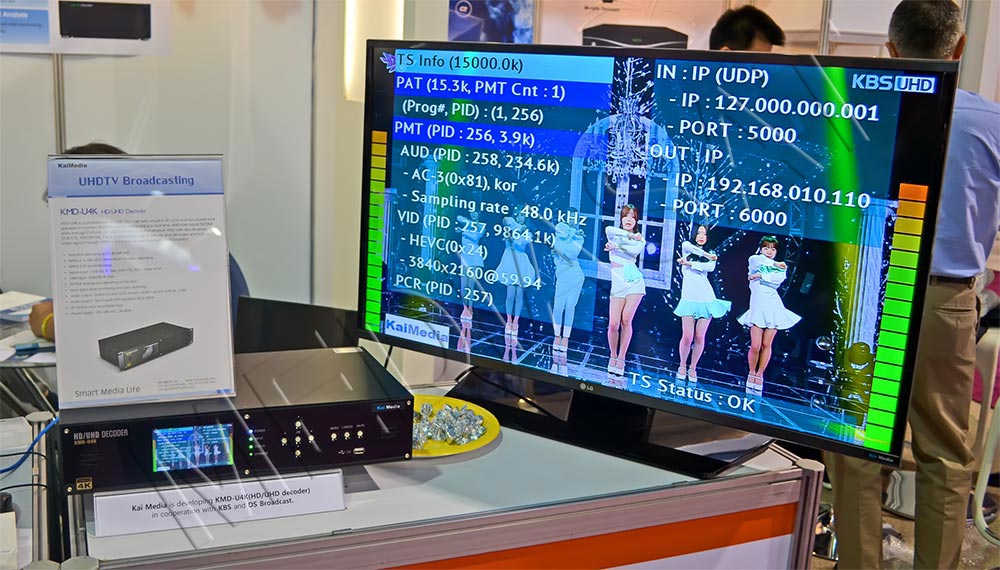 tvONE company presented for the American market the CORIOMaster CS-540 solution. It is able to broadcast video simultaneously on four monitors (in Europe the novelty was introduced in the late winter). The solution supports the rotation of the image by 360 degrees; it has the function of a "picture-in-picture" (PiP) and is optimal for the video wall layoutt with any angle. It supports 3G/HD/SD-SDI, HDMI and up to 28 DVI.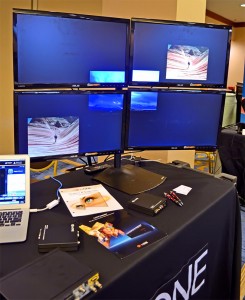 Niagara Streaming Media during pre-NAB Show events introduced several modifications of powerful portable device Niagara GoStream (A, Sa, S, H, Ha) for streaming with support for SDI, HDMI, DVI (SSD/SSHD as option).
Broadcasters and operators should be interest with the first time demonstrated solution from the Serial Image company. This is SIX (Serial Image eXpandable) platform in the 1RU case (depth "box" is only 150 mm) with up to 16 modules for video processing and the ability to remotely monitoring the process via the Web interface. The solution is created on the DIY ("do it yourself") principle that distinguishes it from the other hardware. You create your own device with required amount of INs and OUTs. Firmware update for hardware available via USB.
Exterity North America introduced AvediaStream o7500 Origin Server for the "distribution" of streaming content for different networks (LAN, CDN, Wi-Fi, Internet) for an unlimited number of subscribers, as well as the AvediaStream Encoder 2.3 for the delivery of content to mobile devices.
CineMassive introduced a hardware and software solution for processing video content for display on the video wall. Controller Alpha FX is the best option for broadcasters, interactive shows, educational demonstrations, etc., when you want to display HD or 4K UltraHD content on a large number of screens of different sizes. The input sources may be interactive camera, recorded content (e.g., PC) and others.
DekTec Digital Video presented several solutions. This is the PCIe card DTA-2174 Quad 3G-SDI / ASI Ports to handle 10-bit uncompressed 4Kp60 UHD video with four 3G-SDI ports.
Another card, as developers says, has the highest port density in the market – 12 (model DTA-2179; expected in fall). Board helps to connect up to 10 cameras (1080p60) and display the image on two 3G-SDI output. Another novelty – DTU-315 is all-standard modulator. It is ideal for use as a radio-frequency generator. A solution is expected in July and will support ATSC 3.0, after approval of the final version of the standard.
Advantech has presented two new professional video encoders HVC-8700 and 8701, providing HEVC encoding in real-time 4K UltraHD (2160p60), and power consumption is reduced by 20%: the power consumption of 8700 HVC is less than 15 W, HVC-8701 – less than 35 Watts.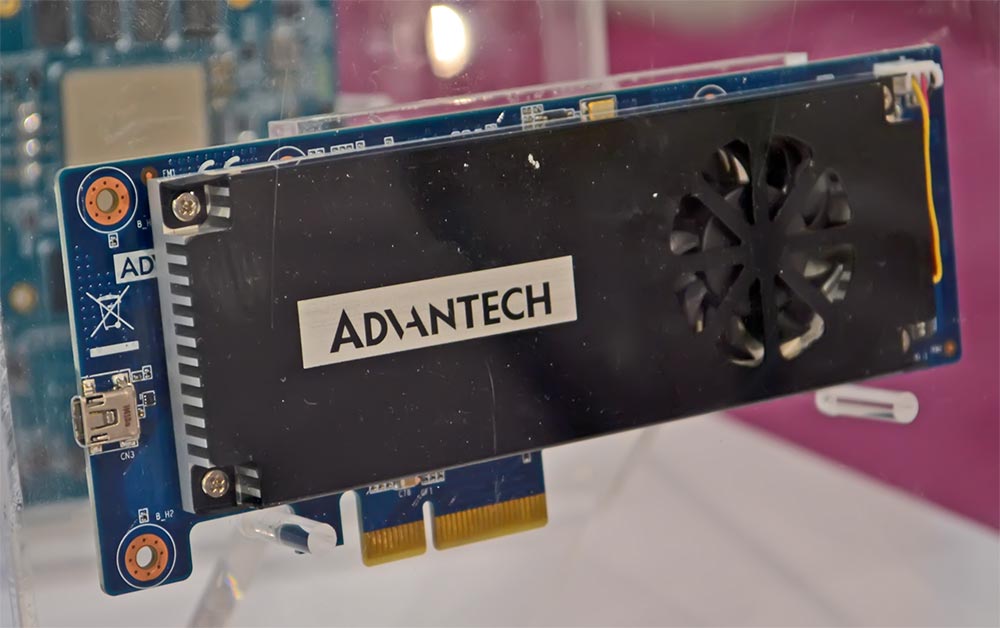 BTL Italia  presented for the first time the video server SMS-4 Ultra UltraHDTV 3840×2160 @50/60p. The solution provides simultaneous recording and playback, and is best suited for live broadcast, slow motion replay systems; it supports compression and JPEG2000-expected in June.
360 Systems Broadcast presented the multiformat video server TESERA-3100 (expected in May) with three independent SD/HD TV. The configuration supports up to 8 Terabytes (Raid5); 1/10 Gigabit Ethernet.
Z3 Technology presented several models of HEVC encoders/decoders: Z3-MVE-1000/2000/2500 for web streaming broadcast. Each model supports up to 4 FullHD (1080p) video at up to 60 fps. It has support for HDMI, USB, 3G-SDI, RS-232, Ethernet.
Ensemble Design introduced an updated version of its compact router Bright Eye NXT 450 with support for MPEG-4 (H.264), 3G / HD / SD SDI, HDMI, and AJA – a series of converters: HA5-4K, FIDO-4R-ST, FIDO- 4T-ST.
The company unveiled the final version of Apantac TAHOMA T # (pronounced "tee-sharp") – multiviewer platform supporting up to 64 SD/SD-SDI output signals. Each card supports up to 8 video inputs and "hot swapping".
Among other innovations: a modular card OG-mini-Q, OG-Pinnacle (SD-HDMI / DVI-converter and scaler), OG-Pinnacle-L (with monitoring), SDI-HDMI converters OG- DA-HDTV-SDI and OG-DA-HDTV, amplifiers OG-DA-4HD and OG-DA-8HD.
Storage solutions for tape drives are still in demand. And X2500-USB from XenData is one of them. It is ideal for home and office as an inexpensive version of the backup data. The price is reasonable.  2.5 TB cartridge capacity 1 TB costs less than $ 25 (compared to the current price on the external HDD of the same 1TB capacity which is now available for $ 70-75, and the most reliable WD priced from $ 78-80). Moreover, a manufacturer garanty for the tape is about 30(!) years, compared to a maximum of 3-5 years for HDD.
Newtec presented a new satellite modem MCX7000. Networking equipment with a focus on the European market was shown by GatesAir, which presented a new liquid-cooled UHF TV transmitter Maxiva UXLT-20 (DVB-T/T2, 10.6 kW or 2×5.5 kW), and Nautel – the digital TV transmitter NT1 (UHF 1 kW).
Systems Engineering Solutions (brand Syes) introduced a new exciter in 1U case with PCM output power up to 50 W, which can be configured as a transmitter, repeater or gapfiller.
Interactive advertising insertion to the streaming video was showed by AdSparx USA. The solution is a SAAS platform, allowing the operators and OTT providers to monetize content on any Internet-devices.
Blazee company announced the solution for the content delivery. Internet-application Riatt allows "direct" audience targetting regardless of where viewers learn about the offered services: from advertising on TV, radio and others. To do this, just enter the code shown on the screen or in radio broadcasts, without the need to enter a long URL address, and participate in online conversations via the specified page.
Riedel Communications presented MEDIORNET MicroN.
---
Solutions for video. Panasonic has announced the 4K-AG-DVX200 camcorder with the ability to capture up to 60 fps. Recording is performed on the SD card (company recommended cards not lower then UHS class 3). The company also demonstrated a demo of professional 4K touchscreen LQ70U, including the TH-98LQ70U and TH-84LQ70U.
RED company decided to hold the presentation of its new camera Revolt XL in the style of "horror" film (model is expected in the summer).
---
Interesting solutions. Antik Technology for this time shown new technologies instead of STBs. Thus, the company announced the Antik Smarthome decision. This is the system of "smart home" based on company's own STBs.
The user will now be able not only to "monitor" your Home (do not forget anyone to turn off the stove, is it OK with the gas supply, room lighting, etc.) but also to prepare the room for the arrival of the owner: to activate the air-conditioning, interior or outdoor lighting, etc. You do not need to search for additional equipment from other companies – just buy the STB from Antik Technology with firmware updates, install additional SmartHome USB Wireless Plugin (like a USB stick) and you get a ready-made solution "smart home". However, the question of when this "future" becomes available, the company answers – soon. Perhaps in the autumn?
Another new solution is Antik Media application for the delivery of broadcast video on devices running under different operating systems: Android, iOS, Windows 8. With it, you can watch any video content on the selected device.
And finally, the company presented Antik Digital Signage – the decision to deliver indoor/outdoor advertising created using Antik DSS Producer and Antik DS Management SW. The Flat panels "monitored" through STB Antik DS, which can be used in conjunction with standard HD TV sets.
NTT Service Innovation Laboratory Group Division of Nippon Telegraph and Telephone company announced the first professional 4K/60p H.265/HEVC real-time encoder, codenamed NARA LSI (Next-generation encoder Architecture for Real time HEVC Applications).
The chip is expected in Q1 2016. The solution provides high quality video (4:2:2) and will be the best choice for TV studios, which provide live broadcast. On assurances of developers, solution provides 1.5 times better performance and compression compared to HEVC encoders of other companies that will be especially noticeable when you switch to UHD content.
The technology also highlights the elimination of losses in multiple color coding/decoding (for example, during online-broadcasts of various events). In the future, developers plan it to use for the development and content processing with resolution beyond 4K.
Among the pre-NAB Show presentation we want to note the 4SeTV (Four Screen Enchanced TV), which allows you to "catch" the air freely broadcasted channels and broadcasts four of them on 4 different devices within the home network on your smartphone, tablet, large TV screen, etc. Suffice it to acquire the appropriate device, connect it to the antenna and to the router. Using special software (iOS, Android) through a smartphone or tablet you choose which channels you want to show on a big TV, and which on the other devices. There's even  "4-in-1" to display four video pictures on one monitor which is useful feature for sports fans who do not want to miss the exciting moments of the match. The cost of the new items by request is $99. Manufacturer plan to provide the equipment closer to September. This software development can be downloaded for free from Apple App Store or Google Play.
On the stand of the Korean pavilion the PixTree company demonstrated the solution for cable operators and IPTV provided transmission of UHD Video (four channels) via STB with low power consumption. Incidentally, 2 Mbit/s per channel will be enough for the transmission of UHD content bandwidth , or 8 Mbit/s will be enough for transmission of four channels.
NAB Show 2015 once again confirmed its status of the largest show of content and technologies for delivery, processing and display for a wide range of consumers: from major broadcasters, operators and service providers to consumers and end users. Optimizing power consumption and miniaturization of equipment, reduction of its production and increase the reliability of solutions, new versions of software for media content post-processing, the use of advanced methods of content creation (such as drones) – this is not the complete list submitted for the exhibition.
Due to increasing demand for high quality 4K content it is sufficient rising of platforms where users can monetize quality footage content recorded during travels of various types: video, photo, audio and others. Companies create new interesting programs without the need to "surf" the different countries and send representatives (video operators) outside TV stations.