What are the prospects for 8K technology? How popular are unmanned aerial vehicles (multicopters) for TV studios? What are the forecasts of further development of 4K and 3D? How suitable are mobile operators' networks for delivering 4K-content? What are the advantages of ATSC 3.0 standard for broadcasters and consumers? How can video operators improve the stability of camera video shooting? What is the strategy to monetize content in the current market environment? The answers to these and other questions could be found at NAB Show 2016, the largest electronic media exhibition held from 16 to 21 April in the center of the US gaming industry Las Vegas.
There were exposed a lot of companies developing software, hardware and various technologies, including the world-renowned brands like Christie, SES, Blackmagic Design, NEC, Newtec, Panasonic, Rohde & Schwarz, Sony, NHK, etc., as well as companies from the CIS countries.
As usual, even in few days prior the official opening of the exhibition, dozens of companies held a number of presentations of their solutions. And though they were held in different locations, visitors managed to see the most interesting innovations. "Hunting" for such "shows" made a good sense, if only because some companies presented themselves right before the show and without contracting exhibition stands. Let us look at the most interesting solutions presented ar NAB Show 2016.
This year, the "show was reigned" by such activities as content delivery on devices of any type and size, drones (sometimes the exhibition seemed to be devoted primarily to flying units, as so many of them were presented there), mobile broadcasting based on ATSC 3.0 standard (however relevant mainly to the United States), virtual reality, photo and video cameras, further miniaturization of devices (drone with 4K-camera on a palm is already real), technologies HFR (High Frame Rate) and HDR (High Dynamic Rate), automated TV and radio broadcasting control systems, auxiliary services for consumers. As for the format 8K Super Hi-Vision, the broadcasters (surely except for the NHK (Japan Broadcasting Corporation)) are just setting their sights on it. In fact, the TV receivers with this resolution are not readily available to consumers. And the satellite broadcasting (so far just in test mode) will start only in 2 years.
The cinema TV industry got ample opportunities to create spectacular panoramic spots as from 2015, when the US Federal Office of Civil Aviation (Federal Aviation Administration, FAA) authorized the use of multicopters (better known as unmanned aerial vehicles or drones, UAV or unmanned aerial systems). At the moment, only 10% of film studios make use of such units. At the same time, the potential of commercial (advertising) shooting was already appreciated by such giants as Nike, Tesla, Chrysler and Audi. It is no coincidence that this year the number of participants with UAV units significantly increased. This prompted organizers of the 2016 NAB Show to "redraw" essentially sites for exponents in some exhibition halls.
According to the statistics, a today's consumer views 38 hours of video weekly. Although viewing video is actually quite different than in more recent times. A TV viewer votes with button, choosing what where and how to watch: streaming broadcasting, video on demand (VoD), normal TV viewing, etc. And content providers, trying to please their consumers and intending to keep the audience, have to adapt constantly to the whims of their consumers, including by offering content view on a secondary display. This especially concerns residents of social networks, where, for example, over 86% of Facebook users make use of an additional device (display) during content viewing, with the greatest users' activity observed in prime time. Twitter fans do not lag behind as well, 66% of whom prefer interactive communication during numerous TV shows.
Although in the United States, there are still so-called cord cutters, their number is very small (less than 10% of the population), along with those who have never paid for subscription in the networks of cable operators (so-called cord nevers). At that, the number of both categories has been gradually growing. However, according to the recent forecasts shared by the Forrester Research, as early as 2025, half the adult population up to 32 years old will not pay for TV.
As for the 8K UHD format (33 megapixels), the NHK (Japan Broadcasting Corporation) plans to start its broadcasting in test mode during the Rio de Janeiro Olympic Games (2 years prior the start of 8K satellite broadcasting). The 4K format is already quite widely available, i.e. on Youtube and in Netflix packages (before the year is out, the subscribers are promised to get access to 14 new TV shows and movies in 4K format). Presentations were held in a special Futures Park zone (formerly NAB Labs Futures Park).
NAB Show organizers tried to use every effort to provide exponents and visitors with whatever was required: a stable WiFi access at the show, security (dog handlers with dogs are not uncommon in the Exhibition Centre), and even designated leisure areas with relaxing massage.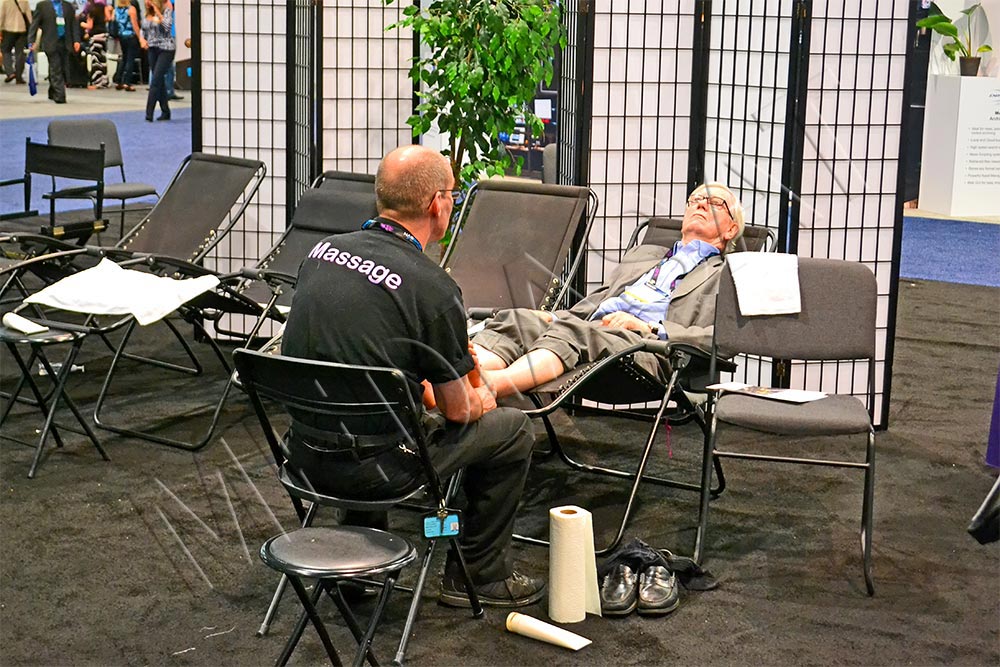 It is not clear, however, why free transfer to and from hotels was arranged just within the suspension monorail service area.
That is, those visitors who chose their hotels even close to the main place of interest Las Vegas Strip, but in the northern part of Vegas, had to travel under their own steam. By the way, it will be also not incurious the fare. For example, a daily city bus ticket costs $5, and a single bus trip is $2. However, a SDX/Deuse bus trip fare along the main city artery is higher (2 hours cost $6, 24 hours are $8, 3 days are $20), while common tickets are valid there as well. A taxi from the airport to the hotel averages $15-20 (if there are no traffic jams, although on weekends, Strip sometimes stops due to the abundance of transport).
Of course, the range of exposition, the number of exponents and visitors at the exhibitions of this scale is difficult to compare with domestic events. By the way, the Las Vegas Convention Center itself is planning further expansion to the areas of the hotel-casino Riviera (the hotel was closed in May 2015 after 60 (!) years of operation, and now it is covered with relevant posters). The show brings together representatives from all over the world, from Australia and New Zealand to seemingly "unadvanced" in advertising and telecommunications terms countries like Zimbabwe and the Republic of the Congo.
This year, according to the US National Association of Broadcasters, the exhibition was visited by over 100 thousand people in search of solutions for content creation control and its distribution on multiple platforms. By the way, NAB Show will be held now not only in the USA but also in Shanghai (this event is scheduled for December).
There were organized various events within NAB Show, including a job fair held on 20 April by NAB Education Foundation in cooperation with the Broadcast Education Association. There were observed a lot of young people who decided to commit themselves to the TV-Radio broadcasting and content delivery market. There was even a stand that organized a mini-exposition of retro broadcasting equipment.
At NAB Show, the company NHK presented another video library of the most spectacular 8K videos in own "cinema". Those were episodes from the Seiji Ozawa Matsumoto Festival (Beethoven symphony), the Aomori Nebuta Festival in 2015, as well as sports broadcasts of Super Bowl 50, FIFA Woman's World Cup Canada 2015. There were also shown thematic flower automotive and food videos.
This time, the company presented a new 8K Super Hi-Vision-camera and a mobile TV trailer. The ATSC 3.0 standard, presented at NAB Show 2016 both in the form of devices, and live broadcasts in the exhibition halls, excites particular interest of the TV industry both in the US, and other countries. So, upon preliminary information, it is quite possible that the first commercial implementation of this broadcasting technology would be carried out not in America, but in South Korea. And another proof is broadcasts of the PyeongChang 2018 Winter Olympic Games in the 4K format applying ATSC 3.0. As early as in February 2017, Seoul scheduled a start of commercial UHD broadcasting. By early 2017, most of Korean residents will have access to 4K-broadcasting. Moreover, by late 2017 it is planned to cover 77% of the country with new technology, and the number of 4K TV receivers in households will noticeably increase.
The main advantages of ATSC 3.0 are a targeted advertising (that is specifically matched to subscribers and based on their interests and preferences), high-quality audio, enhanced emergency warning options. NAB Show 2016 was first to demonstrate a test broadcasting based on that new technology. By the way, LG Electronics presented there a wireless antenna for receiving signals in the ATSC 3.0 format and their further distributing via WiFi. The company also announced its partnership with Sinclair Broadcast Group, and showed at the exhibition the first relay of emergency signal with its reception by the user device supporting ATSC 3.0 (even if it is off). The incoming signal makes the user device on, transmitting data to the user via HTML (eg, escape routes). The technology is a bit like the PC function Wake-on-LAN. This technology, called AWARN (Advanced Warning and Response Network), will be appreciated not only in the US but also in any other country with a high probability of natural disasters (tornadoes, earthquakes, floods, fires, etc.)
Multicopters
Among many drones there were presented models designed for different weight loads: both high and not so high. So, Acumen Robot Intelligence (USA, onagofly.com) presented an intelligent nano drone ONAGOfly, a unit that fits easily in a palm.
The model with a range of up to 50m costs $299 and has an application to control nano multicopter using mobile devices. The high-quality shooting is ensured by a 15-megapixel camera (1080p, 30fps). It is navigated by GPS, and broadcasts video via WiFi.
The stand of YUNEEC announced a 6-engine multicopter TYPHOON H ($1299) with a range of up to 1.6 km and a flight time of up to 25 minutes. There is a 4K support, a 12.4-megapixel camera, and strike proofing. The control panel is designed with 7-inch touchscreen and based on Android.
According to the FAA directives, a multicopter can not fly into restricted areas near commercial airports. The factory settings have "sewed-in" flying restrictions for altitudes above 400 feet. In the event of failure of one engine, the unit remains operational.
Another drone model was presented by Ehang (China), and this is a 4-engine "helicopter" Ehang Falcon capable to lift up to 5 kg of payload (a useful thing for smugglers to carry cigarettes). However, in case of using lightweight cameras, 4 engines may be turned off to save power consumption. The unit can remain airborne for up to 20 minutes. The maximum flying range is up to 20 km, and the peak speed is 100 km/h. The weight of the vehicle itself is 10 kg.
The company DJI announced a new professional multicopter DJI MATRICE 600. The new flying platform for professional photo and video shooting is capable to lift up to 6 kg, i.e. here come the most common cameras Zenmuse X, RED, and others. The drone provides high positioning accuracy (up to 1 cm) due to the Real-Time Kinematic technology.
The company Autel Robotics presented final versions of its two drone models X-Star and X-Star Premium (both units are already available). The models support navigation via GPS and GLONASS; equipped with a built-in 4K 12-megapixel camera. The flight time of the vehicle is up to 25 minutes. The X-Star model ensures video transmission up to 1 km, and the X-Star Premium up to 2 km.
The stand of Freefly Systems (USA) presented a new flying platform Freefly Alta 8, an 8-engine drone ($17495).
InnoFlight (Taiwan) presented a flying platform STELLAR X1000 ($2000), which may be equipped with cameras like GH4, 5D Mark.III and others for a total weight of up to 10 kg, while the developers assure the lower the weight, the greater the flight time is (3kg of load for up to 50 min.). It ensures video transmission up to 1 km.
Mirarobot Science Technology (China) presented an UAV unit Miraman 360QX with flight time of up to 20 minutes.
The Ruige Brand (Luoyang Ruiguang Movie-Tv Optic-Electronic Technology) in cooperation with Sky Eye UAV presented a portable monitor MORE-173 to control drones like multicopter ZeroTech. The display is designed to operate in bright sunlight, and the autonomous drone control system time is 6 hours. The control is exercised through a radio channel of 2.4 GHz.
Measuring equipment and testing solutions
Flanders Scientific presented BoxIO, a monitor calibrator with extended color settings control options (coming in June). The solution is available in 3 variants: BoxIO Lite DP ($895), BoxIO Lite SDI ($975) and BoxIO ($1195). Unlike the first two variants, BoxIO supports 2×3 GB/s SDI. All the versions support USB, WiFi, Ethernet. It is remarkable that the use of two BoxIO devices allows working with 4K-video (up to 60fps). The company also presented a 31-inch 4K LCD TV prototype.
Omnitek presented a 4K/UHD wave analyzer Ultra XR, supporting 12G/6G/3G/HD/SD, Ethernet 1 Gbit/s, USB 2.0. The solution operates with formats from SD to 4K (up to 60fps).
The company Teledyne LeCroy (formerly Quantum Data) presented its final version of the measuring equipment 780D, a portable protocol analyzer and test signal generator (7-inch monitor, HDMI, only 1.5 kg of weight).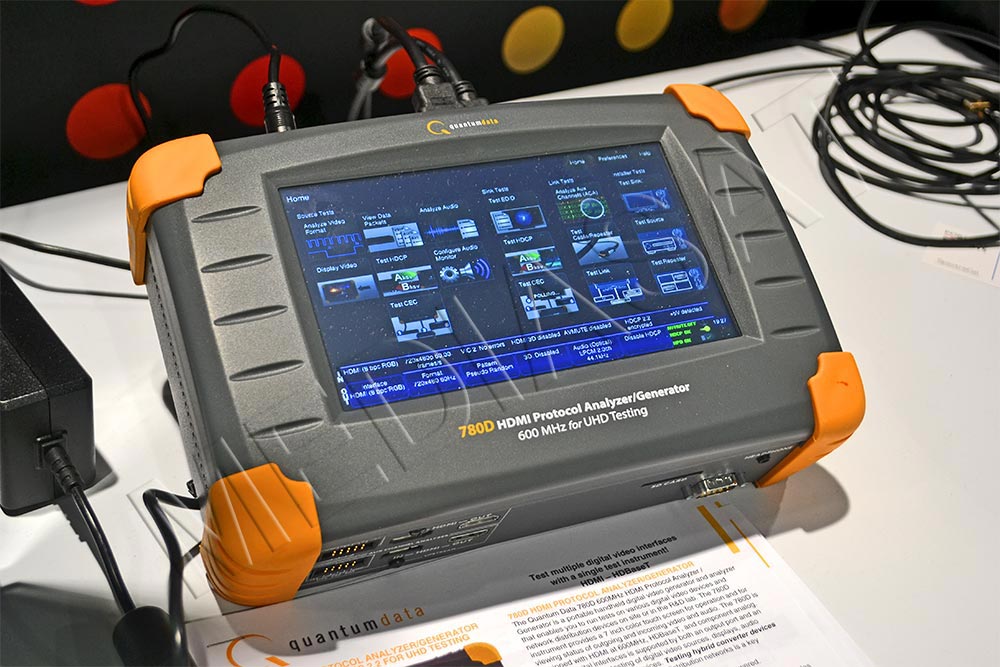 Digital Broadcast presented a broadcasted content quality monitoring system MediaVeriFire. There is a web interface available for monitoring. For convenience, a video picture is generated in low resolution and it is possible to "appreciate" it through a browser. There are recording option and data storage from 2 weeks to a year.
In view of broadcasters' interest to 8K technology (8K signal test reception from the satellite is anticipated in 2 years), many manufacturers move beyond 4K, integrating support of the latest technologies. So, Nippon Control System Corporation (Japan) presented a multifunctional 8K analyzer DAB8000 mini. The hardware offers 6 functions: wave monitor, protocol analyzer, test signal generator, audio analyzer, signal converter, and 8K focus adjustment function. It supports frequency of up to 120 Hz, USB, DVI, Ethernet. The information is displayed on a 7-inch Full-HD-monitor.
Phabrix presented a measuring hardware Qx 01E based on the Real Time Eye technology at the physical level, which should excite interest of technical staff of the companies engaged in design of broadcasting equipment.
Although Internet-radio does not have such a high popularity in Ukraine, it is worth mentioning a multi-stream monitor SIMON 614 for simultaneous monitoring of up to 4 of Internet radio streams. There is a web interface. The solution is based on the Linux OS.
The company KeySight Technologies (keysight.com) presented a new portable analyzer N9952A (weighing just 3.2 kg) for the frequency range of up to 50 GHz. The device is designed in a dust- and waterproof variant. There are spectrum and vector analyzers.
At the stand of the Korean exhibition hall, the company Any Future Technology presented a high-speed moving objects tracking system based on 8-way wave antenna (80 MHz-6 GHz). It also presented a set-top-box DSB-100 to monitor broadcasted content, to collect and display detailed broadcasting area change statistics. It supports DVB-T/T2, ATSC/QAM, and others. The software with world map is also supplied.
Wohler Technologies presented its iAM-video solution for video and audio monitoring with touchscreen (3G/HD/SD-SDI).
Tektronix presented a spectrum analyzer RSA306B and a monitoring media platform PRISM (IP/SDI), and Leader Instruments presented a monitoring and measuring processor (rasterizer) LV7390 with 4 inputs, which simultaneously displays up to 4 3G/HD/SD-SDI signals (optionally supported 4K).
The stand of Ruige (Luoyang Ruiguang Movie-Tv Optic-Electronic Technology) presented its ACCUR solution (BM-100 Magic Box) for calibrating monitors (any of them, not just the branded ones) in less than 10 minutes.
2D/3D-monitors and projectors
Christie, that already gained popularity, presented a line of HS laser projectors with wide implications (hotels, educational institutions, corporations, and others.) These are models Christie D12WU-HS (with brightness of up to 12 thousand lumens) and Christie D12HD-HS (up to 11 thousand lumens). They support USB, HDMI, RS-232, Ethernet. The guaranteed brightness reduction time to 50% is 20 thousand hours. Among entertainment products presented at the company's stand, it is worth mentioning "floor" 2K-displays Christie Boxer 2K20, Christie Boxer 2K25, Christie Boxer 2K30. The brightness reduction time to 70% of the initial one is 1500 hours. The models are coming in June.
Following its motto "exceed your vision", the company Epson announced some new products for meeting rooms, and among them there are both laser models like Pro L1505U (with brightness of 12 thousand lumens, $21999, coming in September) and Pro L1405U (8 thousand lumens, $12,999, coming in July), and also the lamp one Pro G7000W (6,5 thousand lumens, $4149). The advantages of lamp models are low initial cost, and replacing "resource lost" lamp returns to projector its original high brightness. At the same time, the advantage of laser projectors is absolute black contrast (2500000:1). Although in both cases "aging" of the luminous element has a time stretched linear dependence. Therefore, the choice is up to the end-buyer.
VLogic presented new broadcasting monitors LUM-171G (16,5-inch, FullHD) and LUM-240G (23,8-inch, 4K/3840×2160, 12G/6G/3G/HD-SDI) with a viewing angle of 178 degrees. Both models support HDMI. The junior LUM-171G displays 4K-video on a FullHD panel by downscaling.
Lilliput USA (China) presented a 5-inch HD-monitor for cameras with a viewing angle of 160 degrees, high brightness and contrast. There are a wave analyzer, audio signal level meter, signal representation in curves.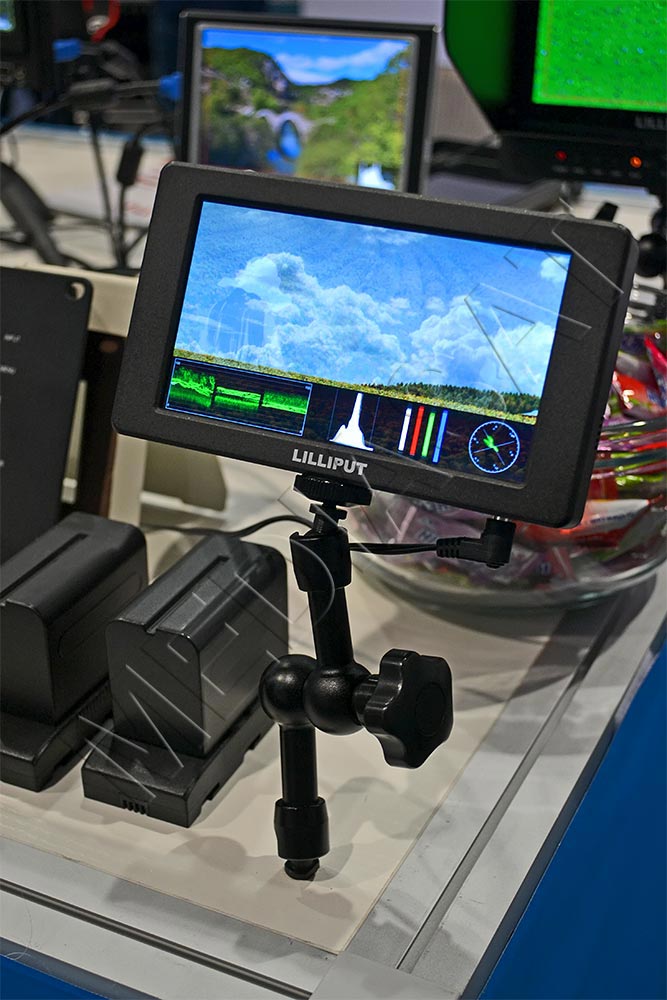 Plura Broadcast presented some models of monitors from the line PBM-4K (UHD) 24-inch: PBM-224K-4K (23,8-inch, HDMI, USB, 12G/3G/HD-SDI, Ethernet for monitoring and firmware updates), as well as low-cost models LCM-4K-UHD (12G/3G/SD-SDI) with screen size of 49-inch and 84-inch (LCM-149-4K and LCM-184-4K, respectively). All of these models can be wall-mounted.
By the way, for low-cost models (lacking audio), one may use sound bars by Census Digita.
Ikegami presented a 4K LCD-monitor HQLM-3120W (31-inch, coming by year-end), as well as a compact 2.6-megapixel camera HDL-F3000 for helicopters, capable to operate in a low-light mode of 0.007 lux (1080i/720p/30fps, noise over signal ratio 64 dB).
Broadcasters and "advertisers" are interested in outdoor monitors for using in bright sunlight and offered by the company Q-Vio (USA), which presented its 32-inch model FullHD (1800 NITS).
Canon USA showed a prototype 8K-monitor, the pixels of which were thoroughly examined by all visitors using a magnifier, as well as a compact prototype IP-gateway to convert 4K SDI to IP (using TICO compression, the 1RU case stores two devices), and a prototype 4K Digital Cinema Initiatives with screen size of 160 inches (4096×2160).
Boland presented its line of monitors supporting TCP/IP, RS232/RS422, and a viewing angle of 178 degrees: 4K24F, 4K31, 4K55, 4K65, 4K75.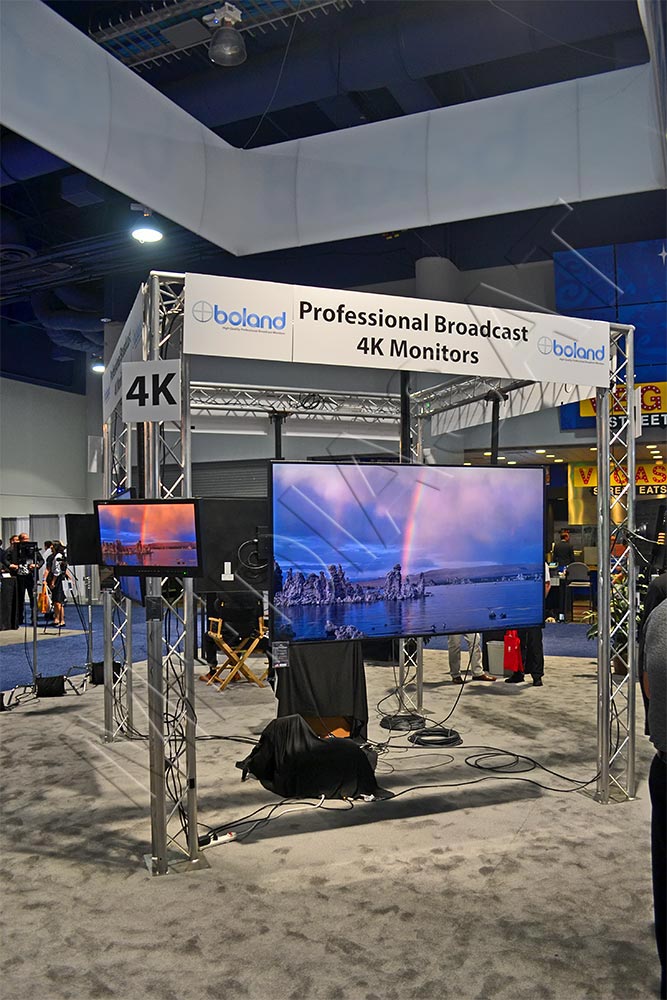 Media Players and STB
Dr.PENG Telecom & Media Group (China) under the Damai brand presented a service providing US consumers with access to the original licensed content (over a hundred HD-channels) from China (the content is delivered without translation). The TV audience will not pay for the content during the first year, and the access will require a relevant dual-core STB based on Android 4 supporting USB 3.0 and WiFi 802.11b/g/h: Damai Box 1.0+ (Ethernet 10/100 Mbit/s) and Damai Box 2.0+ (Ethernet 1 Gbit/s).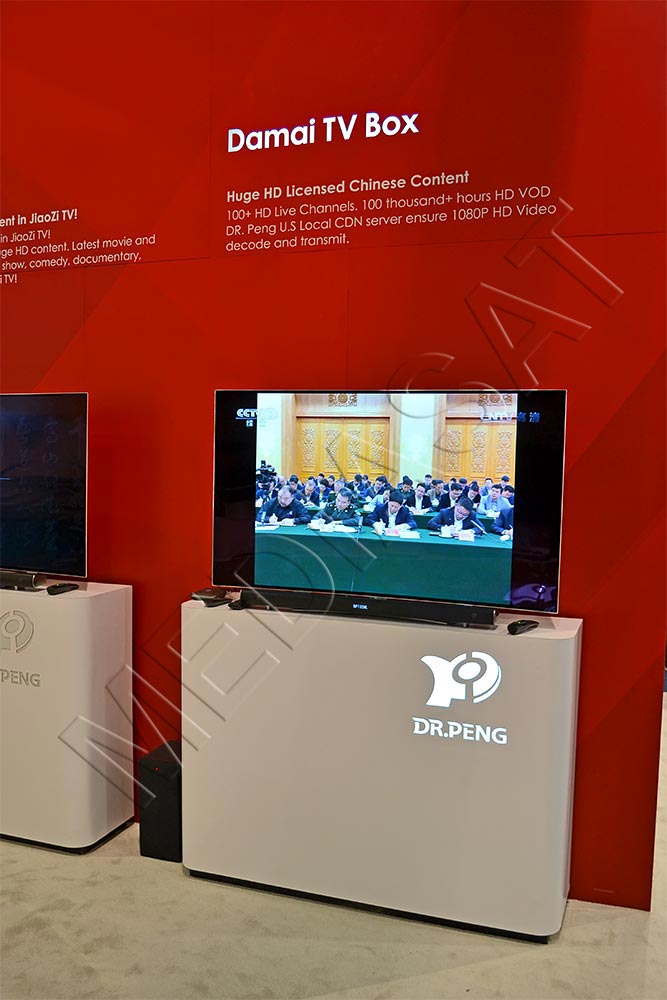 Both units have a memory of 1 GB (4 GB EMMC for data storage). The company also presented its DomyBox 3.0 VC, a low-cost HD-solution with integrated camera for domestic use.
Due to a good filling it can be used for video conferencing. The device in the form of a thermos is designed basing on Amlogic S905 processor (ARM Cortex-A53 2 GHz) and Mali-450 graphics chipset, it has 2 GB of DDR memory (flash memory 8GB), it supports WiFi, decodes H.265 up to 4Kx2K/60p and encodes H.264 up to 720p/60p, as well aas has a viewing angle of up to 120 degrees.
Sumavision, as usual, pleased with new solutions with Android-based set-top boxes among them, supporting WiFi 802.11b/g/n, HDMI, USB, and Ethernet:
Perfect Sky Q1 based on Hisilicon 3798m (ARM Cortex-A7 processor with frequency of 1.5 GHz and Mali-450 graphics chipset; supporting H.264/1080p, decoding H.265/4K; DDR3 memory 1GB, USB 3.0, Ethernet 10 /100);
Perfect Sky Q2 based on Amlogic S805 (ARM Cortex-A5, Mali-450 graphics chipset; supporting H.265; DDR3 memory 1 GB, USB 2.0);
Perfect Sky S3 (ARM Cortex-A9, 2 Mali-400 graphics chipsets (2); DDR3 memory 1/2 of GB);
Model Sky S4 (ARM Cortex-A9 with frequency of 2 GHz, DDR3 memory 2 GB, "flash drive" 32 GB);
Perfect Sky M4 (ARM Cortex-A9, DDR3 memory up to 2 GB, internal memory up to 32GB);
Perfect Sky M5 (ARM Cortex-A9, DDR3 memory up to 2 GB, internal memory up to 32 GB).
There were also presented models supporting WiFi 802.11n/Ethernet/USB 2.0/HDMI: Perfect Sky DVB + OTT with integrated cable modem based on Hisilicon 3716c (ARM Cortex-A9 processor with frequency of 1 GHz, DDR3 memory 512 Mb/1GB, cable modem Euro DOCSIS 2.0); Perfect Sky IPTV/Perfect Sky S2 (ARM Cortex-A9 with frequency of 1.5GHz, Mali-400 graphics chipset, DDR3 memory 1 GB), and others.
Intek Digital (Korea) presented its model 2016, a budget provider's TV set-top box HD-S11NV (DVB-S2, supporting Nagravision, PVR; USB) and HD-C76CX (DVB-C/IP, supporting Conax, USB PVR).
Antennas
AvL Technologies presented a satellite antenna terminal Model 824i (85 cm) for the Ku/Ka/X-bands with setup time of up to 10 minutes. The device is designed for wind speeds of up to 20 meters per second, but requires fittings at wind speeds above 10 m/s.
Kathrein Group presented its UHF polarized antenna with a cardioid pattern of 470-790 MHz (maximum power of 5 kW, wind speeds up to 65 m/s).
Solutions and technologies for broadcasters, TV studios and operators
TV studios are always interested in the best price mobile and easy-to-use portable TV complexes. Such a solution was offered by SMC Solutions (USA): a mobile minivan TV studio with five-year warranty and for two operators (mileage: 100,000.) The vehicle is equipped with whatever is required: GPS-navigation, monitors, and cameras.
NEC Corporation presented some converters (encoder/decoder) with low delay: VC-870/VD-870 supporting 2K (H.265/HEVC), VC-970/VD-970 (4K, H.265/HEVC), as well as VC-8350 encoder (H.265/HEVC, 8K, 22.2 MPEG-4 AAC audio), which is designed for broadcasters who plan to broadcast both in 4K, and 8K in future.
VITEC Video Innovations presented 4K/UHD HEVC encoder for IPTV to encode in real time mode. Due to a variety of settings, the H.265 compression saves up to 50% of bandwidth against the H.264 one, and this is ideal for broadcasting premium content. The unit is ideal for broadcasting 4K-content from various events online, especially the sports content. The device supports up to 4 HD channels, 1 UHD channel; it has 256 GB SATA SSD, Ethernet 1 Gbit/s.
Z3 Technology (USA, z3technology.com) presented a compact HEVC HD video encoder DME-10 (1080p60, USB/HDMI/3G-SDI, RS-232, Ethernet 1 Gbit/s).
LiveU presented 4K encoder UltraHD-LU710 (H.265/HEVC, coming by year-end).
AJA Video demonstrated its recent conversion solutions like Hi5-4K-Plus (4K/UHD SDI to 4K/UHD HDMI), HDP3 (3G/HD/SD-SDI to DVI-D), Corvid HB-R (3G/HD/SD), KONA-IP (UHD/HD/SD), HELO (H.264, streaming/recording on SD/USB), UTAP HDMI (HDMI to USB 3.0), UTAP SDI (SDI to USB 3.0), and others.
The prototype Sphere encoders presented by Teradek are designed for any camera with viewing angel of 360 degrees.
ZeeVee presented an HDBridge3000 system for broadcasters (starting with $20,000) for distributing HD/SD video.
The solution is designed in a 3RU case, supports hot swapping (coolers, power adapters), allows for up to 24 HD channels, or up to 72 SD channels, and provides simultaneous output to MPEG2 IP and QAM RF.
Niagara Video presented several models: the announced StreaMaster-i for converting DVB-T/T2/C/C2 to IP and Niagara, StreaMaster US-2 receiver for converting Digital Cable to IP (2 tuners supporting 2 channels, QAM256/64, frequency range of 44-1002 MHz) and Go Stream MIM 100.
Cobalt Digital presented its line of new converters BBG-IP-TO-SDI-10GE, BBG-SDI-TO-IP-10GE, BBG-DEC-J2K-1GE, as well as its upgraded line of BBG-EOOE-MK2, BBG-2OE-MK2, BBG-2EO-MK2, BBG-OE-MK2, BBG-EO-MK2.
Semtech Corporation presented its GS12070, a solution for converting between formats 12G/6G/3G/HD based on a single chip, and Newtek presented its VS 4000 hardware decoder.
Utah Scientific presented a new router for multiple viewing solutions, as well as a monitoring system.
The company Apantac presented several devices. This is a single port network extender KVM-1-EH-LAN (for using with KVM-1-RH-LAN receiver) with a local network transmission range of up to 100 m, up to 150 m (for CAT5E) in point-to-point mode, and up to 180 m (for CAT6), with a maximum resolution of 1080P/1920×1200). Another low-cost solution is HDMI-over-IP receiver and extender HDMI-IP-E to transmit HDMI video to other devices or remote displays via a gigabit IP-based network to a distance of up to 100m (it supports streaming compression H.264, 1080p60).
DataVideo presented several solutions: a portable production studio HS-1200 ($3500, coming in late summer). This mobile HD-studio with 17,3-inch monitor allows operating with six input signal sources. Next innovation is a video switcher SE-2850 (coming in late summer). It supports resolutions up to 1080p, up to 8 (upgradable to 12) inputs. Another solution is KMU-100 to work with multiple Full HD images from cameras due to minimum costs of installation and maintenance (supporting 4K). Output of 4K/UHD camera is connected to a KMU-100 unit that provides up to 4 pieces 16×9 selected by user, which "pass" to the SDI-HD output as 4 separate HD signals. These selected "windows" can be scaled. By late summer, it is also anticipated a 2-megapixel HD/SD camera PTC-150 (optical zoom 30x, Ethernet, remote control via IR channel) to operate at night.
DataVideo also presented a "training set" for educational centers to set up own TV production. Students will be able not only to practice journalism, but also acquire proficiency in communication and team work. There are offered two variants: EPB-1000 ($9995) and EPB-2000 ($16,995). A standard set contains a HD video switcher SE-700, laptop, NVS-25 encoder, TP-300B teleprompter, DAC-70 converter, LED TV, lighting kit. The EPB-2000 is additionally supplied with 2 PTC-150 cameras, RMC-180 camera controller and others.
Grass Valley (Belden Brand) announced new solutions like GV Korona switcher (more compact against Kayenne and Karrera) with a built-in touchscreen and supporting multiple HD formats, upgradable to 3G/4K; iTX On-Demand; a new line of LDX 86N cameras supporting 4K/3G/HD (using 4K visualizer XensiumHAWK CMOS with DPMUltra dynamic control that allows generating HD image 1920×1080, without needing additional movements with camera (sensitivity resetting, and others.).
Blackmagic Design presented some devices like Blackmagic Video Assist 4K (7-inch on-camera monitor, 6G-SDI/SDI, $895), SDI-HDMI micro-converter, studio viewfinder URSA ($1795), Blackmagic MultiView 4 (UltraHD, $495) and Blackmagic Duplicator 4K for 25 SD cards supporting H.265 for SD/HD/UHD recording (up to 2160p) on a low-cost SD cards with an option to append previously saved files (12G-SDI, $1995).
LiveStream (getmevo.com) presented a solution for cutting and "sharing" videos on Facebook, Youtube and others. Users select desired video fragments on their phones and cut them, forwarding to the social network.
Black Box announced a solution for "sharing" content from any device (phone, handheld PC, laptop) on a monitor. This wireless solution is ideal for small workgroups at conferences (1-2 displays for 4-8 signal sources).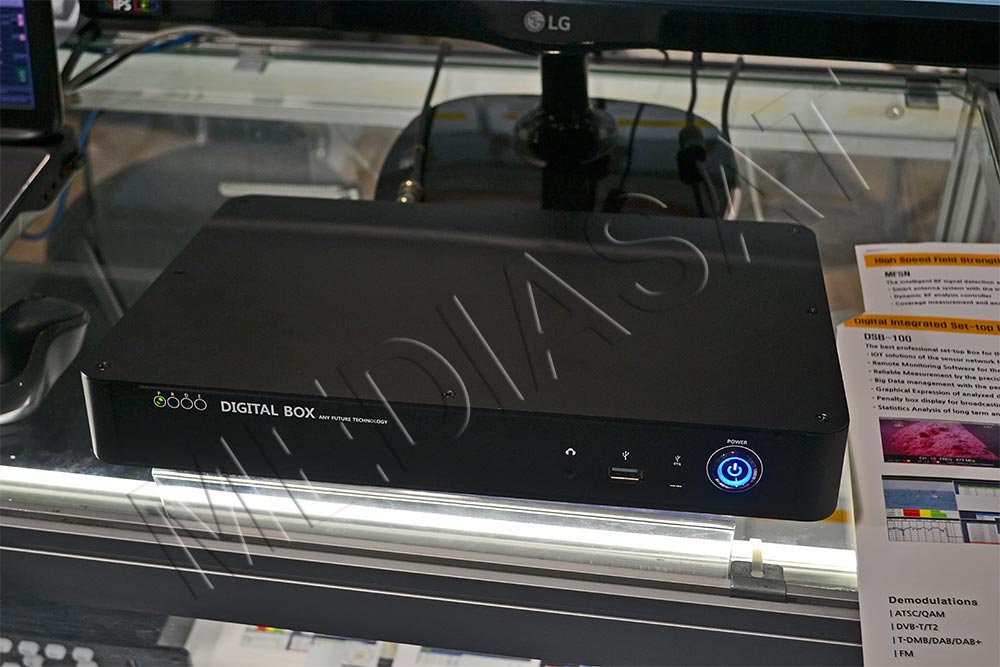 Decimator Design presented a multiviewer card MC-DMON-9S (FullHD, $995, coming in July): 3G/HD/SD with nine SDI inputs, allowing a simultaneous and independent display of 9 video images at different frame rate.
DeltaCast presented several video cards: DELTA-IP1-SD14-ELY (coming in July), DELTA-IP-ST2022-6 10 and DELTA-IP-ST2022-6 01.
The last two models with almost the same name provide video capture and playback based on SMPE ST2022-6 standard. These are two-port 10 Gbit cards supporting up to 3 3D/HD/SD-SDI channels. DekTek also presented new cards DTA-2165 and DTA-2175.
Matrox Digital Video Solutions presented Matrox Monarch LCS, a compact unit that costs $2495 and receives signal from any SDI/HDMI source. Input signals can be encoded independently. Unlike previous versions, this model has an increased number of inputs/outputs and new features. Sales are scheduled for June.
ABonAir (Israel) presented AB525, a solution for wireless data transmission in the SHF range with delay of 7 ms. It is ideal for live signal broadcasting from cameras during sporting events (football, basketball, swimming) to media centers or mobile broadcasting "wheeled stations". There is an integrated bidirectional radio channel for transmitting signal between a transmitter and receiver. It supports up to 1080p/i (up to 60 fps). It was tested on cameras made by Sony, Panasonic, Grass Valley, Ikegami, and Hitachi. The operating capacity of this system is up to 2500 m on unlicensed frequencies.
Ensemble Design showed the capabilities of portable matrix video switchers BrightEye NXT (there are several pieces of hardware in the company' line) with a new feature "DualPath".
So, the two pieces of video software are compressed along with the audio track, and then the signal is decoded by the second device (using the same devices operating as encoders (under compression) and decoders (under decompression). DualPath is a technology for multiplexing/demultiplexing signals, where two video streams with their audio tracks are compressed into one channel and then are decompressed. This allows using 1 existing TV studios' communication channel for transmitting 2 signals, without needing "changes" in the communication link capacity, as DualPath operates only on endpoints, where the relevant devices of the BrightEye NXT line are installed.
DualPath "optimizes" data transmission link loading that allows saving bandwidth and increasing the bandwidth of any data transmission channel with NXT (3G/HD/SD SDI, ASI, HDMI, H.264 & IPTV Streaming or via fiber optics). By the way, foreign companies have already appreciated the potential of this solution by setting up equipment on helicopters to broadcast live "HD pictures" from helicopter cameras to the TV studios' receiving devices. As a result, on board the helicopter one can switch signals from multiple cameras and players and simultaneously transmit signal from two live cameras, or use one camera for broadcasting, or apply the vacant bandwidth of the channel for the simultaneous transmission of pre-recorded video to a newsroom. By the way, in the South America, BrightEye NXT is common for motorbike reporters, being installed instead of radio recorders. Here, because of traffic jams the operators just set up several GoPro cameras on their helmets and motorbikes (front and rear) and carry out live broadcasting, quickly switching signals from several cameras. The Company's CEO David Wood designs the line of BrightEye units on his own, and the company itself is open to direct contact with users, quickly making changes in its products at customer's request.
By the way, the hardware itself is designed and manufactured in California with a five-year warranty. In the company's line there are some compact routers, which are distinct by their features, i.e. the models 410, 410-H, 415, 430, 430-X, 445, 445K-I/O, 450. But when it is required to use DualPath, this usually refers to the models NXT 450, 445 NXT, NXT 430X-X, NXT 410-H. By the way, the use of NXT BrightEye 450 allows extending helicopter shooting time for 30 minutes due to the weight saving while using a NXT rack mount small unit instead of traditional equipment. Moreover, using company's solutions allows broadcasters to save significantly on the cost of "hardware". It is also interesting the company's presented software and hardware solution 4K logo inserter for TV broadcasting in UHD 4K mode in Korea.
For building Internet infrastructure in the suburbs, some companies (eg, Facebook) are planning to implement own projects. So, according to a recent study for twenty countries, over 90% of residents live in the suburbs at a distance of 40 kilometers from the major cities. There, the Internet may be distributed at frequencies of 60 GHz. One such project is called ARIES. Another idea is to distribute the Internet by means of solar-powered drones. One such project is AQILLA, the size of a Boeing 737, and supposed to use for these purposes.
Continental Electronics (USA) presented its CTX line of SHF TV transmitters (470-862 MHz) supporting different standards like ATSC/ATSC-MH, DVB-T/T2, ISDB-T/Tb, and others. It includes both water and air-cooled models CTX701 … CTX716. Optionally, the transmitter is supplied with a GPS receiver. It supports hot swapping of amplifiers and power adapters.
GatesAir presented air-cooled UHV transmitters MAXIVA UAXT-12, UAXT-16, a gateway-exciter MAXIVA A3G, as well as an OLED display LG Electronics with integrated chip supporting ATSC 3.0.
XenData presented a tape file archiving system DX-240 (to be on sale in May) with a fast data recovery (information stored in the cloud). There are available capacities of 120 TB, 180 TB and 240 TB. Backup provides for using tape cartridges LTO-7. The price of the 120 TB capacity starts at $27,400.
The company Symply presented several high performance solutions, focused on the growing demands for processing speed and content storage (4K and above): low-priced SymplyStor (for content creators, extensibility up to 64 TB), SymplyShare (for small workgroups of up to 8 users, capacity up to 120 TB), SymplyPro (for large groups, optimized for 4K/8K).
The growing media data require devices for storing and processing considerable volumes. Here it is of interest a solution offered by G-Technology, among the new products of which there is a G-Rack 12 EXP. This is a box with HDD (available varians of 48 GB, 72 TB, 96 TB and 120 TB), which are easy to combine into a RAID.
Among the software solutions it is remarkable PlayOn (playon.tv) by MediaMall Technologies, an application that allows broadcasting local video files to your TV receiver, as well as recording and broadcasting video content from over 100 streaming video websites. Upgrading it to PlayOn Plus allows recording video from the streaming services like Netflix, Hulu, HBO Go and others, and skipping advertising in case of enjoying AdSkip service.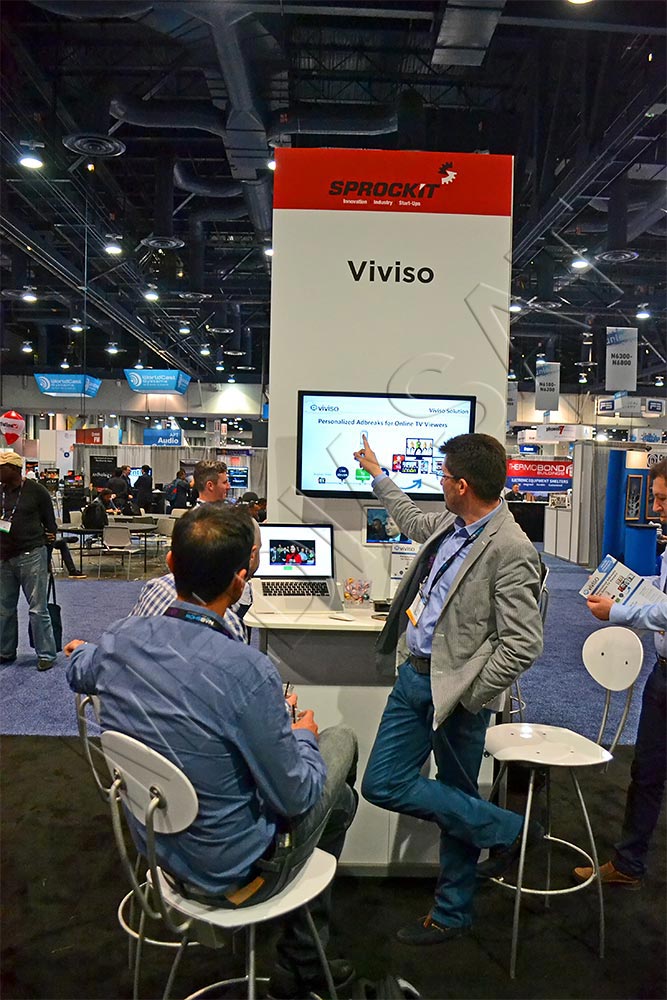 In the SPROCKIT startups zone it is worth mentioning Viviso, a solution to insert advertising for the online TV (final version's coming in May). Here, a standard advertising spot is replaced by individual inserts, so that each subscriber receives a personalized advertising, and not "for all". So, it addresses the problem of increasing online audience, and improves content monetization (for example, through direct sales of goods/services promoted by advertising while viewing it by users). Among the main advantages of this solution is that Viviso covers CDN and "cloud" hosting costs, i.e. broadcasters has the service for free. The technology is suitable to operate with almost any device for viewing video content. The broadcasters are also provided with an analyzer for viewing and analyzing TV audience data online (audience behavior).
Local advertising video stream insertion is designed to attract consumers to a certain product or service. However, an essential fault in this approach (digital program insertion) is that all consumers in the given region watch the same advertising. That is why it is of interest a solution Dynamic Ad Insertion (DPI) offered by ViDillion and designed to remedy this deficiency. Here, advertising video units are selected individually for each user basing on geo targeting (user location), contextual targeting (websites visited by user) and behavioral targeting (browsing history of visited websites). Due to the accuracy of monitored activity and preferences of users, the relevant advertising units are inserted in the video stream broadcasted via HTTP. The technology provides a smooth and imperceptible advertising insertion, which is specific to a given user.
Among the solutions to automate the storage and control of video and audio content, which is in good supply of any TV and Radio company, it is worth mentioning a MOM solution (Media Operations Manager), presented by the company ENCO (enco.com). One operator at a workstation can control through a user-friendly interface the schedule of broadcasts, edit and playback selected content without needing supplementary conversion.
The example of using advertising boards with high brightness can be visually appreciated in Las Vegas, where advertising billboards cover entire Las Vegas Strip, and which are clearly visible even in bright sunlight. The same equipment samples were also well represented at the exhibition. In particular, the company Leder USA (cnleder.com) showed indoor-panels to create seamless video systems (pixel size of 2.5 mm). The resolution of each unit is 64×64 pixels (160×160 mm) with a viewing angle of 140 degrees and a MTBF of 10 thousand hours.
AstroDesign (Japan) presented its 8K SSD recorder HR-7518 (HQX 8.1 codec, SSD 2 TB) with a recording time of 20 (for 8K YCbCr 4:2:2 120p) up to 40 minutes. (For 8K YCbCr 4:2:2 60p), depending on the compression algorithm, as well as a model of 55-inch monitor with 8K resolution.
Spin Digital Video Technologies showed a solution for 8K video playback (8K60p, 4:4:4) based on software decoder Spin Digital HEVC, and BroadStream Solutions presented its Beacon, a simplifying multichannel SDI or IP playback of up to 4 channels, up to 2 HD or up to 4 SD) with an option of advertising content insertion.
Socionext first demonstrated its two new solutions. So, it is the world's first single chipset for 8K/60p (developed in cooperation with NHK), SCH801A video decoder is an ideal solution for content providers, who need a high-performance and energy-efficient hardware HEVC decoder. The second chipset MB86M31 is a low-powered one (a total of 8W) and serves to operate with 4K/60p (HEVC).
Video shooting solutions
Vaddio (USA) presented a high-performance camera RoboSHOT 20 UHD (9-megapixel, HDMI, RS-232, HD-SDI/IP (H.264), coming in June).
It was also presented a controller for PCL Premier Cameras (monitoring via RS-232/IP) supporting up to 16 cameras.
Brother Industries Corporation, better known for its line of multifunctional devices (printers), presented AiRScouter WD-200B, a device for operators to allow viewing filmed scenes on a virtual "glasses" screen in convenient way, when the operator is shooting in "uncomfortable" positions, for example, too low or too high above the crowd of spectators. The connection is ensured via a HDMI cable. The solution is currently applicable for GoPro and IPhone cameras. The solution will be available in June, although the price still remains unknown (according to some sources, it is expected at $1400).
A particular visitors' interest was excited by the demonstration of a Pointer III camera stabilizer ($4,000) with a maximum load of 6 kg, presented by the company My Research (Lithuania).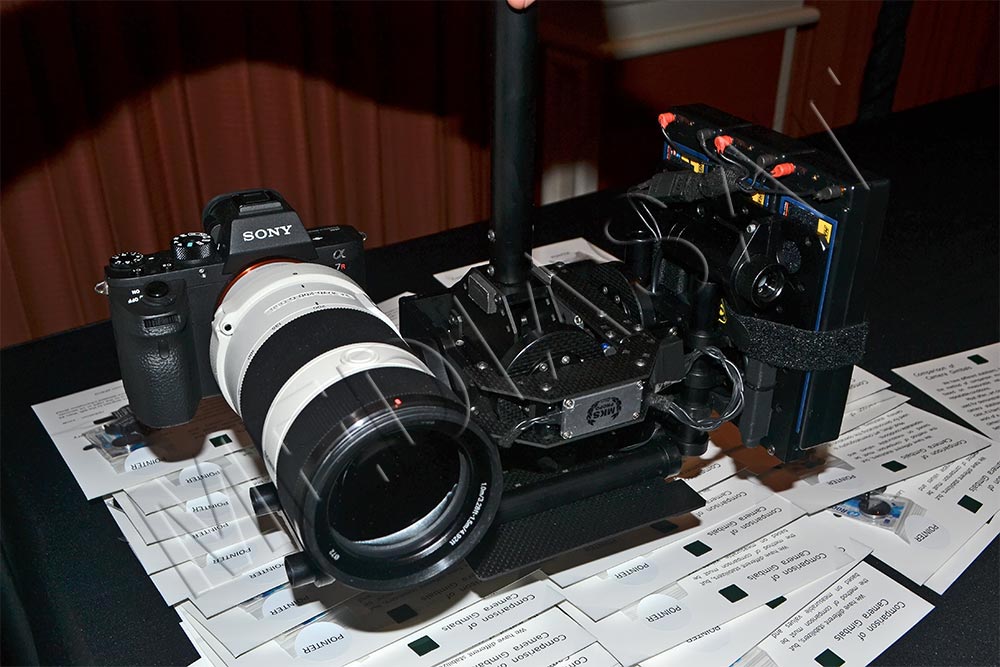 The device allows installing both conventional cameras with a standard lens, and the "telephoto" ones. The solution has a low vibration rate, and the first supplies are scheduled for September. During the demonstration, it was clearly shown that even with a sharp move the camera kept on nearly immobile thanks to the special Servo Force technology. The test was carried out at a distance of at least 10m from the "target" where the laser beam was directed. And the tester just punched the device. An imperceptible shift was detected only by mounted laser that slightly deviated from the targeted point.
Some unexpected was the presentation of own HD cameras ACiDcam under the Ross Video brand (coming in summer). The model ACiD H200-UCHR has an extremely low noise level (signal-to-noise ratio of 64 dB), supporting 1080p/50, 1080p/60. It is integrated an auto-correction function for chromatic aberrations. Another camera ACiD Z50-UCHR has a signal-to-noise ratio of 60 dB, supporting 720p/1080i, 50/60fps. The cameras are supplied with a remote control DashBoard Control. The cameras stand out by the implemented UltrachromeHR technology, ensuring signal quality 4:4:4. Among the company's other innovations there is a Carbonite Black Solo switcher (coming in August).
Ross Video also presented its OverDrive, an automated production system that, as the developers assure, provides a quick return on investment by offering features that any developer of similar systems does not have. The solution supports up to 52 ports.
Panasonic presented several new products: 4K cameras AG-UX90 (HDMI) and AG-UX180 (HDMI, night shooting mode), as well as a laser projector PT-RZ31KU (1920×1200, operation time at least 20 thousand hours) with an option of transmitting signal by a network cable up to 328 feet.
Fujifilm presented several cameras: UA13x4.5 (4K) and UA107x8.4 (HDR), and the company Bokkeh (bokkeh.com, Taiwan) announced 8K UHD lens (8192×4320) with focal length of 75mm and 100mm. A bit later there will be also available other models: 25 mm (June), 50 mm (July), 25 mm (September), 135 mm (by the end of 2016), wide-angle lens super wide (1st quarter of 2017).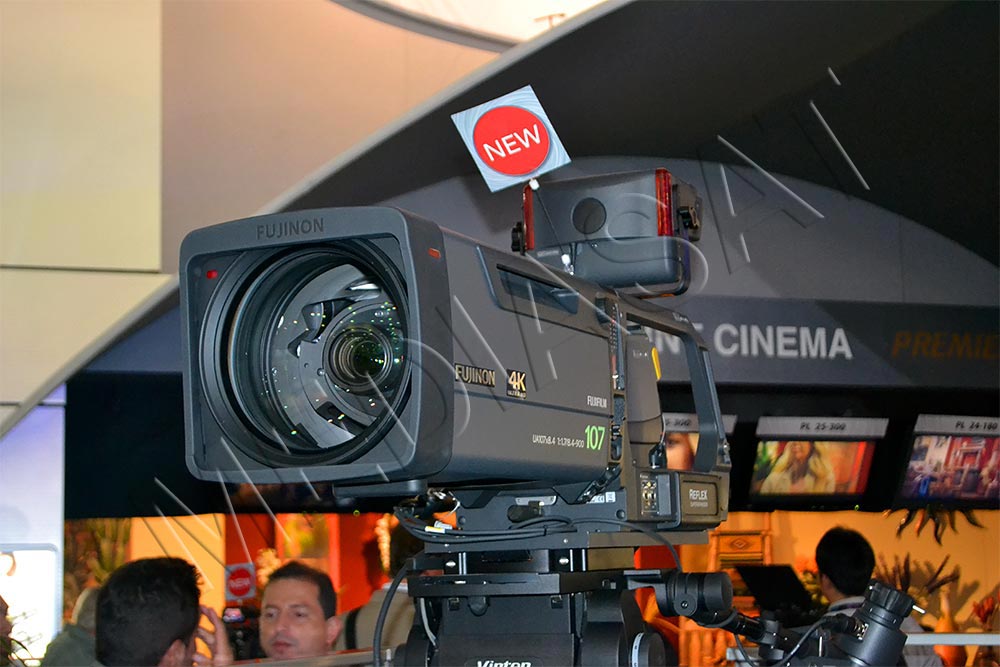 Interesting solutions
According to the recent information of the Consumer Electronics Association, the increased sales of virtual reality devices (VR) will make 500% (!) against 2015, exceeding the figure of 1.5 million devices. And by 2020, according to the Manatt Digital Media, the volume of VR market sales will reach $150 billion.
There is a growing market interest in all round view cameras. Many developments were implemented after their presentations as startups and further required funding. One such solution is Sphericam 2, a professional 360 degree spherical camera the size of a baseball (sphericam.com, sales are scheduled for the summer), weighing 420 grams and supporting 4K (up to 60fps), GPS, WiFi, USB, RS -232.
This is the world's first virtual reality camera capable of forming 4K video in real time mode (60 frames/s). The project was started by Jeffrey Martin, Servaes Joordens and Poppo Wit in 2014 in order to create original content for virtual reality platforms and interactive online-media. Thanks to Kickstarter (where the first model was announced in 2015) they managed to attract $5 million of Chinese investment (from Kingnet Technologies). And at NAB Show 2016 there was held the first public demonstration of live broadcasts from the camera. Today, the model is available by pre-order at $2500. By the way, a similar project has been developed in Ukraine.
The similar solutions were also presented by Fraunhofer Institute for Integrated Circuits IIS, i.e. a 360 degree camera OmniCam-360 for virtual reality solutions.
Given the increasing "voracity" of contemporary media data (especially video), manufacturers are increasingly musing on the optimization and reduction of the Internet-channels load. At that, the company V-Nova, a video compression solutions provider, presented the software V-Nova PERSEUS, the capabilities of which were shown at the exhibition. So, this tecnology allows the bandwidth of just 4-6 Mbit/s for 4K-video, that is, current 4G networks of mobile operators and IP-based networks are fully able to cope with such a pretty "heavy" media content. And, of course, SD video can be delivered without any problem to 2G mobile devices, even though the bit rate of 120 Kbit/s is generally sufficient only for delivering audio content. The last option of the SD video delivery through 2G networks resulted possible due to the cooperation of V-Nova with Fastfilmz, offering exciting opportunities to run OTT services for subscribers of mobile networks. By the way, V-Nova's technology is applied by the company Eutelsat to broadcast 4K-signal from the UEFA Euro Championship 2016.
WiFi is widely used not only for accessing Internet, but also for monitoring various devices. So, in the batteries Granite mini, presented by the company BlueShape USA, the iOS or Android-based devices can be used to monitor battery parameters within a radius of up to 20 meters. The devices have a capacity of 6.6 Ah (BV095HD, 95W*h) and 9.9 Ah (BV140HD, 142W*h). Another line is Granite Two: BV270HD (270W*h, 12A), BV190HD (190W*h), BV100HD (94W*h), BV180 (180W*h, 9A), BV150 (150W*h 9A), BV090 (90W*h, 7A). In addition to parameter monitoring, it is possible to send commands via WiFi to connect to other devices.
In search of quality content (including news), the broadcasters should have either own staff of reporters-cameramen around the world (which is very expensive), or have an immediate access to this content. Here, there are of help video banks and news agencies that cooperate with many cameramen around the world that shoot and upload videos, which are inexpensive to download under the required license (usually royalty free, rarely right managed). At that, when many countries have already realized the need to respect the content copyright, Ukraine still purchase content rarely, preferring the illegal one from "torrents", or videos downloaded from free open sources (eg, Youtube), scratching authorship and then broadcasting it on TV. However, while that goes on, the country's exclusion from the notorious "piracy list" will remain remote. It amazes when many well-known companies ask intermediaries to buy content "cheaper" on the sinks, not wishing to buy a monthly license for some $250-300. The show exposed both market giants with their impressive data banks (Associated Press, Shutterstock, POND5 and others), and newcomers (like STRINGR.com, presented in the SPROCKIT startups zone). However, it is still unknown whether the content, filmed by any mobile device, will be demanded by buyers like TV channels. Particularly now that market giants offer 4K high-quality videos.
After all seen at the exhibition, it can be assumed that a significant part of video shootings would soon be transformed from the ground to the aerial ones (due to drones, which are successfully used by the Kiev police to monitor traffic jams on the metropolitan highways). And coming deadlines for 4K broadcasting in new regions should encourage consumers to purchase new TV equipment supporting 4K. Naturally, the younger generation will increasingly watch video content on their handheld devices anywhere and at their convenience.