The history of Android Mini PC began from CES show in 2012. Then HDMI-sticks were amazing with their smallness, and were able to compete with Networked Media Player with the help of their popular price. High-end processor and 3D supported video accelerator easy managed playing of any media files and provide a good enough game performance. Bottleneck of the similar devices was Wi-Fi. There was a lack of reliable and fast Ethernet-port. So in time Android TV-box with Ethernet port and a lot of various interface slots has appeared.
It would seem here was the ruler of home mediaspace, but any super hero can be found the Achilles' heel. This time the weak point became of main advantage — operation system. To be more exact, it was control manner and partly interface. As a main input medium the developers offered special device with position sensor — «AirMouse». It allowed to manage the cursor  position on screen and emulate the pressing of main keys. But it did not solve such problem as a lack of multi-touch, that strongly locked down in some applications.
Some of users have got problem with the handler as it is hard to hit small interface components. There was a piece of knack to closing and switching of run applications. On the whole, anybody did not take a liking to such solution. I do not rule out but Media Players were able to hold on the market. But time is passing. Applications are being optimized under alternative control modes without touchscreen. Various shells of simplified interface are appearing. And access to GooglePlay application store along with the great list of supported USB-periphery was advantage of Android boxes before.
In this review the matter will be about the new TV box, operating under control of Android operation system — Beelink i One. Trademark of Beelink belongs to Chinese company Shenzhen Azw Technology Co Ltd. Company was found in 2010, produces electronics under its own trade marks and offers design and packing on client`s demand.
I confess, I was more than impressed with the features (see below) announced by producer. But is everything actually wonderful? Let us get a fix on that.
Beelink i One TV box is delivered in cardboard box with photocopy. To be more exact, black box is inserted into photocopying cover. On the top there are render of device design and principal feature signs with description in English. On the bottom there is 2D-code duplicating technical characteristics from the label.
Box from diverse sides:
Technical features:
Main

System: Android 4.4.2
Processor Amlogic S812 (Quad-core, Cortex A9, 2.0GHz)
Graphics processor: Mali-450 (Octa-core)
RAM: 2GB
eMMC storage ROM: 16GB
SD-card: up to 32GB

Supported formats

Video decoder: H.265/AVC, H.264 up to 4К х 2К (4096 x 2160)
Video file format: AVI, DAT, RM, MPG, MOV, MPEG, MPEG-4, MKV, AVC, VC-1, WMV, M2TS
Audio file format: FLAC, MP3, WMA, AAC, OGG
Photo format: JPEG, BMP, GIF, PNG
Transfer data technologies support: AirPlay, UPNP, DLNA, Miracast, Wi-Fi Direct
Software support: Eshare (control with iOS and Android), Mediacenter XBMC, Google services

Hardware features:

Ethernet: 10/100 Mbit
Wi-Fi: IEEE802.11 b/g/n 2.4GHz + 5GHz
Bluetooth: 4.0
HDMI : v1.4b (up to 4096 x 2160)
HDMI (input): up to HD1080p@60 with PiP function (picture in picture)
USB : v2.0 x 2
MicroUSB : v2.0 x 1
Digital audio output: S/PDIF optical
Memory card: SD

Overall dimension and weight

Size (DxWxH), mm: 119 x 119 x 23
Weight: 208g
Distinctive feature of HDMI 1.4b port compared with 1.4 version is the support of 3D-video 1080p at 120Hz and increased interface capacity in single lead up to 15 Gbit/sec. Evidently, it explains imposing size of HDMI cable in complete set.
Delivery set:
Beelink i one (i826) TV Box.
HDMI-cable.
OTG-cable.
Power Adapter.
Power Adapter cable.
Remote Control (IR)
User Manual
Delivery set is common for similar devices. But two battery (ААА type) for IR Remote Control are out of the complete set.
Design and interfaces
TV box casing is completely made of plastic. The plastic of high quality is used. Top cover has composite texture. On the top there is a matt surface with logo, and gloss semitransparent UV permeable plastic around. Below that there are IR-receiver and two-color mode indicator.
Generally, the assembly is without remarks. I have got extremely positive impression of TV box design. But may be for somebody the producer`s logo can seem to be too catchy, and the mode indicator can look too bright.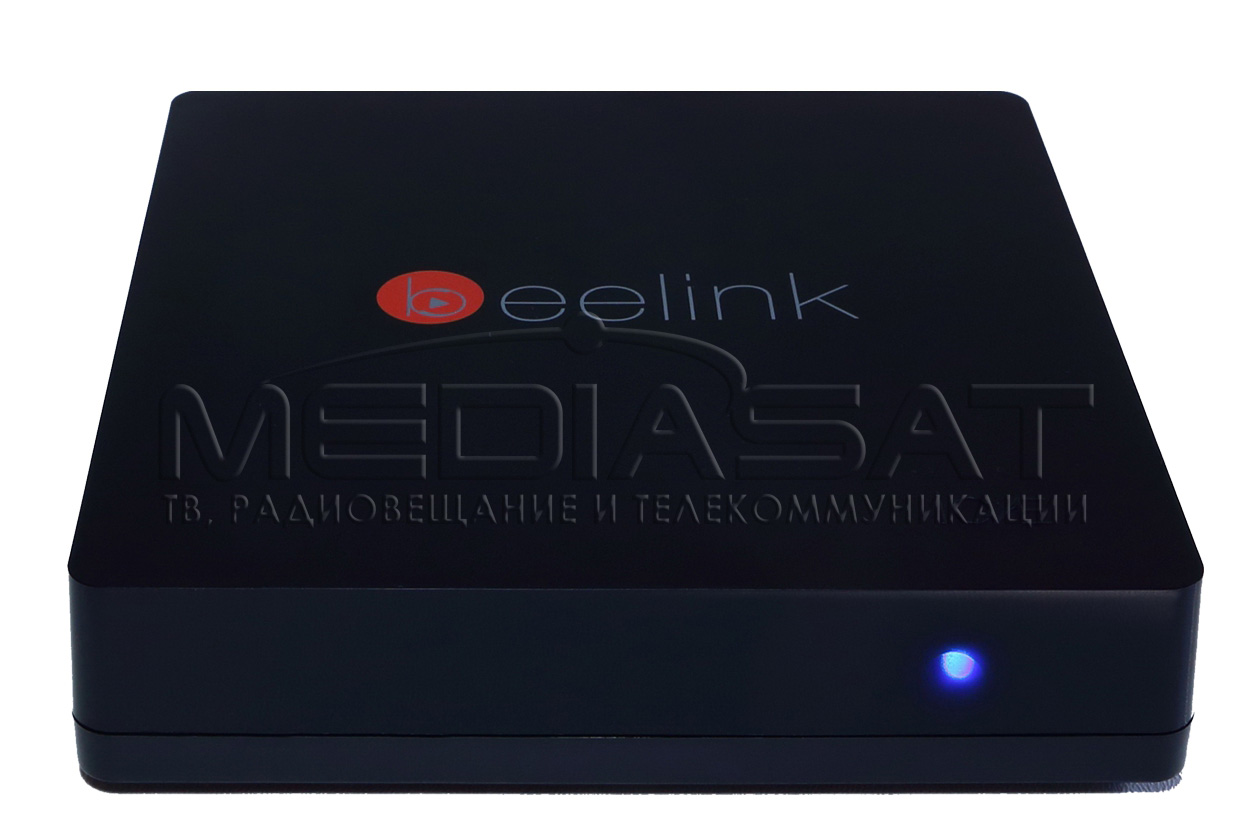 In the right edge: SD-card slot , two USB2.0 ports and MicroUSB OTG.
In the back side: start button (microswitch without fixation), power socket, output HDMI (HD Out), input HDMI : (HD In), Ethernet 10/100 Mbit port, digital optical audio output S/PDIF. Besides the «Restore» button accessed with small hole is located there. If the firmware is needed to restore or update, this button should be pressed several seconds when power on. It can be made with a tip of paper clip.
On the body bottom there are four rubber feet and a number of ventilating holes.
Remote Control
Remote control has small dimensions and light weight. Body material is plastic. Buttons are made of rubber. Marking is made of white. Commands are transmitted with infrared emission. Although gyroscope is absent, there is «Mouse» mode activated with separate key (located in the right top corner from OK and arrow keys).
When «Mouse» mode is turned on the cursor will appear on the screen, and arrow keys of remote unit will control the cursor position. This way is not more convenient to remote control with position sensor but sometimes it saves. Whom it seems to be insufficient, can buy remote control with AirMouse, that would completely substitute those or be used mutually.
As to my impression Beelink i One remote control reminds me the compact one of Apple TV. Certainly, it is not for metal coolness in hand but for keys and design philosophy. Firstly, it has few keys as well, and initially it seems to be impossible to completely control the TV box without gyroscope. Secondly, the association was caused by keys` short travel (when pressing) and easy latching with clear click.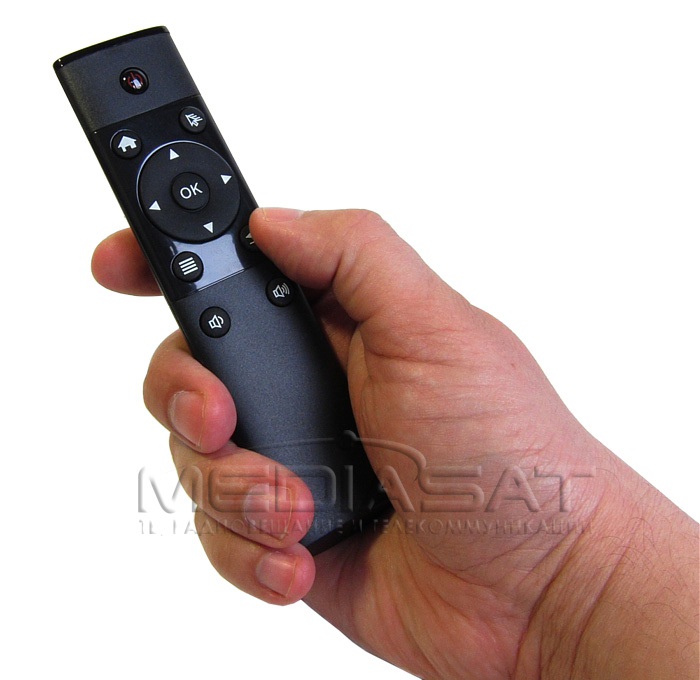 Keys`dimensions and intervals are sufficient to avoid stray keystroke. Owing to considered arrangement the keys positioning is easy to remember and it allows to use the remote control without looking. «Boat» shape allows the remote control to be comfortable in hand. Two ААА type batteries provide the power supply.
Hardware
Body consists of two parts, which are jointed with a lot of inner snaps around. Besides four self-tapping screws covered up with rubber feet. In principle the body disassembly is not a problem, but it was not so easy to disconnect inner snaps located at the slotted side. There the cover has curvature, that makes the action more complicated. The snaps are easy to break from the carelessness.
Two antennas are glued on the top cover from inside. The one is for 5GHz range, and another is for Bluetooth and Wi-Fi 2.4GHz range.
On system board a void spaces can be found for additional ports. Perhaps, they are for additional USB or service UART. Besides, a void space for MicroSD-card slot is near the SD-card slot.
AMPAK AP62X2 is the wireless module with Bluethooth 4.0, Wi-Fi IEEE802.11n (dual-band up to 300Mbit/s) and FM-receiver included. FM-receiver functionality has no implementation in TV box. FM-receiver antenna should be connected to leg No48.
Silicon Image SIL9293 — HDMI-input. Supporting of two modes — MHL/HDMI. Maximal resolution up to 1080p@60.
IP101G — controller Ethernet 10/100 Mbit with low power consumption, approximately 0.15Вт at full load, IC Plus Corp production.

Stability and operation speed of operation system depend on Flash-memory. Foresee NCEFBC98-16Gchip, 16GB of storage, is used in TV box as above mentioned. Foresee is the trademark of Shenzhen Longsys Electronics Co.,Ltd. Chip description could not be found. However, the negative comments about these chips can be found at English language forums (here and here). I have not got any problems during testing.
Mira P3P4GF4BLF
is RAM DDRIII-1600 256M x 16, produced by Deutron Electronics Corp. RAM size is 2GB with 8-bit memory bus.


RICOH RN5T618M is the power control chip.
It is worth saying few words about processor producer.
Amlogic company was found in 1995 году at Silicon Valley, USA. Its principal direction is the development of high integrity chips for Video CD and subsequently for DVD-players. Chips are produced by third-party company, for instance by TSMC. After purchasing of ARM licence, developers turns their attention to solutions dedicated for SmartTV, TV boxes, compact media dongles, tablets on Android OS. Nowadays the company's offices are located in Shanghai, Beijing, Shenzhen, Taipei, Hong Kong and Santa Clara (California). According to press release of ARM in 2013, Amlogic company became the world's first, which started to use six and more GPU Mali 450 in its processors.
Amlogic S812 occupies the top line in the list of processors offered for TV box installation. It has Cortex A9 cuad-core, operated at the rate up to 2GHz, and octa-core graphic Mali-450. Main distinction of the processor consists in supporting of software decoder H.265 in resolution up to 4K and of gigabit per second network interface. Otherwise, this processor completely corresponds to its predecessor S802 including hardware sound decoding Dolby Digital and DTS.
At the moment the processors with hardware support of codec HEVC at resolution 4К are not too many ones. The real competitors of Amlogic S812 are RockChip RK3288, Allwinner A80 and MSTAR MSO9180D1R.
Software
When turning on the two shell launchers are offered the choice between Launcher3 and LightHome. Besides the running shell can be either once selected or used for permanent startup. In the last case the selected shell will be automatically loaded and the launchers list request will not appear.
Launcher3 represents common Android 4.4 interface with minimal updating. This option is convenient when TV box is applied as mini computer or games console, then mouse and keyboard or remote control AirMouse are used as input devices.
LightHome is a shell, created by Amlogic company on the base of Amlogic OpenLinux MBOX project. It allows to make Beelink i One closer to classic Media Player. For some TV boxes with Amlogic processor this shell can be found in Russian. Although several items in English did not cause discomfort for me. Interface is optimized for fast and comfortable application of IR-remote control of complete set. Applications on the main screen cannot be reassigned, but there are «Selected» area and two additional screens on the left and on the right for user applications.
Using the last shell I waited and waited, when the facility of remote control would not enough for current tasks solution. But, no! Everything was thoroughly thought out
MBOX adjustments are concentrated in four bookmarks. lf the list in «Advanced» bookmark is scrolled, the enhanced control of audio parameters could be accessible. In the last bookmark «Other» you can go over to the normal Android adjustments.
Removal of application with long tap (pressing) is comfortable. Pre-installed file manager has been optimized for single pressing.
EShare
This amazing application provides information transfer between mobile devices and TV box. When this mobile device transforms into wireless remote control. It is a excellent replacement of missing AirMouse unit. Adjustment is extremely easy and takes just a few minutes. Main condition is that mobile devices are in the same local network with Beelink i One.
When EShare startup the line with server IP-address will appear on screen. Actually, this is the address of android device in local network. Nearby the QR-code with server address reference is displayed for convenience. When the mobile device has an application for QR-code reading it is enough to read the code from screen and follow the link. Or server address to be just entered in address line of browser by hand.
The page with client`s applications list opens after following the link. When application for Android is selected the .apk-file will be loaded and installed.
For Apple devices the two version optimized under iPhone and iPad are accessible. Installation of client part on iOS-devices passes through AppStore.
EShare client parts for diverse platforms distinguishes not only with design, but also with function package. Version for Android is more functional. Except that the two modes of wireless remote control — AirMouse and button remote control with touch-area are supported by above version, also in addition the mobile device can be used as wireless camera. For both platforms the display mirroring from the TV box to mobile device screen is supported. Сertainly, it is possible and vice versa — to watch video and photo from mobile to large TV set screen. But only wireless keyboard could not correctly operate. When line «12345» is entered on the mobile screen, on TV set screen it displays as «112123123412345». It is a kind of line echo. At that the glitch is stable as it was shown under entering with both Android and iPad.
More details of EShare capabilities can be presented in the following video:
Page of EShare developers.
HDMI-input and «Picture in Picture»
It is an interesting function for which the separate chip Silicon Image SIL9293 was installed. Unfortunately recording function is missing, and there is no certainty that it would appear some time at all. But if the record were, the HDCP record protection system would put a spoke in the wheel, as it greatly limits the capabilities of HDMI recording devices. However this is a separate subject… From my experience I can say that output of desktop PC and xBOX games console of Microsoft do not use HDCP. Over-the-air and satellite tuners, as well as IPTV/OTT-boxes do it 50/50, at the discretion of producer. Blu-ray players, Sony PS3 boxes and iPad tablets always use HDCP.
On TV set the picture with HDMI-input looks not bad, but if the FullHD-monitor is used instead of TV set so the small color ghosts could be noticed around characters.
There are several remarks more. Firstly the visual content parameters cannot be adjusted somehow. Even brightness and contrast. Secondly, the sound from HDMI-input is accessible only at full-screen view. I`d like to have an option: leave sound in PiP mode or not.
XBMC Media Centre
XBMC is likely the most popular cross-platform media centre in the world. Owing to openness and gratuitous it has wide support of developer. Beelink i One is delivered with pre-installed XBMC v13.4.0 «Oman».
Plug-ins are installed from both repositories and separate files. As well there are support of practically all popular network technologies. As desired the design can be changed. On default XBMC has no pre-installed plug-ins. Every user must independently decide with functions and services needed. Сertainly, it takes some time for search of plug-ins needed, but then you can enjoy speed, easiness and convenience.
At the moment XBMC project has been renamed. Now it is called after Kodi. I installed v14.2 «Helix» the newest Kodi version. It does not substitute of XBMC and operates simultaneously. I`d like to noticed a singularity that sound on the audio tracks was only in XBMC and Kodi. In Mplayer and 4К-player there was quiet under Dolby TrueHD playback. Besides in XBMC v13.4.0 «Oman» can be selected the Russian language interface, but unfortunately there is no Russian screen keyboard layout. Problem with keyboard has been solved in the newest revision of Kodi v14.2 «Helix».
Performance
Network capabilities
According to specification Beelink i One is equipped with Wi-Fi IEEE802.11 b/g/n 2.4GHz + 5GHz and MIMO technology. I am sorry for my ignorance, but until today I did not know what is MIMO and how this technology could accelerate data transmission in wireless networks. Having read a lot of materials on the topic, I finally confused. Every author describes operation of this technology in his own way. I doubt that the essence was correctly understood by me. I can only say with certainty that there is no any magic usage of two bands simultaneously. In the list just one network can only be selected. In that network TV box will only be operated. Moreover, there was some complication with 5GHz range. But everything will be in order.
Testing of wire and wireless network was carried out with low cost router Netis WF2710 with actual firmware v1.2.29712 (2014-09-17). Router supports two ranges: 2.4 + 5GHz IEEE802.11 a/b/g/n/ac and has 4 Ethernet port 100 Mbit. When the TV box had been turned on at the first time it did not detect 5GHz Wi-Fi network. I had to experiment with channel number in the router adjustments. On defolt the «Auto» channel number was in the router adjustment. In pop-up list the following channel options are offered: 36, 40, 44, 48, 132, 136, 140, 149, 153, 157, 161. As a result of all the list scrolling it is found out, that the Beelink i One detects network Wi-Fi 5GHz only on 149, 153 and 157 channels.
Speed of the Internet connection was measured with application speedtest.net at diverse connection types. For each connection type the four measurements were made, and then The averaged values were calculated. Values are measured in Mbit/sec. Received results are:
Speedtest.net

Wi-Fi 2.4GHz Reception  59.56 Transmission  30.83
Wi-Fi 5GHz  Reception 43.63 Transmission 26.80

Ethernet 100 Mbit  Reception 91.96 Transmission 68.91

what a strange it is that in 5GHz Wi-Fi network the speed was found a bit slower as compared with 2.4GHz Wi-Fi . Perhaps, it depends on my router features. Netis WF2710 has three antennas. Two for range 2.4GHz and one for 5GHz. When displaying list of wireless networks the indicator shown rate approximately of 50% in 5GHz Wi-Fi network .
Also for measuring of real speed in local network I copied approximately 500MB file size to local disc connected to Beelink i One USB-port. Received results:
Copying file on network

Wi-Fi 2.4GHz 4.10 MB/sec
Wi-Fi 5GHz 3.52 MB/sec
Ethernet 100 Mbit 8.21 MB/sec
Wi-Fi 2.4GHz speed was enough for video playback with HD720p resolution. But files with HD1080p resolution were often suspended for caching. Ethernet port speed was enough for playback of video with resolution HD1080p and 4К from local network.
Peripherals
From USB periphery I examined keyboard and mouse, they operated without problems.
Unfortunately I could not force Bluetooth-mouse to operate. The experiment was performed with installed application Blueinput of Teksoft in two mouse: Genius Navigator 900BT and Apple Magic Mouse. When connected Genius Navigator 900BT the PIN-code was requested, and Apple Magic Mouse was connected but cursor failed to appear. Although the HID-profile «Apply for control» box was checked by me.
As a external WEB-camera was connected Logitech C270. It has USB port, integrated microphone and supports HD720 video resolution. Everything started without problem. Microphone became accessible for voice command input in all applications.
Also I decided to check outer TV-tuner for Android-device — AVerMedia Mobile 510. It seems the TV box meets minimal technical requirements for that tuner. Tuner had been connected to Micro-USB port, but for some reason the tuner application could not detect it.
Conclusions
It happened that Android boxes produced by Shenzhen Azw Technology Co Ltd can be found under trade mark of Tronsmart, Beelink, Netxeon. They have such competitors as Minix, Geniatech (Mygica), Pipo.
I liked quality of materials and assembly in the tested Beelink i One as well as the Passive cooling system, which provides complete noiselessness. Heatsink whose size is sufficient for effectively processor cooling even at peak loads is applied. As for me the heatsink fastening with spring snaps is a plus. Concerning user`s impression, I liked ability to work with every file format and excellent picture quality during playback of media files.
On the other hand there are some negative points. For instance HDMI-input visual content quality failed me. Also it is not clear for me why it was needed to economize on Gbit Ethernet-port and why are the problems with box connection to 5GHz Wi-Fi network, because channel number in router has to be changed. In principle, remarks are not too considerable and they will not be actual for somebody at all. And therefore it must be admitted that the Beelink i One is not quite bad kind of TV box, which has generally positive impression and offers good price/quality ratio.
Like:


• Powerful processor Amlogic S812.
• Hardware decoder H.265 (HEVC) supporting 4K resolution! (4096 x 2160 pixels).
• HDMI input (record in actual firmware is missing).
• Wi-Fi IEEE802.11n (2.4GHz и 5GHz).
• EShare application.


Do not like:


• Ethernet network 10/100 Mbit.
• LightHome shell, (In English)