Although Dune HD company has consolidated its position as supplier of high quality Media Players in Ukraine for a long time, the company`s engineers do not rest on their laurels and fights for buyer`s wallets with no tiredness. For some years Dune HD offers external DVB-T USB-tuner in addition to its Media Players. By the way this solution has become popular in many European countries. But this tuner has not established a big presence in our country due to failure of the first attempt of digital broadcasting startup. For now in Ukraine the tortuous path of transition onto digital broadcasting has not yet been terminated, yet the ability to accept digital DVB-Т2 signal arose at almost every settlement of the country.
Dune HD's newest model of network Media Player is the TV-102W-T2, which has integrated tuner for receiving of digital television in DVB-T/Т2 format.
Leaping ahead a little I say that the main function of Dune HD TV-102W-T2 is network Media Player.
Packing
Packing design is classic for Dune HD compact devices. White cardboard box is inserted into photocopying cover, most of which is occupied with device image.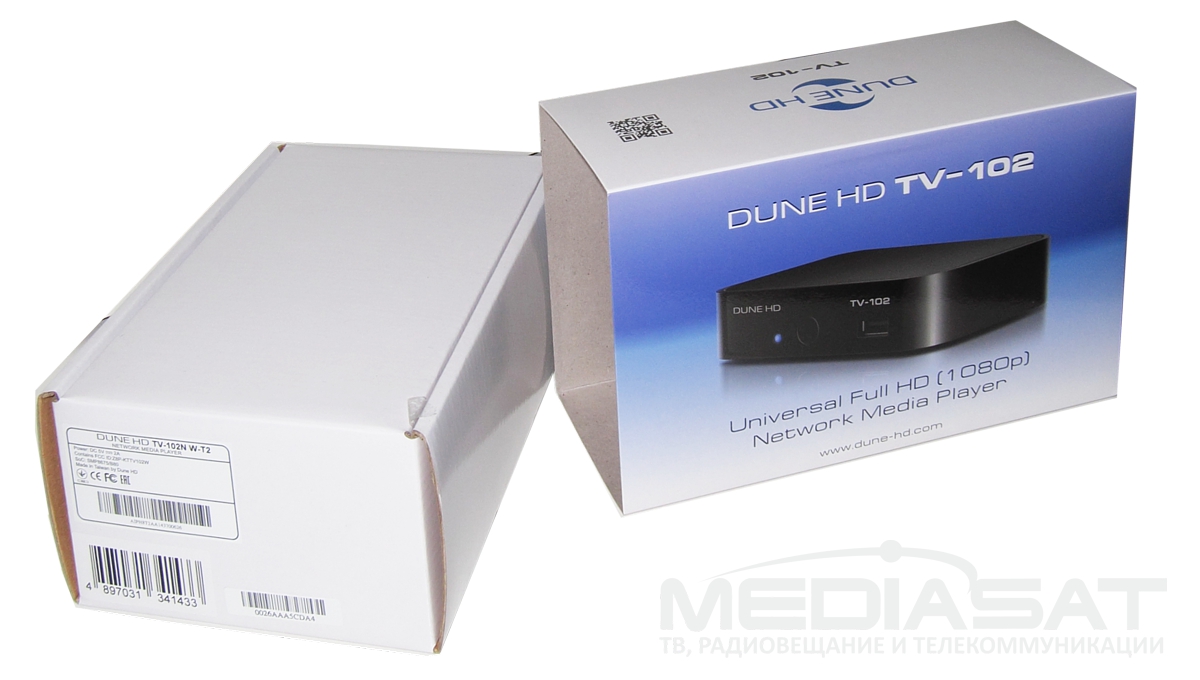 The packing is poor informative: at one side there are stickers with bar codes, and at another one there is production place information and certification marks.
Design
The design carries on the tradition of Dune HD TV-101 knowing as low cost hit. The casing is made of black plastic. Its shape is rectangular with edges rounded, and surface texture is matt. On the top there is producer`s logo. The first thing you notice is the absence of ventilating holes.
Processor
Sigma Designs SMP8675
Processor frequency — 350 MHz
System bus frequency — 700 MHz
Memory
RAM — 512 MB
Flash memory — 256 MB
Outputs
HDMI v1.3 output, analog A/V-output
Ports
USB 2.0 (2 ports)
Video codecs
MPEG2, MPEG4, XVID, WMV9, VC1, H.264, high bitrate video support
(up to 50 Mbit/sec and above)
Audio codecs
AC3 (Dolby Digital), MPEG, AAC, LPCM, WMA, WMAPro, EAC3 (Dolby Digital Plus), Dolby True HD, FLAC, multichannel FLAC, Ogg / Vorbis (192 kHz / 24-bit)
Video file format
MKV, MPEG-TS, MPEG-PS, M2TS, VOB, AVI, MOV, MP4, QT, ASF, WMV, BDMV, DVD-ISO, VIDEO_TS
Audio file format
MP3, MPA, M4A, WMA, FLAC, APE, WV Pack, Ogg / Vorbis, WAV, AC3, AAC
Playlist format
 M3U, PLS
Image format
 JPEG, PNG, BMP, GIF
File systems support
FAT16/FAT32 (reading-record), ext2/ext3/ext4 (reading-record), NTFS (reading-record)
Wired network Ethernet
Ethernet: 10/100 Mbit/sec
Network wireless

Wi-Fi IEEE 802.11 (b/g/n)
Delivery set:
• AV-cable.
• Wi-Fi — antenna.
• Power pack (5 V, 2А).
• Dune HD TV-102W-T2.
• Battery type ААА (2 pcs.).
• Remote Control
• Quick guide.
Unpacking
Delivery set is common for similar devices. If your TV set is equipped with HDMI-input, the device should be preferably connected to that. But HDMI-cable has to be purchased by ourselves.
On the front face there are model name, operating mode indicator, IR-receiver and two USB2.0 ports.
Lateral faces of the device are free of interface slots and control components. .
All interface slots are located at the back side.
• Antenna socket.
• Ethernet Port (LAN 10/100).
• HDMI v1.3 output
• Wi-Fi antenna socket.
• Analog audio (L/R)/composite video output (AV OUT).
• Power slot (5 V IN).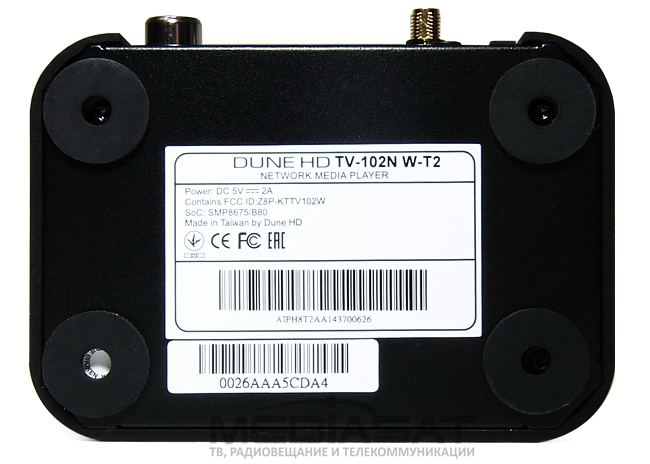 The device bottom is a metal frame, functioning as heat sink, for memory and media-processor chips. Rubber feet are glued on the corners.
Remote Control
Time-proved remote control is a standard for the most of Dune HD Media Players. It is full-sized. Rubber buttons have long travel, under pressing with middle effort. Marking on buttons is made with paint. On the top of remote control there is indicator light, which flashes when any key is pressed.
The remote control is comfortable in hand. At the reverse side there are hollows for fingers. Creaks are not detected. Two ААА type batteries provide the power supply. There is no fluorescent illumination of buttons.
Hardware
Quality of casing assembly and system board installation rouse no censure. Everything is durable and tidy media processor and memory chips are located at the bottom. Contact with metal foundation is realized through small pieces of heat-conducting rubber. Rubber pieces are glued to lower cover where chips are located.
As for the choice of media-processor the developers give preference to reliable solutions of Sigma Designs as before. SMP8675 chip is used as the base of that model.
Press release informs that SMP8675 processor can be used for production of IPTV and hybrid devices, «thin clients» and media players. And it represents modification of SMP8674 processor with missing content protection system Rovi ACP. Processor uses 16-bits memory bus. RAM DDR3-1400 is supported. Processor clock frequency is 350 MHz System bus frequency is 700 MHz
The couple of chips made of Sony are responsible for receiving function. Low-noise integrated high-frequency block CXD2831WR is covered up with screen. CXD2817ER is used as decoder.
Realtek 8201CP is Ethernet-port 10/100MB controller. Realtek 8188RTL (IEEE 802.11b/g/n with interface USB 2.0) is wireless network controller. Micron MT29F2G08ABAEA NW312 is a flash-memory of 256 MB (2Gbit х 8bit).
Software
As of media player testing the actual software revision «150227_0032_b9» has been installed. In Internet network there are many thorough reviews of Dune HD media player program shell, therefore we shall only dwell on general description and some key points. Certainly the ample opportunities for interface setting remain. In the first place there is possibility of localization. For truth's sake I mention that the Russian localization has been faultlessly made for the whole 100%. And English words slip out sometimes in Ukrainian localization. Ukrainian localization level would be estimated in 85% by me. Certainly second plus in the setting of appearance is possibility of themes choice. Here it is you are able to act with user`s themes. In this software revision «Silver» theme is used on default.

Main menu represents carousel of 10 sections: Dune Store (applications shop), TV, Video, Radio and Music, News and weather, Social network, Games, Applications, Sources, Selected, Settings. This menu structure is easy and intuitively clear to common user.
Cold start (after power supply has been turned on into socket) takes approximately 40 seconds. It is not too little. Using standby mode, the starting interval decreases to one, two seconds. The response to pressing «Power» key on remote control could be selected in settings. Two options are offered such as either complete shutdown, or transition to standby mode. The "standby" mode is used as default.
Dune Store (applications shop)
Instead of «shop» word, all applications in Dune Store are free. Main task of Dune Store is to simplify search and installation of applications for user. As before shop sections are copying structure of the main menu. But unlike previous versions "Community" item appears in many sections. It is collected user`s applications for access both to IPTV of all main Ukrainian providers, and to popular file hosting services and video portals.
File manager
Integrated file manager is easy, intuitive and functional, it is possible to copy, move, rename files and folders. And it is even able to format information carriers.
Control from iOS and Android
Free Dune HD RC (for iOS / for Android) application allows not only to act as wireless remote control, but also to view audio/video files from mobile device on TV set screen. The only stipulation is that mobile device and Media Player have to be under the same wireless network.
Except to choose a media player from the list or to specify IP-address nothing to be set up. There are several control modes as follows «touch-sensitive remote control», virtual button remote control and even virtual mouse. But mouse does not operate for some reason. Virtual keyboard which would simplify entering of typing areas is not found out. It is no coincidence. Formerly the developers control usage of system screen keyboard in various applications, that allowed to provide support hardware (USB) keyboard as well. But with time the application lists was expanded. The approach to applications design was changed. Often they became to use their own keyboard but not system screen one. There is no more support of hardware keyboard!
Web browser
No visible distinctions from previous software versions were noticed at browser operation. Сertainly the integrated browser cannot compete with desktop versions both in velocity and in convenience. No need to expect the support of full-fledged Flash as well. Although the producer declares support of Adobe Flash Lite technology, but it had no effect on web-surfing at all. Basically Adobe Flash Lite technology is used in some applications and games.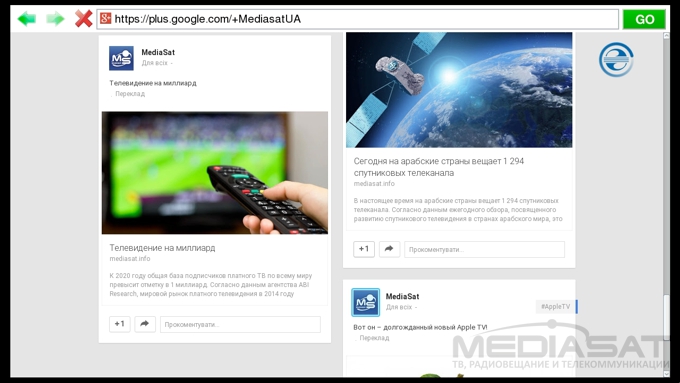 Video services
The situation with services for streaming video viewing is ambiguous. Composition of available and especially pre-installed applications claims greater attention of developers. In applications shop there isn't capability to sorting by territorial usage. It is important because almost half of the applications operate within only one country or several ones. Concerning pre-installed applications: Rutube does not operate owing to outdated version of Flash-player. Twigle and ivi.ru does not work in Ukraine. Videomore, Vidimax and Rain TV applications represent Russian services by subscription with logging and monthly payment.
About positive changes the plug-in list for Ukrainian channels viewing has been added. List of two sport channels such as Sport1 and Sport2 is added with news Channel 24. The plug-in for 112Ukraine viewing could be set from Dune Store in addition. It is nice to note that 112Ukraine works in HD quality.
Internet radio
Internet radio section provides access to hundreds and perhaps to thousands radio stations all over the world. MOSKVA.FM application should be mentioned separately. Besides on-line listening to radio stations, it has access to records history. Furthermore there is capability to search by singer. Although the operation speed is middle. It seems to be depending on Flash Lite usage. But in general the functionality is on the good level.
Horoscope
«Horoscope» application has not got any changes. Predictions could be read within three days yesterday / today / tomorrow as before. Four variations for all occasions such as General / Health / Business / Erotic are offered as an option.
Weather
Disappointing metamorphoses are occurred with weather. Nice application designed in Dune HD style has been replaced with Gismeteo one. Now it is only a page of the popular service adapted for mobile devices.
Realization of network facilities is on previous worthy level. Media Player supports access to general network folders as client of NFS and Samba and provides access to connected USB-medium with integrated Samba-server or FTP as well.
In general interface navigation rate is not bad. The sole complaint is for animation effects. Actually only one effect noticed by me is the smooth sliding during horizontal scrolling of screen menu in some applications. This effect slows down the scrolling and smoothness is not obviously enough for it. Although it is a slight problem but the animation effects could be make disable in system settings as desired.
Tuning and receiving of TV broadcasts
Receiving was made with indoor logarithmic UHF band antenna within direct visibility of TV centre. Window with auto searching opens at the first start. Two options are offered: complete mode with scanning of all the frequencies (all channels and three options of frequency bandwidth as 6/7/8 MHz), or to choose country. And then searching will be faster in three times due to the channels scanning will be performed with bandwidth only 8 MHz. Then logos are loaded for found list. Application has usual design for Dune HD media player users. Channels list represents logo matrix. Size of logo is adjusted.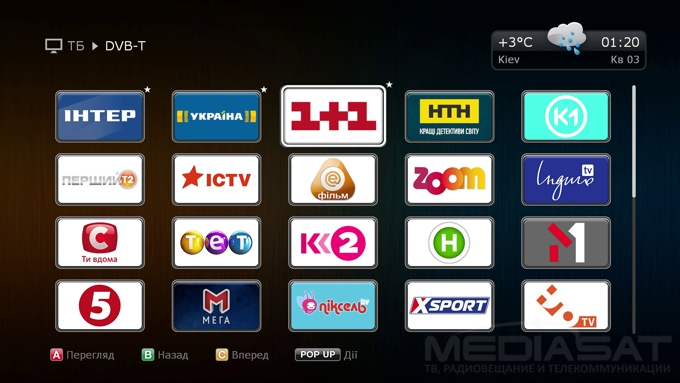 When viewing the channel list with display of electronic broadcast program is accessible. If in the list «Left» button to be pressed, «Selected» channel list can be switch over. In order to mark channel to be selected, it needs to press «Blue» key on remote control (the fourth one of in color keys block).

Scanning result is shown in the table below and actual on the 13-th of April 2015. It is not impossible but channel numbers may be decreased in future.
No.
Denomination
Provider
Format
EPG*

Aspect

ratio

Remark
1
 Inter
ZEONBUD
 DVB-T2
+
 4:3
2
 Ukraina (Ukraine)
ZEONBUD
 DVB-T2
+
 4:3
3
 1+1
ZEONBUD
 DVB-T2
+
 4:3
4
NTN
ZEONBUD
 DVB-T2
+
 4:3
5
 К1
ZEONBUD
 DVB-T2
+
 4:3
6
 Pershyi (First)
ZEONBUD
 DVB-T2
+
 4:3
 No broadcasting
Test table
7
 ICTV
ZEONBUD
 DVB-T2
+
 4:3
8
 Enter-film
ZEONBUD
 DVB-T2
+
9
 ZOOM
ZEONBUD
 DVB-T2
+
10
 IndigoTV
ZEONBUD
 DVB-T2
 16:9
In list as «Kinotochka»
11
 STB
ZEONBUD
 DVB-T2
 4:3
12
 TET
ZEONBUD
 DVB-T2
 4:3
13
 К2
ZEONBUD
 DVB-T2
+
4:3
14
 Novyi kanal
ZEONBUD
 DVB-T2
 4:3
15
 М1
ZEONBUD
 DVB-T2
 16:9
 White
dotted line in the top
16
 5 channel
ZEONBUD
 DVB-T2
 4:3
17
 Mega
ZEONBUD
 DVB-T2
+
 4:3
18
 Pixel
ZEONBUD
 DVB-T2
+
 4:3
19
 XSPORT
ZEONBUD
 DVB-T2
  No broadcasting
Test table
20
 NLO TV
ZEONBUD
 DVB-T2
 16:9
21
 2+2
ZEONBUD
 DVB-T2
 4:3
22
 DOBRO
ZEONBUD
 DVB-T2
  No broadcasting
Test table
23
 Espresso TV
ZEONBUD
 DVB-T2
 16:9
24
BUSINESS
ZEONBUD
DVB-T2
4:3
25
 Tonis
ZEONBUD
 DVB-T2
 16:9
 White
dotted line in the top
26
 Bank TV
ZEONBUD
  DVB-T2
 16:9
 No broadcasting
Test table
27
 Vintage
ZEONBUD
 DVB-T2
 4:3
 No broadcasting
Test table
28
Esculap TV
ZEONBUD
DVB-T2
4:3
29
 KDTRK
ZEONBUD
 DVB-T2
 4:3
30
 112-UA(Ariadna)
ZEONBUD
 DVB-T2
 16:9
 Resolution HD (1280*720),
but bit rate is too low to correspond Zeonbud specifications
31
 TRC Kyiv
ZEONBUD
 DVB-T2
4:3
32
 Vsi Novyny
ZEONBUD
 DVB-T2
4:3
33
 5 KANAL
Scopus Network Technology
 DVB-T
4:3
 only in Kyiv
34
 GAMMA
GAMMA CONSULTING
 DVB-T
4:3
35
 ICTV
 DVB-T
4:3
36
 NEWS ONE
 DVB-T
4:3
37
 OTV
SPACECOM
 DVB-T
4:3
38
 RU MUSIC
 DVB-T
16:9
* – EPG (Electronic Program Guide)
| | |
| --- | --- |
| | National channels |
| | Local channels In every region there is its own set of local channels. |
| | Broadcasts only in Kyiv |
| | Test table is displayed instead of the channel. |
Here it is a mess on the digital air of Kyiv. Most of the channels have no electronic broadcast program. In every Ukrainian region 32 channels of Zeonbud provider are available. There are twenty eight national channels and four regional ones. 112Ukraine channel happens to broadcast instead of the regional one, therefore they can say, that the national channels are already 29, and the regional ones are 3. Another thing happens to "Pershiy" channel. During testing it was out of operation, because the public television began to operate on the base of this channel in Ukraine. Channel Logo has been changed onto «UA:Perviy». And so far it seems to be legal problems with digital broadcasting. But «Pershiy» program network had differences between analog broadcast and digital one before, and now the broadcasting is suspended at all.
But let us come back to media player. Certainly frame aspect ratio could be selected during viewing. It is actual for channels with aspect ratio of 4:3 under viewing on wide-screen TV set. A lot of frame format options are available. Even there is a completely adjustable mode. But the main thing is that there is zoom mode on screen width with constant aspect ratio. Selected frame format is used for every channel in the list. Besides it is possible to adjust brightness, contrast range, color saturation and even to select combing effect elimination method (deinterlacing method). Though there are only three options such as disable, bob and adaptive ones. Adaptive option has been selected on default and unlike bob it does not loose sharpness of picture leaving inscriptions and creeping lines readable.
I mention separately, that when USB-disc has been connected the possibility to record TV air programs is appeared. As a result of recording, the folder named after «DVB_recordings» is created in disc root for files saving. File name consists of channel denomination and conditional numbering. File extension is .ts (Transport Streem). As the matter is about digital television the record is saved without conversion in the same format as transmitted.
Although in system menu there is «Switch on TimeShift for DVB» option, I could not start working function «TimeShift». Also there is «Turn on power antenna» item, but it could be checked with nothing.
Media player
Testing for support of various codecs, containers and subtitles was carried out with two file sets such as DivXTest CD v2.0 and HDTV test v1.7, plus several subsidiary files of home collection. All the files had been recorded on external hard disc WD Scorpio Black 750 GB (7200 rpm, 16MB, WD7500BPKT 2.5), which was installed in Zalman ZM-VE300 box. Basic test DivXTest CD v2.0 (on compatibility with normal and format audio/video/subtitle) was made completely with high mark; therefore testing table has no sense to show. Test HDTV test v1.7 detected slight problems with nonstandard coded video, but test was made well in general. Dune HD 102W T2 could not manage with containers .FLV (FlashVideo) и .RM (RealMedia). When viewing video compressed with codec H.264 using 10 bits color depth (so called Hi10P profile) the picture was missing. All lossless-audio formats are supported. Files with.flac, .ape, .wv extensions were played without problems. Blu-ray menu has no complete support, but when opening of image or folder which contains Blu-ray file structure, BD-lite menu with video-file list is opened. It is normal for media players. Folders and ISO-images containing DVD file structure are opened with similar Lite-menu.
Conclusions
Application for TV receiving and viewing operates well, but it seemed to lack of record scheduler. Absence of mechanical power switch becomes «good» tradition amongst compact media players. Such kind of economy seems to me questionable. Network adapter with speed 10/100Mbit/sec is amply sufficient for playback of even BD-images under network, but it might be as bottleneck in the event of nonstandard coded video file. Particularly that the space for installation of hard disc inside media player is not provided. As for digital television receiving, there are no remarks. All the air channels were found. Although the manual search will prove useful in distant districts from TV centre. Perhaps somebody will say that I am carping. But there are whole numbers of media players, which are initially worse than today's hero concerning technical characteristics. Actually it is true indeed. But I would call it as overstated expectations but not cavils. Undoubtedly the strength of all Dune HD media players is rich support. I mean the prompt software updates and the collaboration with users within the framework of forum. This allows enough promptly to correct the found errors and to expand functionality by means of third party applications.
Like:
— Ability of TV broadcast recording.
— Integrated Wi-Fi adapter.
— Control of Media Player with iOS and Android devices.
— Support of Dolby Digital (AC3) and Dolby TrueHD audio codecs.
Do not like:
— Ethernet port 10/100 Mbit/sec.
— Digital Theatre Systems (DTS) audio codec is missing.
— Video codec H.265 HEVC is not supported.
— USB port power supply is not switched off in standby mode.
— No external IR-receiver.