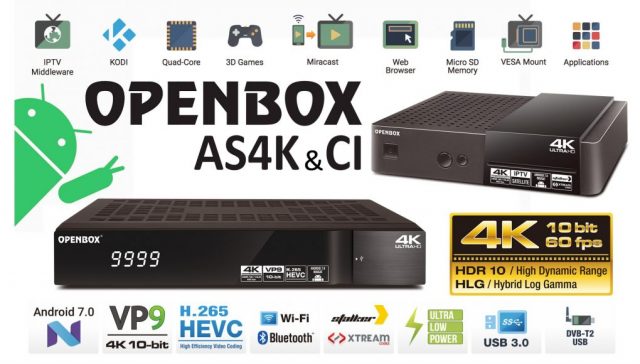 In the near future, Ukraine starts selling media set-top boxes Openbox AS4K and Openbox AS4K CI, designed to watch TV in ultra-high definition format (4K/UHD).
Both set-top boxes are run by the operating system Android 7.0 Nougat, and are follow-aps to the family of Openbox AS1 and Openbox AS2.
The core of the new products is a modern and powerful processor Hi3798Mv200 by Hisilicon, a subsidiary of the telecom giant Huawei.
Both Openbox AS4K and Openbox AS4K CI are fully compatible and support the High Dynamic Range (HDR) and Hybrid Log Gamma (HLG) standards, as well as the new H.265 codec (HEVC).
The main difference between these models is the availability of an interface for conditional access modules in the set-top box Openbox AS4K CI. They also have different case design, as well as delivery and configuration sets.
"Our new set-top boxes for 4K/UHD television and video were not designed from scratch. They support all revolutionary standards, show excellent performance, and carry the best of previous models Openbox AS1 and Openbox AS2. What does it give to customers? They get an advanced set-top box with a familiar and refined interface, almost no bugs, comfort when watching and pleasure when using it", as commented on by the Openbox brand's press office.