The international OTT service DIVAN.TV exclusively presented the research of its audience to Mediasat. The report reflects the following indicators: audience share outside Ukraine, average monthly subscribers' spending, and the rating of devices/platforms used by DIVAN.TV subscribers.
DIVAN.TV abroad
DIVAN.TV is available to residents of 200 countries around the world. In addition to the Ukrainian audience, which is the largest by number of active subscribers, there are some other regions where the service is very popular.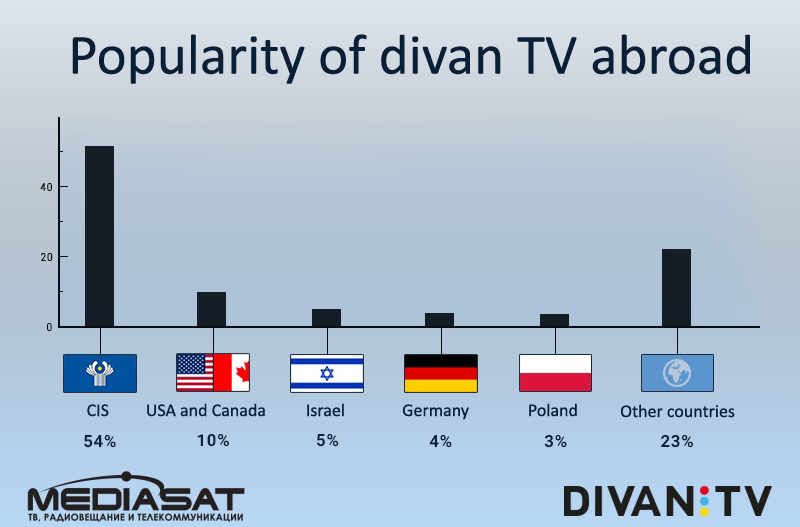 The leader among foreign countries in terms of DIVAN.TV audience is Russia. This fact proves that there is a Ukrainian audience in that country who desires watching Ukrainian TV. The USA and Canada follow second. DIVAN.TV is also widespread in Europe (Spain, UK, Czech Republic, Italy and France) and in Latin America.
DIVAN.TV's popularity is also associated with its official presence on the platforms of all major manufacturers of Smart TV-sets (Samsung, Philips, Sony, LG, etc.) all over the world. DIVAN.TV's audience growth is also due to the popularity of set-top boxes like Apple TV, where the Ukrainian service has been officially represented in 2016.
Which are devices for watching DIVAN.TV?
DIVAN.TV allows its subscribers not to be pegged to one device like TV-set, laptop, tablet or smartphone. You may watch your favorite movies and channels in any location with Internet connection. Therefore, users of this service can easily watch DIVAN.TV at once on several devices. Apart from traditional Smart TV, Web and mobile devices, there are gaining popularity set-top boxes (Apple TV, Android-media players and others).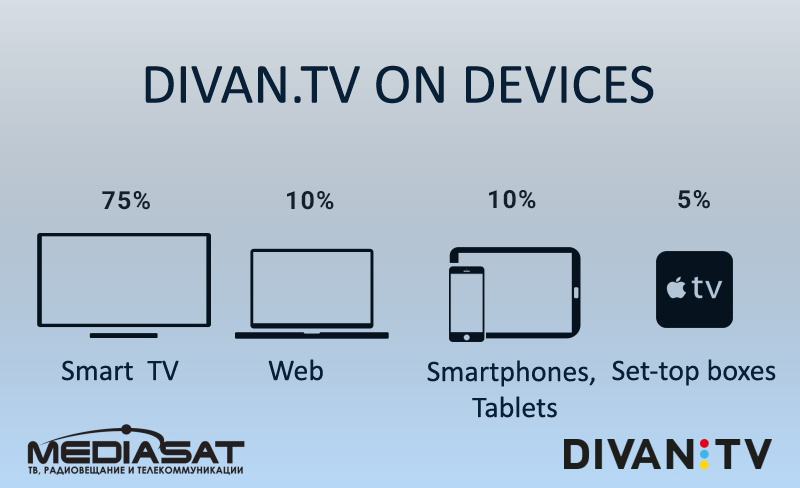 The high adaptability of DIVAN.TV's applications on Android and iOS platforms allows subscribers to watch their favorite content anywhere in the world. For the entire period of existence of DIVAN.TV's mobile app, it was downloaded to just over 1 200 000 Android-based devices. Considering this number of installations, Divan TV professionals decided to design a totally new and modern app for Android-based mobile devices, which became more user-friendly with new functions.
How much do DIVAN.TV subscribers spend?
There is a fiction that legal content must be too expensive. But those subscribers who moved to DIVAN.TV don't think so. Now let's have a look at users' average bill for accessing their favorite content.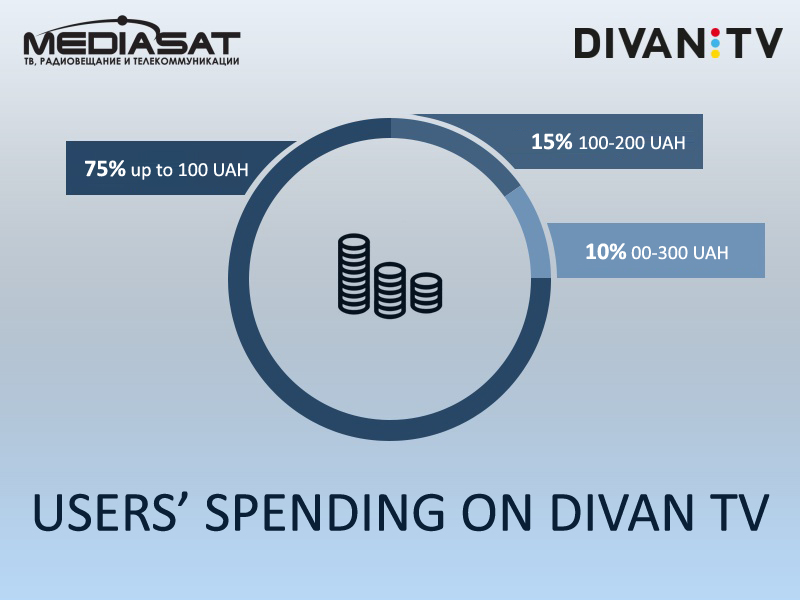 The price of the most popular DIVAN.TV's tariff plans on average is up to 100 UAH per month. If there is a demand for a wider range of channels, then prices rise by only a few tens of hryvnias. According to DIVAN.TV, 55% of subscribers choose the "Start" plan, which includes more than 100 channels and costs 49 UAH per month.
Popular features on DIVAN.TV
Some 58% of users of DIVAN.TV enjoy the popular feature "TV-Archive". The options of "TV Archive" allow you to watch your favorite recorded content, skip ads and configure "own TV channel", consisting of your favorite broadcasts, shows and films.
42% of viewers enjoy new advisory service by DIVAN.TV. The algorithm of this feature consults preferences and interests of every individual subscriber, and it recommends the content according to the received data. The popularity of recommendations is due to the fact that thanks to the advisory service users don't spend time searching for movies or shows, but selects content from the suggested list.
Summarizing the above, we can outline several main trends that the audience of DIVAN.TV follows:
Despite the great popularity of smartphones, tablets and other "pocket" gadgets, most of DIVAN.TV's audience prefers watching movies on a big screen, opting for Smart TV-sets.

The linear television is still popular, but DIVAN.TV's audience cannot pass by technological progress, gradually shifting to services with advanced features. To skip ads, pause, get recommendations: all these features are the key advantages against the linear TV.